Super Grand 70 Plus

Air Cooler

For the optimum cooling experience that makes your summer not just sustainable but absolutely pleasant.





No reviews |
Write a Review
14299.00
70L Tank Capacity
Honeycomb Pads


6000 m3/h Air Delivery
Anti-Bacterial Tank
Colour:
White and Coal Grey
Colour: White & Gray
Tank Capacity: 70 Litre
Anti Bacterial Tank
Honeycomb Pads (Super Grand 70 Plus) & Woodwool Pads (Super Grand 70)
Inverter Compatible
Dry Run Protected Submersible Pump
High Cooling Efficiency
The super grand 70 plus is equipped with cutting-edge features like 70L anti-bacterial tank, 4-way air deflection, and strong air throw to make your summer delightful.
Description
Specifications
Support
Reviews
Warranty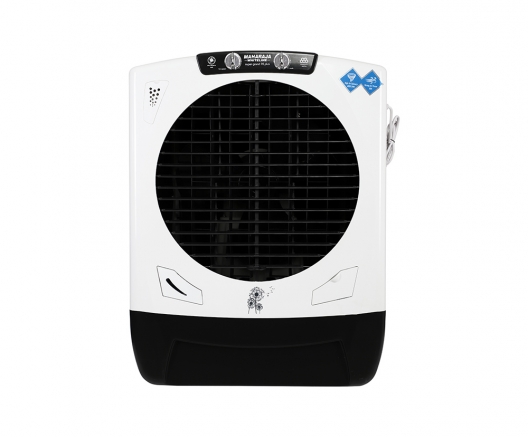 Huge Water Tank

The 70L water tank uproots all your worries of refilling the tank frequently or waking up mid-sleep feeling the gusts of hot winds. It makes your summer much easier and comfortable.

Air Delivery And Air Throw

The air delivery of 6000m3/hr and the air throw of 60 ft make the cooling more powerful. They allow you to feel the cool breeze to the remote corner of your home in a seamless fashion.

Cooling Technology

The honey comb pads come with water-retention compartments and keep your space cool for a longer duration while consuming less water. They amp up the appearance of the cooler and reduce the need for maintenance.

High Cooling Efficiency

The motor comes with a 1400 RPM capacity that gives you an impressive output in terms of air. Coupled with the other features, it helps you get a great cooling experience. It brings the best out of every other function of this cooler effectively.

Air Deflection

The 4-way air deflection helps you cool a large area of your home while spreading the air evenly. The horizontal and vertical louvers allow you to direct the air into diverse directions making it possible to cool multiple spaces easily.

Anti-Bacterial Tank

The anti-bacterial tank helps you keep the air fresh and clean. With this feature, you can keep many harmful pathogens from going into the water and let your entire family enjoy a cool and healthy breeze.

Room Size

Super Grand 70 Plus allows you to keep a room with a size of 800 sq. ft. wholly cool. This feature helps in covering a large area of your home and lets you convey the cooling to every corner.

Aroma Chamber

The aroma chamber allows you to imbed your favorite fragrance into the cooler. It makes the cooling more pleasant for everyone in the room and allows you to enjoy a soothing smell while feeling the gratifying air.
| | |
| --- | --- |
| Voltage | 230V AC 50Hz |
| Power Consumption | 165W |
| Mains cord (pin type, length (m) | 3-pin, 1.5 |
| RPM | 1400 |
| Blower/ Fan | Plastic Fan |
| Speed Control | 3 Speed |
| Louver Movement | Horizontal Manual Vertical Motorised |
| Pump Type | Submersible |
| Water Level Indicator | Yes |
| Water Inlet | front(water Inlet Door) & side float Valve |
| Water Over Flow | Yes |
| Water Draining | Yes |
| Motor Mounting | On Plastic Stand |
| Pad Replacement | Easy |
| Motor Replacement | Easy |
| Switch Replacement | Easy |
| Noise (db) | Low |
| Air Delivery (m3/h) Max | 6000 |
| Air Throw (cm.)- @0.5 m/s | 1828.8 |
| Cooling Area (m2) | 74.32 |
| Cooling Media | Honey Comb Pads |
| Net Weight (kg) | 18.5 |
| Gross Weight (kg) | 21 |
| Water Tank Capacity(L) | 70 |
| Blower/ Fan Diameter(cm) | 45.72 |
| Product Dimensions (LxWxH)cm | 69 X 69 X 87 |
| Carton Dimensions (LxWxH)cm | 72 X 73 X 89 |
| Aroma Chamber | Yes |
| Ice Chamber | No |
| Anti Mosquito | No |
| Castors | No |
| Mosquito Net cum Dust Filter | No |
| Remote | No |
Product Reviews
No reviews