Glacio Prime 65

Air Cooler

A superb cooling experience that can make your summer ecstatic.





No reviews |
Write a Review
13349.00
65L Tank Capacity
Woodwool Pads


4800 m3/h Air Delivery
Inverter Compatible
Colour: White & Gray
Tank Capacity: 65 Litre
Anti Bacterial Tank
Hybrid Pads (Hybridcool) & Woodwool Pads (Glacio Prime)
Inverter Compatible
Dry Run Protected Submersible Pump
High Cooling Efficiency
Glacio Prime 65 redefines cooling and make it powerful. With plenty of amazing features the cooler has a sleek look that blends well with your modern room decor.
Description
Specifications
Support
Reviews
Warranty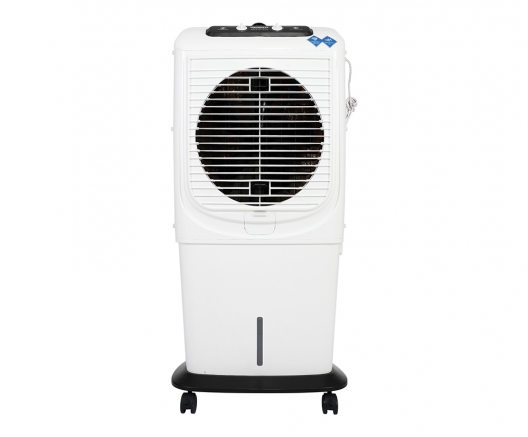 Huge Water Tank

The 65L water tank does not only give cooling for a longer duration but also provides ample relief. It does away with the frequent re-fillings that made your summer painstaking earlier.

Air Delivery And Air Throw

The air delivery and air throw of 4800m3/hr and 43 ft respectively make the wind far-reaching and powerful. They enable you to feel the air in the remote corners of your room with equal intensity.

Cooling Technology

The woodwool cooling pads are very effective when it comes to generating a large quantum of cooling. They do it with a complex web of wooden shavings that get soaked profusely making the winds colder.

Ice Chamber

The ice chamber allows you to intensify the cooling process and makes the air chilled in very little time. It helps you cool the large room in a very short duration and keeps the frosty for long so you could beat the heat with ease.

Air Deflection

The 4-way air deflection channelizes the air in every direction. The horizontal and vertical louvers allow you to direct the flow of the wind the way you want. You can ferry the air to a large number of people sitting in a scattered fashion.

Anti-Bacterial Tank

The anti-bacterial tank lets you keep the harmful pathogens at bay and allows you to breathe clean air. It impedes the existence of vicious germs that could enter your body and cause many issues.

Room Size

The ability to disperse the area through a room size of 753 sq. ft. makes this cooler a go-to option for summer. This capacity of cooling allows you to cast the air to the farthest corners.

Castor Wheels

The castor wheels bring ease into the movements of the cooler and allow you to carry it to different locations effortlessly. With these means, you can take the appliance from one place to another with matchless ease to make your summer chiller.
| | |
| --- | --- |
| Voltage | 230V AC 50Hz |
| Power Consumption | 180W |
| Mains cord (pin type, length (m) | 3-pin, 1.5 |
| RPM | 1400 |
| Blower/ Fan | Plastic Fan |
| Speed Settings | 3 Speed |
| Louver Movement | Horizontal Manual Vertical Motorised |
| Pump Type | Submersible |
| Water Level Indicator | Yes |
| Water Inlet | front(water Inlet Door) , Top(Ice Chamber) |
| Water Over Flow | Yes |
| Water Draining | Yes |
| Motor Mounting | On Plastic Stand |
| Pad Replacement | Easy |
| Motor Replacement | Easy |
| Switch Replacement | Easy |
| Noise (db) | Low |
| Air Delivery (m3/h) MAx | 4800 |
| Air Throw (cm.)- @0.5 m/s | 1310.64 |
| Cooling Area (m2) | 69.68 |
| Cooling Media | Wood Wool Pads |
| Net Weight (kg) | 16.2 |
| Gross Weight (kg) | 20.8 |
| Water Tank Capacity(L) | 65 |
| Blower/ Fan Diameter(cm) | 40.64 |
| Product Dimensions (LxWxH)cm | 60.2 X 45 X 124.5 |
| Carton Dimensions (LxWxH)cm | 68.5 X 51 X 129 |
| Aroma Chamber | No |
| Ice Chamber | Yes |
| Anti Mosquito | No |
| Castors | Yes |
| Mosquito Net cum Dust Filter | No |
| Remote | No |
Product Reviews
No reviews