Bravo Hybridcool 65

Air Cooler

A cooling maestro that you can depend on this summer.





No reviews |
Write a Review
14199
65L Tank Capacity
Unique Hybrid Cooling Pads


5500 m3/h Air Delivery
Inverter Compatible
Colour: White & Gray
Tank Capacity: 65 Litre
Anti Bacterial Tank
Hybrid Pads (Bravo Hybridcool) & Woodwool Pads (Bravo Prime)
Inverter Compatible
Dry Run Protected Submersible Pump
High Cooling Efficiency
Four way Air Deflection
The Bravo Hybridcool 65 has the power to make your summer breezy and easy. This desert cooler comes with high efficacy and offers optimum cooling to small as well as large areas, and is perfect for dry weather and outdoor use. The multiple other features provide assistance to make summers light and smooth.
Description
Specifications
Support
Reviews
Warranty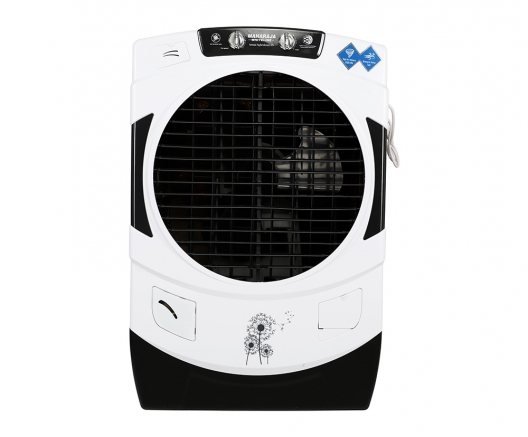 Huge Water Tank

The 65L water tank allows you to spend the summer with cool wind and comfort. It helps you do away with the problem of refilling the tank again and again bringing relief into your body and mind. The body is designed with rust resistant and shockproof high grade plastic making it safer than any other metallic cooler.

Air Delivery And Air Throw

The air delivery of 5100m3/h and 53.8 feet of air throw help you cool a vast area in a minimal time. It helps you make the surrounding aptly cold for every individual in the house.

Cooling Technology

The hybrid cooling pad combines a honeycomb structure and woodwool sheet that makes the air refreshing and help you forget the season outside momentarily.

Ice Chamber

The ice chamber heightens the overall cooling and makes it very relieving for all the occupants of the room. It accelerates the cooling and helps everyone feel the chilly breeze that is very comforting in summer.

Air Deflection

The 4-way air deflection helps you cool a wide area easily. It does that with a combination of vertical and horizontal louvers. This feature is very helpful when you want to cover a larger space with effective cooling.

Anti-Bacterial Tank

The anti-bacterial tank helps you get fresh and clear air. It enables you to keep the environs free from pathogens that can multiply in a regular water tank and can cause harm to your body.

Room Size

The wide coverage of Bravo Hybridcool makes it a go-to option for homes with a high number of occupants. It covers a room of 753 sq. ft. and allows you to convey cooling to every corner.
It also allows you to enjoy a cool gust of wind even in the outdoors. It can come in handy when you want to entertain a large number of guests in scalable social events.

Large Fan Size

The large size of the fan makes the air-throw stronger and accentuates the delivery of wind. It allows you to amplify the overall cooling even in a large area and keeps the surrounding pleasant.
| | |
| --- | --- |
| Voltage | 230V AC 50Hz |
| Power Consumption | 165W |
| Mains cord (pin type, length (m) | 3-pin, 1.5 |
| RPM | 1400 |
| Blower/ Fan | Plastic Fan |
| Speed Control | 3 Speed |
| Louver Movement | Horizontal Manual Vertical Motorised |
| Pump Type | Submersible |
| Water Level Indicator | Yes |
| Water Inlet | front(water Inlet Door) , Top(Ice Chamber) & side float Valve |
| Water Over Flow | Yes |
| Water Draining | Yes |
| Motor Mounting | On Plastic Stand |
| Pad Replacement | Easy |
| Motor Replacement | Easy |
| Switch Replacement | Easy |
| Noise (db) | Low |
| Air Delivery (m3/h) Max | 5500 |
| Air Throw (cm.)- @0.5 m/s | 1645.92 |
| Cooling Area (m2) | 69.68 |
| Cooling Media | (Honeycomb + Wood Wool) |
| Net Weight (kg) | 22.5 |
| Gross Weight (kg) | 25.2 |
| Water Tank Capacity(L) | 65 |
| Blower/ Fan Diameter(cm) | 45.72 |
| Product Dimensions (LxWxH)cm | 68 X 67 X 93 |
| Carton Dimensions (LxWxH)cm | 70 X 72 X 95 |
| Aroma Chamber | Yes |
| Ice Chamber | Yes |
| Anti Mosquito | No |
| Castors | No |
| Mosquito Net cum Dust Filter | No |
| Remote | No |
Product Reviews
No reviews