Prowave Super 65

Air Cooler

Your superhero is here with the latest Honeycomb cooling technology to save you from the summer heat.





No reviews |
Write a Review
14499
65L Tank Capacity
Honeycomb Cooling Technology


5000 m3/hAir Delivery
Inverter Compatible
Power: 180W
Honey Comb Pads
Anti Bacterial Tank
High Cooling Efficiency
Paired with a Honeycomb cooling pad and a huge 65L tank, Prowave Super 65 is here to keep you cool without the hassle of refilling again and again. This cooler is slim, tall, elegant and also comes with an ice chamber which when filled with ice, will give your home the extra boost of coolness.
Description
Specifications
Support
Reviews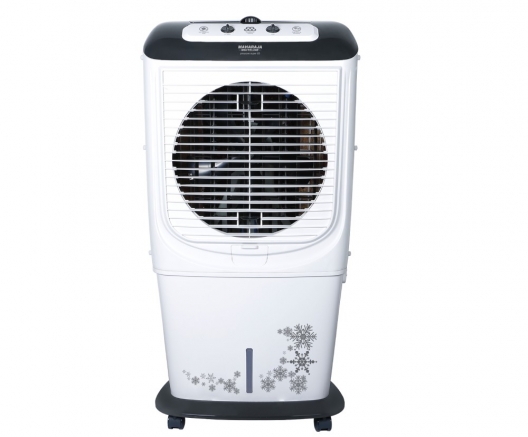 Huge Water Tank

With a capacity of 65 liter, just fill it and forget it. Unwind yourself with the cold air without the hassle of filling it up every once in a while. The huge tank will go on through the night and give you a peaceful sleep.

Air Delivery And Air Throw

With a maximum air delivery of 5000 m3/h and an air throw of 52ft, this cooler is sure to cool your entire room in no time. This powerful cooler will surely enhance your cooling experience.

Cooling Technology

Maharaja Prowave Super 65 is coupled with Honeycomb cooling pads, since these pads are better at absorbing water. This helps in enhancing the cooling effect, thus making the summers more bearable.

Ice Chamber

Maharaja Prowave Super 65 is equipped with an ice chamber that helps you to cool up your room in no time. Just fill up the dedicated ice chamber with ice cubes to enhance the cooling effect of your cooler.

Air Deflection

The cooler manages to deflect the air into 4 directions making the cooling experience faster and better. It is equipped with horizontal and vertical oscillation which gives you the freedom of placing it anywhere you like.

Anti-Bacterial Tank

To prevent the growth of harmful bacteria, this cooler is equipped with anti-bacterial tank. This not only helps in giving you clean air, but also prevents harmful bacteria from reaching you.

Room Size

Maharaja Prowave Super 65 can cool up a room of upto 83.33 yards in no time. With this powerful cooling ability, your summer nights will never be the same again.

Castor Wheels

Drag the cooler into any corner of the room. With the addition of Castor wheels, shifting this cooler from one room to another can be done without breaking a sweat.
| | |
| --- | --- |
| Voltage | 230V AC 50Hz |
| Power Consumption | 180W |
| Mains cord (pin type, length (m) | 3-pin, 1.5 |
| RPM | 1400 |
| Blower/ Fan | Plastic Fan |
| Speed Control | 3 Speed |
| Louver Movement | Horizontal Manual Vertical Motorised |
| Pump Type | Submersible |
| Water Level Indicator | Yes |
| Water Inlet | front(water Inlet Door) , Top(Ice Chamber) |
| Water Over Flow | Yes |
| Water Draining | Yes |
| Motor Mounting | On Plastic Stand |
| Pad Replacement | Easy |
| Motor Replacement | Easy |
| Switch Replacement | Easy |
| Noise (db) | Low |
| Air Delivery (m3/h) Max | 5000 |
| Air Throw (cm.)- @0.5 m/s | 1584.96 |
| Cooling Area (m2) | 69.68 |
| Cooling Media | Honeycomb |
| Net Weight (kg) | 15.8 |
| Gross Weight (kg) | 19.5 |
| Water Tank Capacity(L) | 65 |
| Blower/ Fan Diameter(cm) | 40.64 |
| Product Dimensions (LxWxH)cm | 60.2 X 45 X 124.5 |
| Carton Dimensions (LxWxH)cm | 68.5 X 51 X 129 |
| Aroma Chamber | No |
| Ice Chamber | Yes |
| Anti Mosquito | No |
| Castors | Yes |
| Mosquito Net cum Dust Filter | No |
| Remote | No |
Product Reviews
No reviews