Arrow Dlx

Air Cooler

Put an end to sweltering days and humid nights with a high-performance windows air cooler.





No reviews |
Write a Review
9759.00
50L Tank Capacity
Woodwool Pads


2500 m3/h Air Delivery
Inverter Compatible
High Air Delivery 1500 m3/hr
Heavy Air Throw 10.5/35 mtr./ft
Indoor and Outdoor Usage
Wood Wool Pads
Arrow Dlx comes with a 50L tank, blower, strong air throw, mosquito net, and various other features that'd make your summer merrier.
Description
Specifications
Support
Reviews
Warranty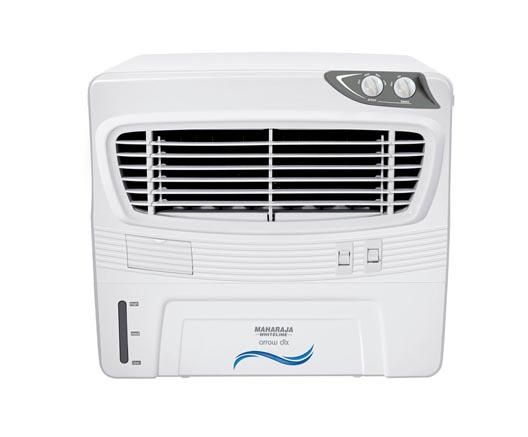 Huge Water Tank

The 50L water tank brings plenty of relief along with the desired coolness in your space. It makes your summer relaxing and lenient.

Air Delivery And Air Throw

The air delivery of 2500m3/hr and the air throw of 35 ft help you cool down a sizable space. It casts the winds with more power to far-flung corners too.

Cooling Technology

The woodwool cooling pads retain the water in the compactly-integrated shavings and provide cooling for a longer duration.

Anti-Bacterial Tank

The anti-bacterial tank takes the level of hygiene in your room a notch above. It helps you keep any possibilities of germ-breeding at bay making your place innocuous.

Room Size

Arrow DLX can cool up a room with the size of 350 sq. ft. With this much capacity, it becomes possible for you to get a sweeping cooling effect even in large spaces.

Dry Run Protected Submersible Pump

Submersible pumps are designed for running under water and use water as a heat-transfer medium. In case the water level goes down and the pump runs dry, the motor gets overheated and burns out. This cooler features dry run protected submersible pump that works well in dry medium without getting damaged.

Shockproof High Grade Plastic Body

Designed in high grade plastic the body is shockproof. This feature comes handy, especially in houses that have children. When the cooler is on, you do not have to constantly worry about an electric shock. The plastic also makes the cooler rust resistant and adds to its durability.
| | |
| --- | --- |
| Voltage | 230V AC 50Hz |
| Power Consumption | 220W |
| Mains cord (pin type, length (m) | 3-pin, 1.5 |
| RPM | 1300 |
| Blower/ Fan | Blower |
| Speed Control | 3 Speed |
| Louver Movement | Horizontal Manual Vertical Motorised |
| Pump Type | Inbulit with Fan motor |
| Water Level Indicator | Yes |
| Water Inlet | Front |
| Water Over Flow | No |
| Water Draining | Yes |
| Motor Mounting | On Tank with MS Chanel |
| Pad Replacement | Easy |
| Motor Replacement | Easy |
| Switch Replacement | Easy |
| Noise (db) | Low |
| Air Delivery (m3/h) Max | 2500 |
| Air Throw (cm.)- @0.5 m/s | 1066.8 |
| Cooling Area (m2) | 32.52 |
| Cooling Media | Wood Wool Pads |
| Net Weight (kg) | 12.5 |
| Gross Weight (kg) | 15.5 |
| Water Tank Capacity(L) | 50 |
| Blower/ Fan Diameter(cm) | 20.32 |
| Product Dimensions (LxWxH)cm | 62 X 53 X 55.6 |
| Carton Dimensions (LxWxH)cm | 71.5 X 59.5 X 61.5 |
| Aroma Chamber | No |
| Ice Chamber | No |
| Anti Mosquito | No |
| Castors | No |
| Mosquito Net cum Dust Filter | No |
| Remote | No |
Product Reviews
No reviews