Super Grand 70

Air Cooler

Feel the grand experience of cooling.





No reviews |
Write a Review
12999
70L Tank Capacity
Woodwool Cooling Pads


5000 m3/h Air Delivery
Inverter Compatible
Colour:
White and Coal Grey
Colour: White & Gray
Tank Capacity: 70 Litre
Anti Bacterial Tank
Honeycomb Pads (Super Grand 70 Plus) & Woodwool Pads (Super Grand 70)
Inverter Compatible
Dry Run Protected Submersible Pump
High Cooling Efficiency
Four way Air Deflection
Make this summer wintry for every member of your home. Super Grand 70 is here with grand efficacy and innovative features to make your summer chilly. With strong air throw and maximum coverage, the cooler offers you a profound cooling effect.
Description
Specifications
Support
Reviews
Warranty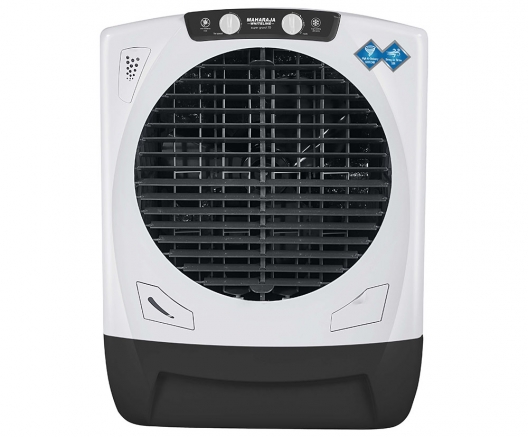 Huge Water Tank

The 70L water tank helps you bring great relief along with cooling. It rids of the occasional fillings that interrupt your comfortable lounge sessions in the summer afternoons.

Air Delivery And Air Throw

The air delivery of 5000m3/h and air throw of 50 feet make the cooling more effective even with a vast expanse. It allows you to convey the air to the far corners of the room with ease.

Cooling Technology

The woodwool pads make cooling very efficient by dispersing the flow of water evenly through the fibrous straws. Moreover, they are very easy to install and give you performance for a very long duration.

Ice Chamber

The ice chamber allows you to quicken the cooling and gives a frosty effect. This helps in reducing the temperature instantly and provides you the much-needed relief from the heat waves.

Air Deflection

The 4-way air deflection helps you cool the surroundings evenly. With the combination of horizontal and vertical louvers, it is very easy for you to deflect the air in different directions as per your preference.

Anti-Bacterial Tank

The anti-bacterial tank allows you to hinder many harmful micro-organisms to breed in the water. It allows you to keep the air clean and healthy and allows you to stay lively while enjoying the cool breeze.

Room Size

The Super Grand 70 lets you cool down a room with the size of 753 sq. ft. By covering this much expanse, the cooler allows you to have a profound cooling effect. It can provide relief to a large number of people easily.

Castor Wheels

The castor wheels bring a high level of mobility into this air cooler. It enables you to move the appliance from one place to another with great ease and convenience.
| | |
| --- | --- |
| Voltage | 230V AC 50Hz |
| Power Consumption | 165W |
| Mains cord (pin type, length (m) | 3-pin, 1.5 |
| RPM | 1400 |
| Blower/ Fan | Plastic Fan |
| Speed Control | 3 Speed |
| Louver Movement | Horizontal Manual Vertical Motorised |
| Pump Type | Submersible |
| Water Level Indicator | Yes |
| Water Inlet | front(water Inlet Door) & side float Valve |
| Water Over Flow | Yes |
| Water Draining | Yes |
| Motor Mounting | On Plastic Stand |
| Pad Replacement | Easy |
| Motor Replacement | Easy |
| Switch Replacement | Easy |
| Noise (db) | Low |
| Air Delivery (m3/h) Max | 5000 |
| Air Throw (cm.)- @0.5 m/s | 1524 |
| Cooling Area (m2) | 69.68 |
| Cooling Media | Wood Wool Pads |
| Net Weight (kg) | 18 |
| Gross Weight (kg) | 21 |
| Water Tank Capacity(L) | 70 |
| Blower/ Fan Diameter(cm) | 45.72 |
| Product Dimensions (LxWxH)cm | 69 X 69 X 87 |
| Carton Dimensions (LxWxH)cm | 72 X 73 X 89 |
| Aroma Chamber | Yes |
| Ice Chamber | No |
| Anti Mosquito | No |
| Castors | No |
| Mosquito Net cum Dust Filter | No |
| Remote | No |
Product Reviews
No reviews