Bravo Prime

Air Cooler

This summer, feel the wintry air inside your home with Bravo Prime Air Cooler.
13099.00
65L Tank Capacity
Woodwool Cooling Pads


5100 m3/h Air Delivery
Inverter Compatible
Colour: White & Grey
Anti Bacterial Tank
Four Way Air Deflection
Anti Bacterial Tank
High Cooling Efficiency
Dry Run Protected Submersible Pump
Inverter Compatible
The Bravo Prime Air Cooler comes with a number of inventive features features that will allow you to beat the heat effortlessly.With this high-end cooler, you can always chill regardless of the weather outside.
Description
Specifications
Support
Reviews
Warranty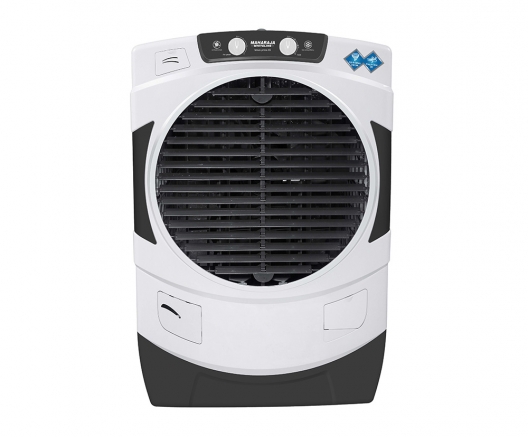 Huge Water Tank

The 65L water tank ensures that you don't have to bother about refilling the cooler frequently. It allows you to experience sublime cooling while giving you a sense of relief too.

Air Delivery And Air Throw

The cooler comes with air delivery of 5100m3/hr and 50 ft of air throw capacity. These enhanced features cool a large area of your home effectively and especially helpful for homes with more occupants.

Cooling Technology

The woodwool pads come with thick and compactly-integrated shavings that turn the hot air from outside into a cool breeze. Moreover, they are durable, efficient, and are very easy to install.

Ice Chamber

The ice chamber helps you get a chilly effect in the air without taking time. It is a powerful feature that allows you to beat the heat in just a few minutes and makes the whole surrounding very pleasing.

Air Deflection

With the right alignment of horizontal and vertical louvers, it is possible for you to dispense the air in 4 different directions. However, if you want, you can deflect the air in the same direction as well.

Anti-Bacterial Tank

This one helps you keep the air clean and does away with any possibilities of breeding germs inside the water. It helps you be sure about the air quality and enables you to live healthy.

Room Size

Bravo Prime allows you to cool a room with the size of 750 sq. ft. With this extensive cooling capacity, it is easier for you to keep a large area sustainable in summer.Bravo Prime lets you cool the surroundings in the outdoors. It comes to your aid when you host large gatherings and need to have people seated in open spaces like lawn or terrace.

Large Fan Size

With a large size of fan, Bravo Prime intensifies the cooling and lets you redefine summer for yourself. It is very effective when you want to cast the air to far-flung corners of the home.

Shockproof High Grade Plastic Body

Designed in high grade plastic the body is shockproof. This feature comes handy, especially in houses that have children. When the cooler is on, you do not have to constantly worry about an electric shock. The plastic also makes the cooler rust resistant and adds to its durability.
| | |
| --- | --- |
| Voltage | 230V AC 50Hz |
| Power Consumption | 165W |
| Mains cord (pin type, length (m) | 3-pin, 1.5 |
| RPM | 1400 |
| Blower/ Fan | Plastic Fan |
| Speed Control | 3 Speed |
| Louver Movement | Horizontal Manual Vertical Motorised |
| Pump Type | Submersible |
| Water Level Indicator | Yes |
| Water Inlet | front(water Inlet Door) , Top(Ice Chamber) & side float Valve |
| Water Over Flow | Yes |
| Water Draining | Yes |
| Motor Mounting | On Plastic Stand |
| Pad Replacement | Easy |
| Motor Replacement | Easy |
| Switch Replacement | Easy |
| Noise (db) | Low |
| Air Delivery (m3/h) Max | 5100 |
| Air Throw (cm.)- @0.5 m/s | 1524 |
| Cooling Area (m2) | 69.68 |
| Cooling Media | Wood Wool Pads |
| Net Weight (kg) | 22.3 |
| Gross Weight (kg) | 25 |
| Water Tank Capacity(L) | 65 |
| Blower/ Fan Diameter(cm) | 45.72 |
| Product Dimensions (LxWxH)cm | 68 X 67 X 93 |
| Carton Dimensions (LxWxH)cm | 70 X 72 X 95 |
| Aroma Chamber | Yes |
| Ice Chamber | Yes |
| Anti Mosquito | No |
| Castors | No |
| Mosquito Net cum Dust Filter | No |
| Remote | No |
Product Reviews
Just wow!
Review by Suraj kumar on 3 August, 2019





Good Cooling
Good choice
Review by Prakash Singh on 27 August, 2019





very nice product