Frostair 45

Air Cooler

A powerful and portable personal air cooler for making summer pleasant.





No reviews |
Write a Review
7999
42L Tank Capacity
Honeycomb Cooling Technology


1900 m3/h Air Delivery
Inverter Compatible
Colour: White & Gray
Tank Capacity: 42 Litre
Anti Bacterial Tank
Honeycomb Pads (Durable & High Air Throw)
Inverter Compatible
Dry Run Protected Submersible Pump
High Cooling Efficiency
Four way Air Deflection
Blower Superior Air Throw
Frostair 45 comes with features such as a 42L anti-bacterial water tank, honeycomb cooling pads, ice chamber, and various others to help you beat the heat in style.
Description
Specifications
Support
Reviews
Warranty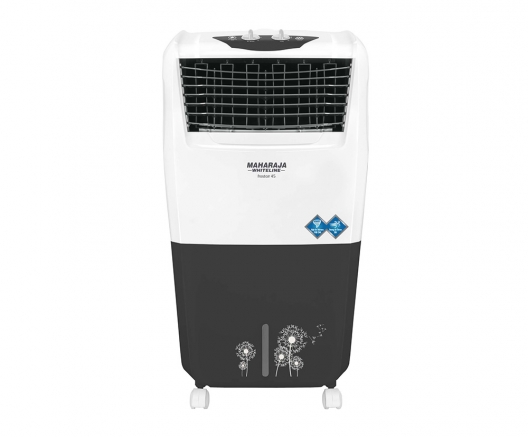 Moderate Capacity Water Tank

The 42L water tank enables you to feel the cool air along with comfort. It rids you of the frequent fillings and lets you enjoy the summer with great ease.

Air Delivery And Air Throw

The air delivery of 1900m3/hr and air throw of 30 ft allow you to cool a significant area. It becomes a preferred option for bachelor pads and hostels with multiple occupants.

Cooling Technology

The honeycomb cooling pads work for a longer duration with minimal need of maintenance. It becomes the right cooling means for individual cooling.

Ice Chamber

The ice chamber allows you to intensify the cooling and helps you add a chilly effect. It makes the cooling more effective and lets you cool the environs instantly.

Mosquito Net Cum Dust Filter

The mosquito net cum dust filter lets you keep many bugs from entering your space. It allows you to stop them from breeding into the water tank and reduces the chances of sickness.

Anti-Bacterial Tank

The anti-bacterial tank keeps the water free from any sort of germs. It allows you to keep the airflow healthy and devoid of any pathogens that could cause smell and health conditions.

Room Size

Frostair 45 can cool a room with the size of 162 sq. ft. This capacity provides ample cooling for personal use and keeps your room pleasant to be in.

Castor Wheels

The castor wheels bring a high level of portability into this cooling machine and save you the hassles of lifting and dragging the cooler with painstaking efforts.
| | |
| --- | --- |
| Voltage | 230V AC 50Hz |
| Power Consumption | 125W |
| Mains cord (pin type, length (m) | 2-pin, 1.5 |
| RPM | 1400 |
| Blower/ Fan | Blower |
| Speed Control | 3 Speed |
| Louver Movement | Horizontal Manual Vertical Motorised |
| Pump Type | Submersible |
| Water Level Indicator | Yes |
| Water Inlet | Top (ice chamber) |
| Water Over Flow | Yes |
| Water Draining | Yes |
| Motor Mounting | Front Panel Holding |
| Pad Replacement | Easy |
| Motor Replacement | Easy |
| Switch Replacement | Easy |
| Noise (db) | Low |
| Air Delivery (m3/h) Max | 1900 |
| Air Throw (cm.)- @0.5 m/s | 914.4 |
| Cooling Area (m2) | 14.86 |
| Cooling Media | Honey Comb Pads |
| Net Weight (kg) | 10 |
| Gross Weight (kg) | 12 |
| Water Tank Capacity(L) | 42 |
| Blower/ Fan Diameter(cm) | 20.32 |
| Product Dimensions (LxWxH)cm | 50 X 35 X 87 |
| Carton Dimensions (LxWxH)cm | 56 X 47 X 96 |
| Aroma Chamber | No |
| Ice Chamber | Yes |
| Anti Mosquito | No |
| Castors | Yes |
| Mosquito Net cum Dust Filter | Yes |
| Remote | No |
Product Reviews
No reviews