Glacio 55

Air Cooler

This summer, let the coolness prevail throughout your home. You can make this possible with a high-end cooling machine.





No reviews |
Write a Review
12799
55L Tank Capacity
Woodwool Pads


5000 m3/h Air Delivery
Inverter Compatible
High Air Delivery 3400 m3/hr
Heavy Air Throw 14/45 mtr./ft
Wood Wool Pads
Wheels for Mobility
Indoor and Outdoor Usage
Glacio 55 is a cutting-edge air cooler that comes with 55L anti-bacterial tank, strong air throw, ice chamber, shock-proof body, and various other features.
Description
Specifications
Support
Reviews
Warranty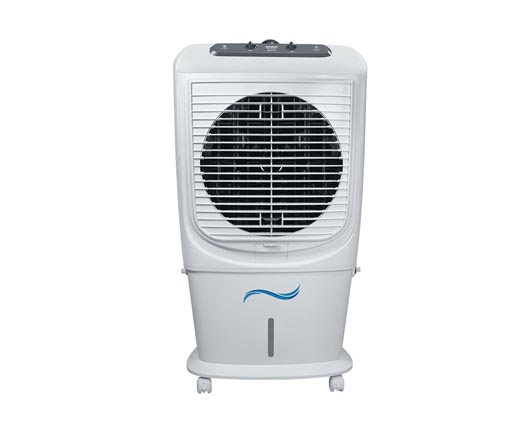 Huge Water Tank

The tank capacity of 55L allows you to chill in summer without any worries of refilling the tank more often than not. Along with cooling, it also brings convenience to your life.

Air Delivery And Air Throw

The air delivery of 5000m3/h and the air throw of 50 ft make the cooling very dynamic and extensive. They help you channel the air into the distant corners of your home and help you enjoy thorough airflow.

Cooling Technology

The woodwool pads make evaporative cooling very effective. They turn hot winds into cool waves with intricate netting that comprises fibrous wooden shavings.

Ice Chamber

The ice chamber enables you to expedite the cooling and gives out a frosty effect that you can enjoy endlessly. This feature makes your summer more bearable and easier with enhanced cooling.

Air Deflection

The 4-way air deflection gives you the ability to cool down your space with wide coverage. The horizontal and vertical louvers allow you to fine-tune the airflow depending on your needs.

Anti-Bacterial Tank

The anti-bacterial tank keeps the water clean and helps you live a healthier life. This feature adds more usability to the cooler because it keeps various harmful germs at bay.

Room Size

Glacio55 covers an area of 750 sq. ft and cools down a great expanse in your home effortlessly. With this capability, you are able to channelize the air to the farthest corners.

Castor Wheels

The castor wheels make the cooler mobile and allow you to take the appliance anywhere you want. It is especially very useful when you have a huge home and need to move the cooler frequently.
Type
Desert
Voltage
230V AC 50hz
Power Consumption
200 Watts
RPM
1400
Blower Fan
Alu. Fan
Speed Control
3 Speed Levels
Louver Movement
Horizontal Manual/
Vertical Motorised
Pump Type
Submersible
Water Level Indicator
Yes
Water Inlet
From Front (Water Inlet Door),
Top (Ice Chamber) & Side Float Valve
Water Overflow Indicator
Yes
Water Drainage Hole
Yes
Switch Replacement
Easy
Noise (db)
Low
Net Weight (kg) approx
16
Gross Weight (kg) approx
20
Water Tank Capactity (L)
55
Blower/Fan Diameter (inch)
16
Air Delivery (m3/hr)
5000
Air Throw Distance (m/ft)
50 feet
Cooling Area (sq. ft.)
750
Product Dimensions (LxWxH) mm
602x450x1180
Carton Dimensions (LxWxH) mm
685x520x1245
Cooling Media
Woodwool Pads
Aroma Chamber
No
Ice Chamber
Yes
Castors
Yes
Mosquito Net
No
Remote
No
Product Reviews
No reviews