Blizzard Deco 55 Remote

Air Cooler

Bring the temperature down with just a push of your finger and feel soothing fresh air in scorching summer





No reviews |
Write a Review
13799
54L Tank Capacity
Honey Comb Pads


1600 m3/h Air Delivery
Inverter Compatible
Colour: White
Anti Bacterial Tank
Honeycomb Pads (Durable & High Air Throw)
Low Noise Operation
Inverter Compatible
Dry Run Protected Submersible Pump
High Cooling Efficiency
Four way Air Deflection
Remote/Manual Variants
Blower Superior Air Throw
Blizzard Deco 55 comes with a 54L anti-bacterial tank, remote control functionality, 4-way air deflection, honeycomb pads, and many other breakthrough features.
Description
Specifications
Support
Reviews
Warranty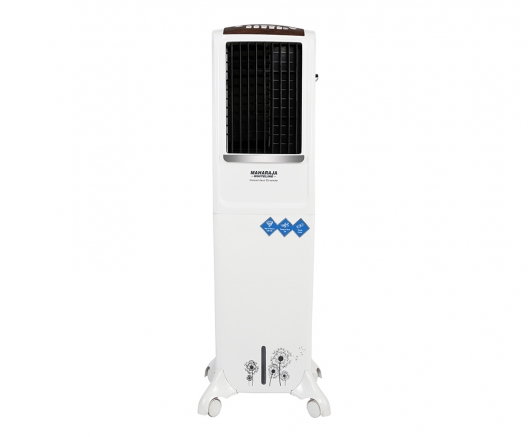 Large Anti-Bacterial Tank

The 54L huge water tank makes your summer not just cooler but also very comfortable. The tank is designed anti-bacterial that assists in getting a germ-free environment inside your home.

Air Delivery And Air Throw

The air delivery of 1600m3/hr and air throw of 25 ft make it possible for you to cover a vast area of your home. It casts the cool winds to the distant nooks of the home easily.

Cooling Technology

The honeycomb structure optimizes the consumption of water and ameliorates cooling. It works with elaborate compartments that retain water for a long duration and makes cooling profound.

Ice Chamber

The ice chamber accentuates the cooling and helps you get chilly winds. It helps you lower the temperature inside your home and works instantly with just a little ice.

Mosquito Net Cum Dust Filter

The mosquito net cum dust filter becomes a useful feature as it keeps many harmful conditions at bay. It allows you to get clean air while keeping the surroundings nippy.

Remote Control

The remote control enhances the level of comfort in your life and makes your summer extra-cozy. It allows you to control the flow of air without moving from your seat and helps you feel relaxed.

Room Size

Blizzard Deco 55 can cool up a room with the size of 162 sq. ft. This capacity allows you to make cooling far-reaching in your home and especially helpful with congested spaces.

Castor Wheels

Castor wheels bring mobility into the usage of this cooler and let you carry it anywhere with matchless ease. It does not let you feel the weight of cooler while trundling it from one place to another.

Wooden/Chrome Deco Panel Communication

The cooler features a wooden/chrome deco panel that adds to the beauty of the cooler while icreasing the durability of the controlling knobs.
| | |
| --- | --- |
| Voltage | 230V AC 50Hz |
| Power Consumption | 125W |
| Mains cord (pin type, length (m) | 2-pin, 1.5 |
| RPM | 1400 |
| Blower/ Fan | Blower |
| Speed Control | 3 Speed |
| Louver Movement | Horizontal Manual Vertical Motorised |
| Pump Type | Submersible |
| Water Level Indicator | Yes |
| Water Inlet | Top (ice chamber) |
| Water Over Flow | Yes |
| Water Draining | Yes |
| Motor Mounting | Front Panel Holding |
| Pad Replacement | Easy |
| Motor Replacement | Easy |
| Switch Replacement | Easy |
| Noise (db) | Low |
| Air Delivery (m3/h) Max | 1600 |
| Air Throw (cm.)- @0.5 m/s | 762 |
| Cooling Area (m2) | 14.86 |
| Cooling Media | Honey Comb Pads |
| Net Weight (kg) | 11.5 |
| Gross Weight (kg) | 14 |
| Water Tank Capacity(L) | 54 |
| Blower/ Fan Diameter(cm) | 20.32 |
| Product Dimensions (LxWxH)cm | 38 X 44 X 129 |
| Carton Dimensions (LxWxH)cm | 54.5 X 46.5 X 132.5 |
| Aroma Chamber | No |
| Ice Chamber | Yes |
| Anti Mosquito | No |
| Castors | Yes |
| Mosquito Net cum Dust Filter | Yes |
| Remote | Yes |
Product Reviews
No reviews