Frostair 25

Air Cooler

Meet your personal cooling machine that will blow your sweat and make the summer refreshing





No reviews |
Write a Review
6999
22L Tank Capacity
Honeycomb Cooling Technology


1900 m3/h Air Delivery
Inverter Compatible
Colour: White & Gray
Tank Capacity: 22 Litre
Anti Bacterial Tank
Honeycomb Pads (Durable & High Air Throw)
Inverter Compatible
Dry Run Protected Submersible Pump
High Cooling Efficiency
Four way Air Deflection
Blower Superior Air Throw
Frostair comes with a 22L anti-bacterial tank, honeycomb cooling pads, 4-way air deflection, and many other amazing features to make the summers ecstatic.
Description
Specifications
Support
Reviews
Warranty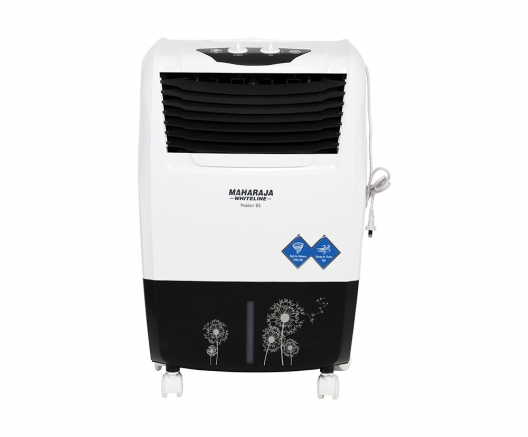 Sufficiently Large Water Tank

The 22L water tank allows you to keep the water tank filled for a sufficiently long time. It helps you bring long relaxing hours without worrying about refilling.

Air Delivery And Air Throw

The air delivery of 1900m3/hr and air throw of 30 ft make this air cooler a suitable option for a small room. It is the right choice for students and professionals who live in paltry apartments.

Cooling Technology

The honeycomb cooling pads allow you to keep the room cooler for a longer duration without needing maintenance or replacement of the pads.

Ice Chamber

With a few cubes of ice, you can turn little into a makeshift freezer. That's right, the chamber allows you to make your space chilly by extracting and dispersing the cold of ice.

Mosquito Net Cum Dust Filter

Mosquito net cum dust filter helps you keep many such bugs from entering the cooler. it is especially very useful when your cooler is installed on a window.

Anti-Bacterial Tank

The anti-bacterial tank stops any sort of germ to find shelter in the water. It abates the possibilities of diseases caused by pathogens and rids of odor as well.

Room Size

This personal cooler can cool up a room with a size of 162 sq. ft. With this capacity, you can kill the heat in a sizable room and make summer easygoing.

Castor Wheels

The castor wheels make this cooling machine more mobile and allow you to move it anywhere with ease. Especially very helpful when you are relocating frequently.
| | |
| --- | --- |
| Voltage | 230V AC 50Hz |
| Power Consumption | 125W |
| Mains cord (pin type, length (m) | 2-pin, 1.5 |
| RPM | 1400 |
| Blower/ Fan | Blower |
| Speed Control | 3 Speed |
| Louver Movement | Horizontal Manual Vertical Motorised |
| Pump Type | Submersible |
| Water Level Indicator | Yes |
| Water Inlet | Top (ice chamber) |
| Water Over Flow | No |
| Water Draining | Yes |
| Motor Mounting | Front Panel Holding |
| Pad Replacement | Easy |
| Motor Replacement | Easy |
| Switch Replacement | Easy |
| Noise (db) | Low |
| Air Delivery (m3/h) Max | 1900 |
| Air Throw (cm.)- @0.5 m/s | 914.4 |
| Cooling Area (m2) | 14.86 |
| Cooling Media | Honey Comb Pads |
| Net Weight (kg) | 9 |
| Gross Weight (kg) | 11 |
| Water Tank Capacity(L) | 22 |
| Blower/ Fan Diameter(cm) | 20.32 |
| Product Dimensions (LxWxH)cm | 49 X 35.5 X 70 |
| Carton Dimensions (LxWxH)cm | 56.5 X 47 X 81 |
| Aroma Chamber | No |
| Ice Chamber | Yes |
| Anti Mosquito | No |
| Castors | Yes |
| Mosquito Net cum Dust Filter | Yes |
| Remote | No |
Product Reviews
No reviews