Hybridcool 55 With Remote

Air Cooler

A panacea for all your woes of summer.





No reviews |
Write a Review
15199.00
55L Tank Capacity
Unique Hybrid Pads


5000 m3/h Air Delivery
Inverter Compatible
High Air Delivery 5000 m3/hr
Heavy Air Throw 52 ft
4 way air deflection
3 speed levels (low, medium & high)
Maharaja Whiteline brings you this hybrid cooling machine that transforms the environment of your home. Hybridcool 55 comes with a hybrid cooling system with many other features to make your summer cooler.
Description
Specifications
Support
Reviews
Warranty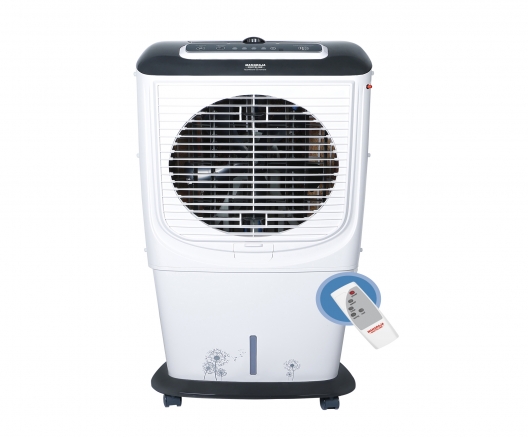 Huge Water Tank

The 55L water tank enables you to have total rest while enjoying the cool air. it would allow you to relish the cool breeze without the hassle of filling the tank frequently.

Air Delivery And Air Throw

The air delivery of 5000m3/hr and air throw of 52 feet make this a powerful machine. It helps you get profound coolness in your environs while saving the efforts of moving the cooler at short intervals.

Cooling Technology

The hybrid cooling mechanism comes with a combination of woodwool pads and a honeycomb structure. it makes the cooling more effective, long-lasting, and reliable.

Ice Chamber

The ice chamber lets you turn the air chilly instantly and provides you great relief in the unbearable summer. It makes the environment of your home very relaxing and makes your lounge time immensely enjoyable.

Air Deflection

The 4-way air deflection helps you cool down a large area with a proportional airflow to diverse directions. This is made possible with the alignment of vertical and horizontal louvers.

Anti-Bacterial Tank

The anti-bacterial tank rids any possibility of breeding noxious germs in the water. This feature helps you live a healthy life and it allows you to have cleaner air inside your home.

Remote Control

The remote control brings a whole new level of comfort in the lives of cooler lovers. It brings ease and sophistication in the usage and keeps you comfy in the sizzling summer.

Room Size

The Hybridcool 55 can cool a room with the size of 753 sq. ft. It allows you to keep a cooling drift in the room for a very long duration. This feature adds more efficacy to the overall cooling.

Castor Wheels

The castor wheels let you move the cooler into different rooms without making much effort. It brings more scalability to your life as you can carry the cooler in different spaces of your home seamlessly.
| | |
| --- | --- |
| Voltage | 230V AC 50Hz |
| Power Consumption | 180W |
| Mains cord (pin type, length (m) | 3-pin, 1.5 |
| RPM | 1400 |
| Blower/ Fan | Plastic Fan |
| Speed Control | 3 Speed |
| Louver Movement | Horizontal Manual Vertical Motorised |
| Pump Type | Submersible |
| Water Level Indicator | Yes |
| Water Inlet | front(water Inlet Door) , Top(Ice Chamber) |
| Water Over Flow | Yes |
| Water Draining | Yes |
| Motor Mounting | On Plastic Stand |
| Pad Replacement | Easy |
| Motor Replacement | Easy |
| Switch Replacement | Easy |
| Noise (db) | Low |
| Air Delivery (m3/h) Max | 5000 |
| Air Throw (cm.)- @0.5 m/s | 1584.96 |
| Cooling Area (m2) | 69.68 |
| Cooling Media | (Honeycomb + Wood Wool) |
| Net Weight (kg) | 15.5 |
| Gross Weight (kg) | 19 |
| Water Tank Capacity(L) | 55 |
| Blower/ Fan Diameter(cm) | 40.64 |
| Product Dimensions (LxWxH)cm | 60.2 X 45 X 118 |
| Carton Dimensions (LxWxH)cm | 68.5 X 51 X 123 |
| Aroma Chamber | No |
| Ice Chamber | Yes |
| Anti Mosquito | No |
| Castors | Yes |
| Mosquito Net cum Dust Filter | No |
| Remote | Yes |
Product Reviews
No reviews