Hybridcool 55 With Remote

Air Cooler

This summer stay cool in style!





No reviews |
Write a Review
13999.00
Tank Capacity
Remote Control


Warranty
High Air Delivery 5000 m3/hr
Heavy Air Throw 52 ft
4 way air deflection
3 speed levels (low, medium & high)
Hybridcool 55 With Remote air cooler is sure to keep your home cool for long. The water tank has a capacity of 55L and is anti-bacterial to prevent foul smell and growth of bacteria. The wood wool pads ensure proper cooling and the honeycomb structure is durable and maintains high air throw. It has a remote operation feature for ease of access.
Description
Specifications
Support
Reviews
Warranty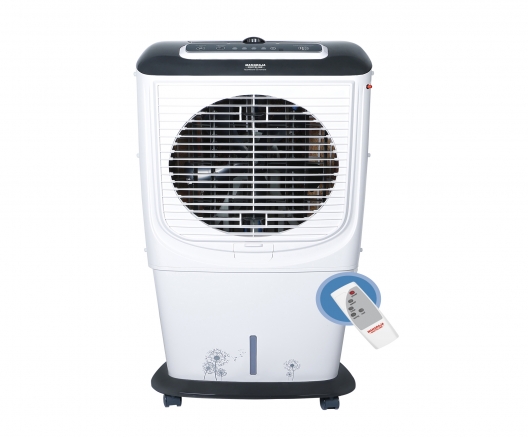 Unique Hybrid Cooling

Hybridcool range of desert air coolers uses a unique combination of both woodwool and Honeycomb pads and makes the coolers more efficient at cooling and durable.

Anti-Bacterial Tank

The cooler tank is infused with anti-bacterial material to prevent growth of potentially harmful bacteria. The innovative fusion results in prevention of many diseases and thus promotes good health.

Easy Access via Remote

Now change the flow, speed without moving a feet with the remote.

High Cooling

The ice chamber can be filled with ice cubes for a further drop in air temperature, which provides a better experience in cooling via unique hybrid usage of wood wool and honeycomb pads.

High Air Delivery

Hybridcool Air Cooler has a high air delivery of 5000m3/hr that ensures colder air delivery and enhanced cooling experience

4 Way Air Deflection

The motorized vertical louvers and manual horizontal louvers disperse air in every corner of the room. You can even set them in one direction to focus the air flow in just one direction.

Strong Air Throw

Hybridcool Air Cooler has a strong air throw of 52 feet that covers a good distance and helps in delivering air in every corner of the room.

Tank Capacity

Hybridcool air cooler has a water tank capacity of 55L that can easily last for hours. With this kind of volume capacity, you are freed from the hassles of frequent refilling.
| | |
| --- | --- |
| Voltage | 230V AC 50Hz |
| Power Consumption | 180W |
| Mains cord (pin type, length (m) | 3-pin, 1.5 |
| RPM | 1400 |
| Blower/ Fan | Plastic Fan |
| Speed Control | 3 Speed |
| Louver Movement | Horizontal Manual Vertical Motorised |
| Pump Type | Submersible |
| Water Level Indicator | Yes |
| Water Inlet | front(water Inlet Door) , Top(Ice Chamber) |
| Water Over Flow | Yes |
| Water Draining | Yes |
| Motor Mounting | On Plastic Stand |
| Pad Replacement | Easy |
| Motor Replacement | Easy |
| Switch Replacement | Easy |
| Noise (db) | Low |
| Air Delivery (m3/h) Max | 5000 |
| Air Throw (cm.)- @0.5 m/s | 1584.96 |
| Cooling Area (m2) | 69.68 |
| Cooling Media | (Honeycomb + Wood Wool) |
| Net Weight (kg) | 15.5 |
| Gross Weight (kg) | 19 |
| Water Tank Capacity(L) | 55 |
| Blower/ Fan Diameter(cm) | 40.64 |
| Product Dimensions (LxWxH)cm | 60.2 X 45 X 118 |
| Carton Dimensions (LxWxH)cm | 68.5 X 51 X 123 |
| Aroma Chamber | No |
| Ice Chamber | Yes |
| Anti Mosquito | No |
| Castors | Yes |
| Mosquito Net cum Dust Filter | No |
| Remote | Yes |
Product Reviews
No reviews