Grind like a pro in 60 seconds with Duramaxx mixer grinders
By Maharaja Whiteline on 30 October, 2021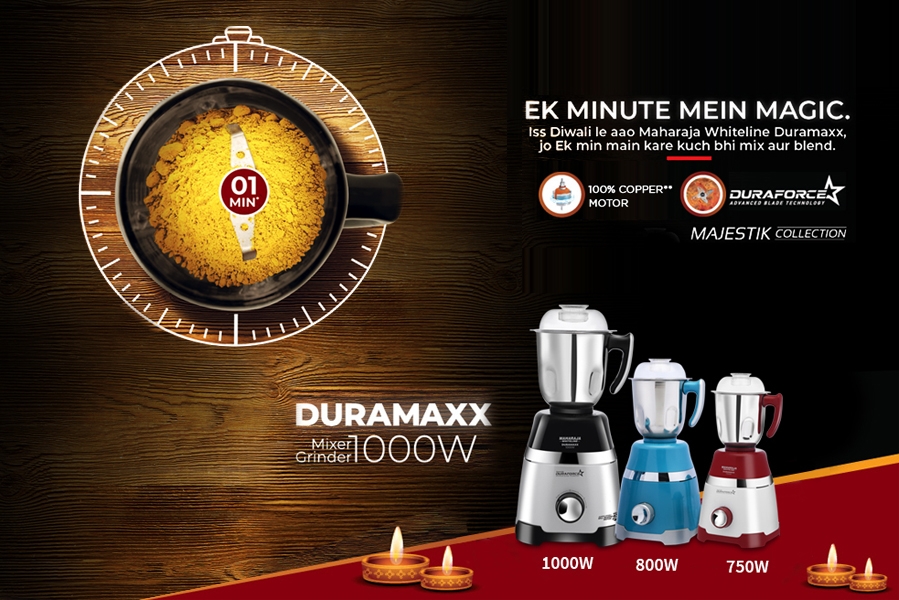 Have you ever thought about that one step of cooking that is most exhausting? The one that makes you hate cooking? Yes, It is Grinding. Grinding is one of the most tiring and boring tasks while cooking. In the primitive days, people used to grind the spices, curries and pastes using mortar or a dori sota which demanded much physical strength. But in the present times, people are leading hectic work lives, and get very less time for cooking. With the initiative of supporting such folks, we have introduced our highly innovative Duramaxx mixer grinders under our Majestik Premium Collection.
Majestik Premium Collection is our premium range of durable yet trendy products, to make your kitchen chores smooth and simple. The Majestik Premium range is a symphony of world-class features and cutting-edge technology.
Our new range of Duramaxx Mixer Grinders under Majestik collection are powered with futuristic Duraforce technology, making it the perfect solution for all your kitchen worries. You can grind, mix and blend, all in just one minute effortlessly. Duramaxx is in fact, the best mixer grinder in India with superior built-in quality. Our exclusive collection of Duramaxx mixer grinders, will not only make your hassle-free but also time-saving.
Diwali is around the corner. It is the most festive yet hectic season where you have to do a lot of chores. Diwali shopping, house cleaning, pooja preparations and cooking, are the most time-consuming tasks. But this Diwali you got all sorted with Duramaxx mixer grinders. These Duramaxx grinders are equipped with advanced Duraforce blade technology that lets you mix and experience pro level grinding of any ingredient in just one minute. From grinding the toughest spices to crushing the hardest ice for your beverages, it can do it all. Toh is Diwali, karo ek minute mein kuch bhi blend aur mix with pro-level grinding skills within 60 seconds. Bring to your homes our trendy yet durable Duramaxx mixer grinders and see #Ekminutemeinmagic.
Pro-level grinding in 60 seconds

Our super quick and sturdy Duramaxx mixer grinders allow you to achieve pro-level grinding skills in just 60 seconds. Its high-tech and new-fangled mechanism enables you to mix, grind, and chop in just 60 seconds. You can grind nuts, coconut, spices, chop veggies, crush ice, or blend vegetable pastes and chutneys or do whatever you want to do with them.

100% Copper motor

Our mixer grinders have been intelligently designed with a robust 100% copper motor to maximise the speed of operation. The added feature of the double ball bearing mechanism for our 1000 watt variant lends the motor maximum support to achieve competent grinding skills. This adds to the efficiency of mixer grinders and makes them even more sturdy.

Duraforce blade technology

Duramaxx mixer grinders come with premium quality 304 stainless steel Duraforce blades, allowing you to achieve the desired results in just 60 seconds. These highly blunt and tough blades are capable of grinding the ingredients even with the hard surface including nuts and coconut. These blades are innovatively designed to adapt to advanced levels of grinding and blending. These tough blades lend to your pastes and curries a smooth, creamy texture like whipped cream in just seconds.

Trendy Designs

Our amazing range of Duramaxx mixer grinders are not just super quick, but also beautifully designed to accentuate your kitchen decor even more. They are available in attractive colours of black and silver (1000 watt), turquoise blue (800 watts) and Cherry red (750 watts) with stylish patterns giving them an eye-pleasing and luxurious appearance. You can buy the variant that suits your kitchen decor and fulfils your requirement the most.
Duramaxx mixer grinders are available in three variants:
Duramaxx 1000 watt

Our Duramaxx 1000 watt mixer grinder is exclusively designed for catering to all your immense kitchen requirements. It comes with three-multi purpose jars which include a grinding jar, liquidizing jar and a chutney jar of different sizes, to suit all your needs. Its majestic silver and black finish is just the right fit for every kitchen interior.

Duramaxx 800 watt

Our Duramaxx 800 watt is as efficient and as tough as Duramaxx 1000 watt. It comes in a delightful shade of turquoise blue to suit every modern kitchen look. It is cleverly built to fulfil all your chopping, grinding and mixing needs in just 60 seconds.

Duramaxx 750 watt

Our final variant, Duramaxx 750 watt mixer grinder is as smart as the other two variants. Its beautiful cherry red and silver colour shade are exclusively designed for adorning the modular kitchens. The Maharaja 750 watts mixer grinder operates at the power of 750 watts and like its other two models, is efficient for 30 minutes of continuous grinding. Its unique and robust mechanism will make your grinding and blending effortless.
SPECIFICATIONS
| PRODUCTS | POWER | PRICE | COLOUR | WARRANTY OF PRODUCT | MOTOR WARRANTY | FOOD GRADE SAFE | BLADE QUALITY | NO. OF JARS | BLENDER WITH FRUIT FILTER | ISI CERTIFIED | SPEED SETTING |
| --- | --- | --- | --- | --- | --- | --- | --- | --- | --- | --- | --- |
| Duramax 1000 watt | 1000 watt | RS.6999 | Black and silver | 2 years | 5 years | YES | SUPER SHARP DURAFORCE BLADE | 3 | YES | YES | 3 speed+ pulse |
| Duramax 800 watt | 800 watts | RS.6799 | Turquoise blue | 2 years | 5 years | YES | SUPER SHARP DURAFORCE BLADE | 4 | YES | YES | 3 speed+pulse |
| Duramax 750 watt | 750 watts | RS.6399 | Cherry red and silver | 2 years | 5 years | YES | SUPER SHARP DURAFORCE BLADE | 4 | YES | YES | 3 speed+pulse |
We are tech giants at innovating and delivering products with superior built-in quality. Our latest Duramaxx range includes one of the best mixer grinder in India. So, gear up and buy these super amazing and hard-wearing Maharaja mixer grinder and indulge in hassle-free cooking. They are just the perfect kitchen appliance for this festive season. You can buy a mixer grinder online or from any of the leading retail stores, at your convenience.