A Juicer Mixer Grinder for a healthy living delivering the perfect nutrition to your family
By Maharaja Whiteline on 1 October, 2019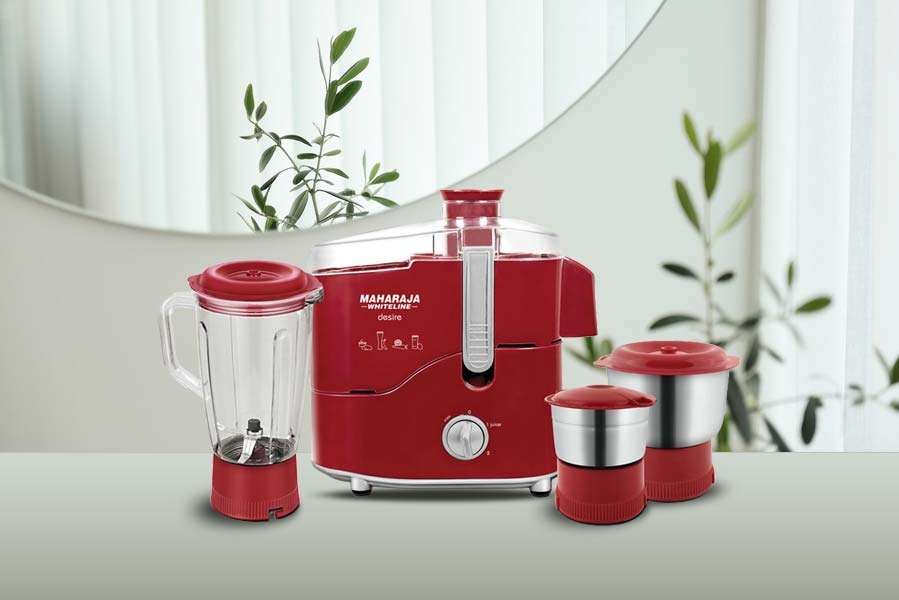 Looking To Have Multitasking Appliances - Juicer Mixer Grinder
The home appliances possess tremendous utility with their extraordinary brilliance and efficiency in producing the quality output. In the present text you will find an extensive discussion on juicer mixer grinder. The appliances are of immense use in our day to day life – by and by making our routine life easy, comfortable, and delicious in a very subtle way.
Juices for Health Enthusiasts
The health enthusiasts prefer to start their day with a glass of fruitsor veggiesjuices. This is a brilliant and an awesome way to make the proceeding of the day. The squeezing of juices with juicer is very helpful, as there is no need of peeling or chopping of the fruits and other veggies. You have to just select your favorite fruit or vegetable, put it into the juicer – and you are all set to consume your favorite juice – and give a thumping start to your day. The only precaution you need to undertake is to take a good quality juicer, in order to avail the maximal benefit for years to come.
Brand
The Maharaja Whiteline is well known and premium brand for home appliances. It has honed great reputation in producing user-friendly home appliances, garment care, and home comfort- at competitive pricing structure.
Striking Attraction
The striking attraction of branded home appliances is that it is easy to use– by and by giving extra freedom in your day to day life. It has got team of skilled professionals , who constantly works on new innovative design – that is more suited to the changing requirements of the user. The noteworthy features of the branded home appliances are as follows:
The juicer mixer and grinder are made on scientific guidelines. In this way, the prepared food items are delicious and nutritious.
You can use mixer grinder to grind spices, prepare tasty chutneys, or make your favorite and delicious smoothies in a very easy way.
The home appliances come at competitive pricing structure.
The brand maintains quality and uniqueness with its experienced R & D and in house design.
The Maharaja Mixie comes with three jars for liquidizing, wet and dry grinding.
You can also use these multicolored home appliances as a gift items during festivals like Diwali, Holi, Christmas, or on your friend's marriage anniversary, birthday parties, etc.
The appliances come with simple ergonomic design – making your cooking extremely fast, delicious, nutritious, easy and enjoyable.
There is a powerful motor in the mixer grinder, giving better efficiency in food preparation.
The blades (of juicer mixer grinder) made of premium steel, gives best result every time.
The appliances are easy to clean and require very little effort in maintenance.
The brand comprises of highly focused and creative minds. This ensures happiness of customers with appreciation, humility, optimism and passion.
Further to add, the people at large can easily purchase their desired home appliances at the comfort of their home. This can be done on any of the renowned online shopping portals like Amazon, Flipkart, and Snapdeal – to name a few. Here, you will also come to know about the wide range of products (juicer mixer grinder) available; and you can easily make your choices as per your preference and need.
Importance of Quality in Home Appliances
The quality is immeasurably vital in case of home appliances like juicer, mixer and grinder. The reason is simple; the appliances that are of daily use are more subjected to wear and tear. Now, you yourself can understand that when you use any appliance during the preparation for your breakfast, and during the preparation of your lunch and also during the preparation of your dinner –then it is more and more susceptible to damage. On the other hand, if the used appliances are of premium quality, then durability is long lasting.
Further to add, quality appliances also boost the delicacy and nutritious value of the food prepared. For example, if you are using juicer every morning for drinking the juices of different fruits like pomegranate, orange, pineapple, and veggies. Here, quality juicer will squeeze the fruit juice completely and also retains the nutrient value of fruit. But, with the use of substandard products, the results are other way round, which means lot of wastage and also deficiency in the nutrient content.
New Experimentation
The presence of quality home appliances like juicer, mixer grinder in your kitchen – provides ample opportunity to do new experimentation and develop your new scrumptious recipe. The use of quality appliances makes the preparation of food and enjoyable exercise and you are thrilled to see the visually delightful delicacy prepared in your kitchen. Now, with the preparation of the lip smacking delicacy you are all set to bestow your love on your children, other family members and loved ones.