Celebrating Independence Day 2021 in Our Own Way!
By Maharaja Whiteline on 14 August, 2021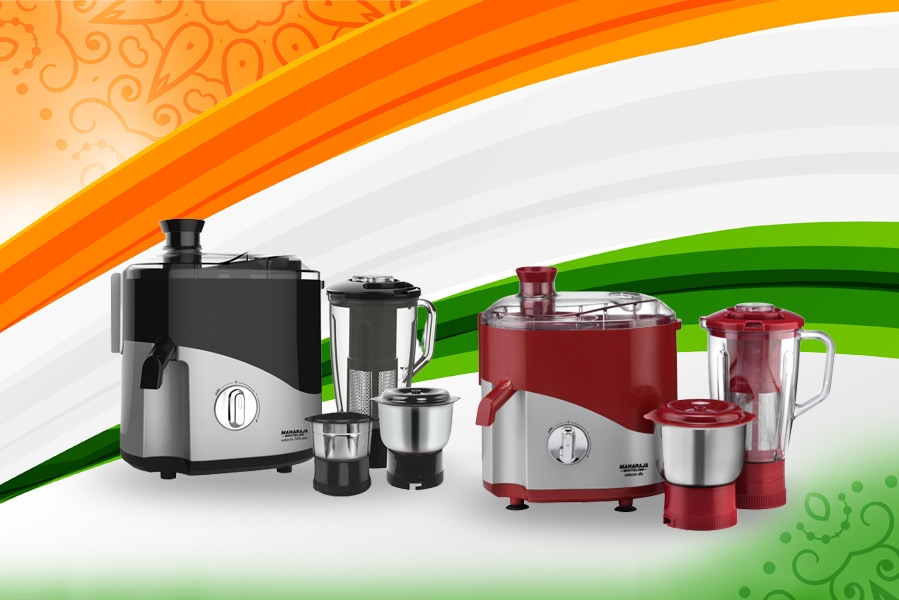 Today, let us discover some of the beautiful tricolour recipes to try this year. This year let us celebrate the step towards surviving the pandemic and continue to do so. Let us welcome August 15, the air will be loaded up with enthusiasm and patriotism. Be it celebrating with loved ones by raising our banner toward the beginning of the day or taking part in melodic or sports programs, our Independence Day implies a ton to us.
Since it is consistently an occasion, it turns into a superb motivation to call your loved ones over and have a little exposure in this advanced age. This year, why not observe Independence Day with flavourful, fun, sound, and simple plans that are normally tri-shaded. Believe it or not, not a solitary drop of food shading!
Let us explore the recipes right away. They are as follows:
Tiranga Lassi

Lassi is one of the universally favourite drinks of Indians. And this is a special occasion we cannot overlook. And all you need is a juice extractor.

Ingredients:

2 tsp of kesar syrup (orange colour)
2 tsp of khus syrup (green colour)
3 cups of curd (white colour)
1 tsp of cardamom powder
3 tsp of sugar

Preparation:

Begin whisking the curd.
Now, in the curd add sugar and cardamom powder.
Start blending the kesar syrup with curd and get the right saffron texture.
Separately do the same with khus syrup.
Or else, you can use an electric fruit juicer and grind it for a minute.
Keep the whisked curd aside for the white shade.
Get the best glass.
And now pour khus lassi first and then add curd.
Now, in the end, add kesar syrup for the right tricolour shade.
Garnish it with pistachio.
Serve cool.

Tricolour Dhokla

Dhokla is the best sweet dish to try on this special occasion. It is also filled with immense nutrition that keeps you healthy.

Ingredients:

3 cups of idli batter
¼ cup of spinach
Green chilli paste
Ginger paste
1 tsp of gun powder
¼ tsp of red chilli powder
Oil/butter
3 tsp of grated coconut
1 tsp of chopped coriander leaves
1 tsp of mustard seeds
1 tsp of white sesame seeds

Preparation:

Make three divisions of idli batter.
And mix each as per the colour you desire. In this context, tricolour.
For green colour, make a puree out of spinach, chilli, and ginger paste.
For saffron colour, mix gunpowder and red chilli powder with the batter.
Now, start steaming one by one.
Add green batter and steam it followed by the plain white batter and then again steam it.
Now, add the saffron batter and again steam it.
Remove the medley.
Let it cool for some time.
Now, cut into your preferred shapes.
Season it with oil and sesame seeds.
And now, garnish it with coriander leaves and grated coconut.
Serve it with green chutney.

Trio Mania Mocktail

Mocktails are always our favourite summer drinks. And apart from that, whenever we hear a vouch for celebration this is what it comes.

Ingredients:

2 tsp of cream-based soda
2 tsp of kiwi syrup
½ tsp of sugar syrup
2 tsp of orange syrup
Crushed ice

Preparation:

The syrup is an easy way to get the right colours. Apart from that, you can always look for the best homemade alternatives with the best juicer machine online or hand blender.
Now, take a glass.
Pour kiwi syrup and cream-based soda.
Add crushed ice.
Now, pour orange syrup on top.
Again, put some more crushed ice.
Add sugar syrup on top.
Don't mix it.
You just need some patience to get it right.
And here you are ready with the trio mania mocktail.

Tricolour Salad

Salad can be a part and parcel of our daily lives. And with Independence Day coming, you can always have a pinch of style for a meal.

Ingredients:

1 carrot
1 small broccoli
8-9 baby corns
3 tsp of butter
Salt and pepper as per taste

Preparation:

Wash and boil the baby corns in water for 5 minutes.
Drain excess water and now keep it aside.
Keep the boiling water for your next use.
Blanch the broccoli florets in the same water and remove the broccoli.
Now, wash the carrots and peel them.
Slice it diagonally.
Heat 1 tsp of butter. Add broccoli florets into it.
After a minute, add salt and pepper for cooking.
Remove broccoli from the pan and keep them aside.
Repeat the same with baby corns and carrots as well.
Now, arrange all the vegetables representing the Indian flag.
Season it with sesame and salad oil.
Finally, you are ready to serve.
Serve with it mayo.

Tricolour Meal

Now, let's head forward to explore the highlight for the day. A tricolour meal to serve your family this Independence Day.

Ingredients:

1 cup of boiled carrots
3 tsp of sour cream
Salt to season
½ tsp of red chilli powder
¾ cup of basmati rice
1 cup of water
4 tsp of butter
2 tsp of all-purpose flour
100 g spinach leaves
¼ cup of onion
3 cloves garlic
Salt and pepper

Preparation:

First, prepare a special carrot puree.
Blend the boiled carrots into a smooth puree. Add minimal water or milk to it.
Mix it with sour cream, red chilli powder, and salt.
Cook ¾ cup of basmati rice in ½ or 1 cup of water as per your preference.
Set it aside.
Now, melt almost 3 tsp of butter.
Add garlic and diced onions.
Sauté for some time.
Sprinkle some all-purpose flour.
And whisk everything properly.
Cook approximately for 2 minutes in medium flame.
Let it turn into light brown colour.
Until then add milk and whisk it constantly for another 5 mins.
Let the sauce get thick.
Now, melt 1 tsp of butter in a separate pan.
Add spinach and cook it till it's wilted. Remember not soggy.
Season the cream sauce using pepper and salt.
Stir and combine some spinach on top.
You are ready to serve.
Share your feedback with us. :)
Happy Independence Day!