Duramaxx 800W

Mixer Grinder

Build memories with the pro level grinding of your everyday cooking assistant





No reviews |
Write a Review
7699.00
800-Watt Copper Motor
Duraforce Advanced Blade
Technology for Pro level
Grinding under 60 sec*


30 Minutes Continuous Grinding
Food Grade Safe
Colour:
Turquoise Blue & Silver
Colour: Turquoise Blue & Silver
Power: 800W
Duraforce Balde Technology
Product Warranty: 5 Years
The Maharaja Whiteline Duramaxx 800W Mixer Grinder of our Majestik Collection is equipped with an efficient 100% copper motor,lends you the liberty to stir up any recipe without letting you fret over the extra effort. Boasting Duraforce Advanced Blade Technology with an intelligent mechanism with a sensible and easy to operate design; the mixer grinder becomes a must-have tool for all your kitchen endeavors.
*
Considering 2 minutes of resting time after every 5 minutes operation at standard condition.
Description
Specifications
Support
Reviews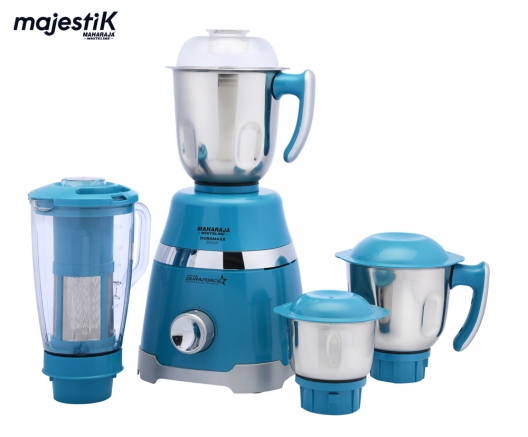 100% Copper Motor:

The mixer grinder is optimized for a powerful & durable motor operation with a thoughtfully manufactured 100% copper motor. This lends the mechanical strength and resilience to withstand long-term usage and increases the life expectancy of the kitchenware.

Duraforce Advanced Blade Technology:

The Duramaxx 800W flaunts duraforce advanced blade technology granting the system with pro-level grinding abilities under 60 seconds. This cutting-edge feature facilitates reasonable mixing-grinding operations to offer superfast & superfine results.

800-Watt Motor:

Powered with an 800-Watt motor, the Duramaxx Mixer Grinder is engineered with a robust design and delivers substantially intense horsepower for high-performance results. This formidable strength lends the device an efficient mechanism to function seamlessly.

Food Grade Safe:

Quality makes for a pleasant experience. At Maharaja, delivering a delightful time takes precedence. Therefore, the Duramaxx attests to food-grade safety measures, building a healthy & reliable relationship with the kitchenware.

Jars To Serve All Your Needs:

This Mixer Grinder comes with set of 4 jars inclusive of a liquidizing jar, grinder jar and chutney jar, along with a blender jar with fruit fitter that fits almost all your kitchen requirements.

30 Minutes Continuous Grinding:

The Mixer Grinder is manufactured with a robust framework inlaid with equally competent machinery. Facilitated smartly, the Duramax 800W stands capable of prolonged usage of up to 30 minutes continuously ensuring uniform consistency of flavors and texture of the ingredients.

20,000 Rpm Motor Speed:

The Dura Motor bedazzles with an outstandingly quick & efficient performance sporting an impressive speed of 22,000 RPM. Coupled with the mighty 800W horsepower, such speed endows the kitchenware with tremendous strength & specialty.

Mix & Grind 304 Blades:

The Duramaxx 800W is sensibly furnished with super sharp mix & grind stainless steel 304 blades to slice through the toughest of skin & flesh of ingredients and deliver a smooth & luscious textured output with breezy ease & efficiency.
| | |
| --- | --- |
| Power | 800W Copper Motor |
| Colour | Turquoise Blue & Silver |
| Operating Time | Pro level grinding in 60 sec*, 30 mins Continous Grinding ** |
| Food Grade Safe | Yes |
| ISI Certified | Yes |
| Blades | Super Sharp SS 304 Blades, Duraforce Balde Technology |
| Locking System | No |
| Jars | 4 |
| Chutney Grinding Jar | 400ml SS |
| Dry Grinding Jar | 1L SS |
| Liquidizing Jar | 1.5L SS |
| Blending Jar | 1.5L SS |
| Speed Setting | 3 speed+ pulse |
| Warranty - Motor | 5 year |
| Warranty - Product | 2 year |
| Motor Speed | 20,000 RPM |
| Blender with Fruit Filter | Yes |
| 20% Superior Cooling | No |
| Powerful Vaccum Hold | Yes |
| Hands Free Operation | No |
| Unbreakable PC Lid | No |
| Unique Jar Flow Breakers | Yes |
| Durable Nylon 66 Coupler | Yes |
Product Reviews
No reviews