1..2..3 Pro

Mixer Grinder

A performance-engineered mixer grinder for a flavorful mixture





No reviews |
Write a Review
3699
550-Watt Efficient Motor
Cooler Operation


30 Minute Continuous Grinding
2 Years Warranty
Colour: Black & Grey
Power: 550W
Number of Jars: 3
Food Grade Safe: Yes
ISI Certified: Yes
Speed Setting: 3+Pulse
With the Maharaja Whiteline 1..2..3 Pro Mixer Grinder, explore a brand-new blending and grinding experience. It has a 550-watt motor that operates at 20,000 RPM to provide excellent performance. It features efficient cooling for extended and efficient operations along with competent stainless steel mixing and grinding blades to bring out the best of flavors, tastes, and aromas in your cooking.
*
Considering 2 minutes of resting time after every 5 minutes operation at standard condition.
Description
Specifications
Support
Reviews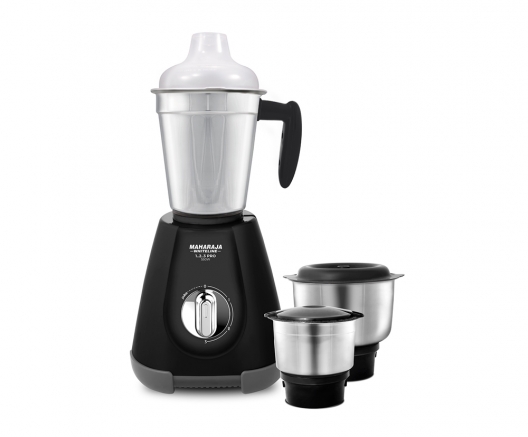 Cooler Operation:

Maharaja Whiteline 1..2..3 Pro Mixer Grinder is designed to help you put all your worries to rest. To ensure longer operations and less overheating of the motor, it works with the cooler operation mode.

Power Packed With 550W Motor:

The 1..2..3 Pro Mixer Grinder is motorized by a 550-Watt motor with a robust design to deliver substantially intense horsepower for high-performance results.

Along With 3 Versatile Jars:

This Mixer Grinder comes with three heavy-duty, multipurpose jars to meet your most frequent kitchen needs: a 1.5L Liquidizer Jar, a 700 ml Grinder Jar, and a 400 ml Chutney Jar.

Unique Jar Flow Breakers:

The components fall onto the blades throughout the grinding process, producing fine and fluffy powder and paste, thanks to the innovative flow breakers incorporated in the jars of 1..2..3 Pro.

30 Minutes Continuous Grinding*:

With the 550-watt power, the 1..2..3 Pro Mixer Grinder allows you to mince your contents quickly & continuously for 30 minutes. *Considering 2 minutes of resting time after every 5 minutes of operation under standard conditions.

20,000 Rpm Motor Speed:

This 1..2..3 Pro Mixer Grinder showcases tremendous strength with its remarkably swift & efficient performance sporting an impressive speed of 20,000 RPM.

Durable & Strong Construct:

Built to perfection and last long, Maharaja 1..2..3 Pro Mixer Grinder is constructed with a high-grade ABS body that adds to its durability and strength throughout the years.

Mix & Grind SS Blades:

The 1..2..3 Pro is sensibly furnished with razor-sharp mix & grind 304 stainless steel blades to slice through the toughest ingredients and deliver a smooth & luscious textured output with ease & efficiency.

Powerful Vacuum Foothold:

The Maharaja Whiteline1..2..3 Pro Mixer Grinder features strong vacuum footholds that remain stable on any surface or platform. Gives you a satisfying grinding experience no matter what top the appliance is placed on.

Food Safe Material:

Delivering superior quality products is the ultimate goal at Maharaja. Hence, all our products are food-grade safe to ensure the quality of your food is well-maintained.

Durable Nylon Coupler:

The Stellar 1..2..3 Pro Mixer Grinder is composed of a high-quality durable nylon coupler, making the usage smooth and efficient. It keeps the appliance functional for a long time.

2 Years Warranty:

The product covers a warranty of 2 years, keeping you assured of quality that you can back upon. Address in case of any discrepancy and get your appliance back on its toes and working for you like ever.
| | |
| --- | --- |
| Power | 550W |
| Colour | Black |
| Operating Time | 30 mins Continous Grinding ** |
| Food Grade Safe | Yes |
| ISI Certified | Yes |
| Blades | Super Sharp SS 304 Blades |
| Locking System | NA |
| Jars | 3 |
| Chutney Grinding Jar | 400ml SS |
| Dry Grinding Jar | 700ml SS |
| Liquidizing Jar | 1.5L SS |
| Blending Jar | NA |
| Speed Setting | 3 speed + pulse |
| Warranty - Motor | 5 year |
| Warranty - Product | 2 year |
| Motor Speed | 20,000 RPM |
| Blender with Fruit Filter | No |
| 20% Superior Cooling | Yes |
| Powerful Vaccum Hold | Yes |
| Hands Free Operation | No |
| Unbreakable PC Lid | Yes |
| Unique Jar Flow Breakers | No |
| Durable Nylon 66 Coupler | Yes |
Product Reviews
No reviews