Superio DLX

Mixer Grinder

A quintessential for home cooks and ace chefs for a functional kitchen





No reviews |
Write a Review
5699.00
Powered with a 750-watt motor
30-minute continuous grinding & juicing


Superior 100% copper motor
Cooler operation to ensure minimal overheating
Colour:
Turquoise Blue & Black
Colour: Turquoise Blue & Black
Power: 750W
100% copper motor
Warranty: 5 years of warranty on motor
Maharaja Whiteline brings to you the Superio DLX Mixer Grinder, a carefully and thoughtfully engineered appliance to offer the smoothest purees and the finest masalas. Be it the silky curry of butter paneer or ultra-fine garam masala, with a 750- watt motor and compelling blades, the Superio DLX never gives results that are any less than perfection.
*
Considering 2 minutes of resting time after every 5 minutes operation at standard condition.
Description
Specifications
Support
Reviews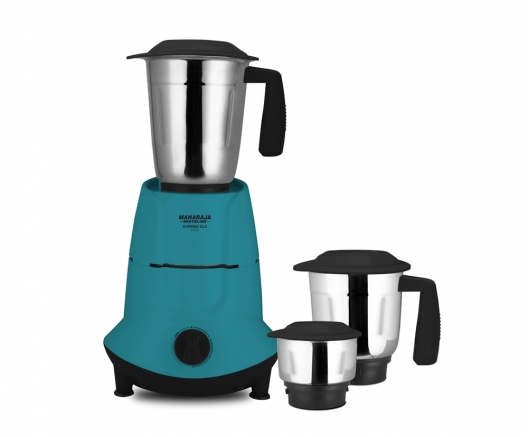 750 Watts Powerful Motor:

The Superio DLX Mixer Grinder from Maharaja Whiteline offers you an amazing grinding and blending experience with its high-powered 750-watt motor.

100% copper motor:

Along with high power, the motor is made of copper metal that further helps Superio DLX live up to its name by giving stellar results with each blend and grind.

Stainless steel blades to mix and grind:

Features top-notch and perfectly sharp blades made of sturdy stainless steel material. Be it plushy fruits or tough spices, the Superio DLX blends and grinds them all!

30 minutes of continuous grinding :

With a perspicacious design and a 20,000 RPM motor, this product offers a nonstop and hassle-free usage of 30 minutes, adding efficiency to your cooking.

Durable nylon 66 coupler:

Maharaja Whiteline has advanced the design of Superio DLX a step further by including long-lasting Nylon 66 couplers. They help keep the appliance functional and efficient.

With 3 multi-utility jars:

This Mixer Grinder comes with a set of three jars that have varying sizes, including a liquidizer (1.5L), a grinder jar (1L), and a chutney jar (400 ml).

Unique Jar Flow Breaker:

The jars have an innovative and intelligent design with a jar flow breaker that enables the contents to fall directly on the blades when the motor is moving for the best and most quick results.

5 years of warranty on motor:

Along with top notch performance and fine results, the Superio DLX mixer grinder offers an assured long usage with a 5-year warranty on the motor.
| | |
| --- | --- |
| Power | 750W, 100% Copper Motor |
| Colour | Turquoise Blue & Black |
| Operating Time | 30 mins Continous Grinding ** |
| Food Grade Safe | Yes |
| ISI Certified | Yes |
| Blades | Super Sharp SS 304 Blades |
| Locking System | NA |
| Jars | 3 |
| Chutney Grinding Jar | 400ml SS |
| Dry Grinding Jar | 1L SS |
| Liquidizing Jar | 1.5L SS |
| Blending Jar | No |
| Speed Setting | 3 speed + pulse |
| Warranty - Motor | 5 year |
| Warranty - Product | 2 year |
| Motor Speed | 20,000 RPM |
| Blender with Fruit Filter | No |
| 20% Superior Cooling | Yes |
| Powerful Vaccum Hold | Yes |
| Hands Free Operation | No |
| Unbreakable PC Lid | Yes |
| Unique Jar Flow Breakers | Yes |
| Durable Nylon 66 Coupler | Yes |
Product Reviews
No reviews