Livo Pro

Mixer Grinder

Engineered to Perfection, A masterpiece created for a hassle-free kitchen experience!





No reviews |
Write a Review
3399.00
Powered with a 500-watt motor
3 versatile stainless steel jars


Mix & Grind SS Blades
Powerful vacuum foothold
Colour:
White & Cherry Red
Colour: White & Cherry Red
Power: 500W
SS Blades
Product Warranty: 1 years warranty
Designed to grind, mix, and blend your paste and powders orderly, the Maharaja Whiteline Livo Pro Mixer Grinder is a multi-purpose must-have tool for your kitchen collection. It is powered by a 500-watt motor and grinds your food flavors amazingly with features like 30 minutes of continuous grinding* and 20,000 RPM motor speed.
*
Considering 2 minutes of resting time after every 5 minutes operation at standard condition.
Description
Specifications
Support
Reviews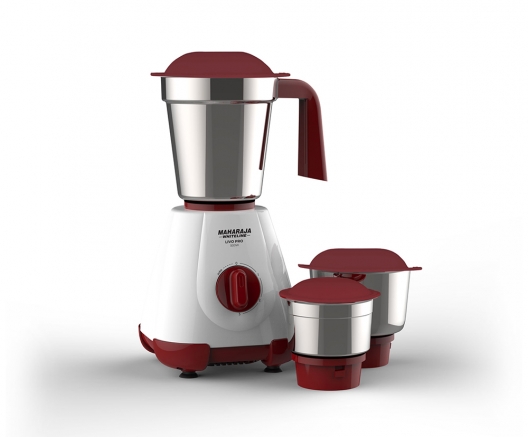 500W Hybrid Motor:

The Maharaja Whiteline Livo Pro Mixer Grinder comes with a new and powerful 500 Watt motor.

30 Minutes Continuous Grinding*:

Promising you top-notch performance, the Maharaja Whiteline Livo Pro Mixer Grinder is powered with a 500W motor. It saves time and effort to keep the process streamlined.

3 Versatile Jars:

Experience easy-breezy grinding. Livo Pro comes with 3 versatile jars- a 1.2L Liquidizer Jar, a 0.7 L Grinder Jar, and a 400 ml Chutney Jar, to fulfill your most kitchen requirements.

Powerful Vacuum Foothold:

What's more for you? The Maharaja Whiteline Livo Pro Mixer Grinder is crafted with powerful vacuum footholds that keep the machine stay firm on any surface and platform. This implies stability no matter what surface it is placed on.

20,000 RPM Motor Speed:

The Maharaja Whiteline Livo Pro delivers a motor speed of 20,000 RPM to mince your food flavors efficiently.

Mix & Grind SS Blades:

Livo Pro mixer grinder ensures that you have fault-free & lump-free purees, powders, and chutneys with highly efficient mix & grind stainless steel blades attached to the jars.

Durable Coupler:

The mixer grinder is fitted with a durable coupler that allows a strong connection between the jar and motor and grinds the different ingredients in a smooth paste or fine powder.

1 year motor and product Warranty:

The product covers a warranty of 1 year, keeping you assured of quality that you can back upon in case of any discrepancy and get your appliance back on its toes and working for you like ever.
Product Reviews
No reviews