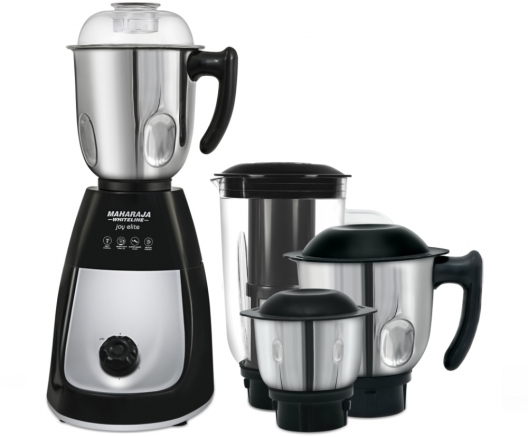 Powerful

This mixer grinder has a very powerful motor of 750W that can easily grind tough ingredients including spices like turmeric, lentils, make chutneys and blend various food ingredients.

Blending Jar

Blending jar with a capacity of 1.5L and fruit filters add to Joy Elite's functions.

Ergonomic Handle

The two big jars are fitted with ergonomic handles that facilitate easy mounting and dismounting. This handle also makes the pouring easier in case of liquid ingredients.

Warranty

Joy Elite promises the best quality with 5 year motor warranty, which in itself speaks of the robust design of the machine.

Heavy-Duty stainless Steel Jars

There are three jars measuring 1.5L, 1L and 0.4L. Made of heavy duty stainless steel, these jars guarantee durability and longevity.

Super Sharp Blades

The stainless steel jars have super sharp blades that cut through the hardest ingredients and give best wet and dry grinding results.

Easy to Use Knob

Easy to use knob with 3+ pulse function for ergonomics in handling and grinding effectively.

4 Versatile Jars

3 jars Made from heavy duty stainless steel, the 4th jar comprises of blending jar with fruit filter, liquidizing jar, dry and wet grinding jar and chutney grinding jar measuring 1.5 litre, 1.5 litre, 1 litre and 0.4 litre respectively. Each jar has been thoughtfully designed to efficiently perform its own unique function.

30 mins continuous grinding*

Ensures consistency of flood flavours.
*
Considering 2 minutes of resting time after every 5 minutes operation at standard condition.
Maharaja Whiteline agrees to maintain a limited period warranty of the products it manufactures. The warranty period of the appliance shall commence from the date of its purchase. Maharaja Whiteline Joy Elite mixer grinder comes with 5 years on motor and 2 years on product warranty. For more information, click here: