TOP 5 Special Recipes to Try During the Festive Season!
By Maharaja Whiteline on 21 October, 2021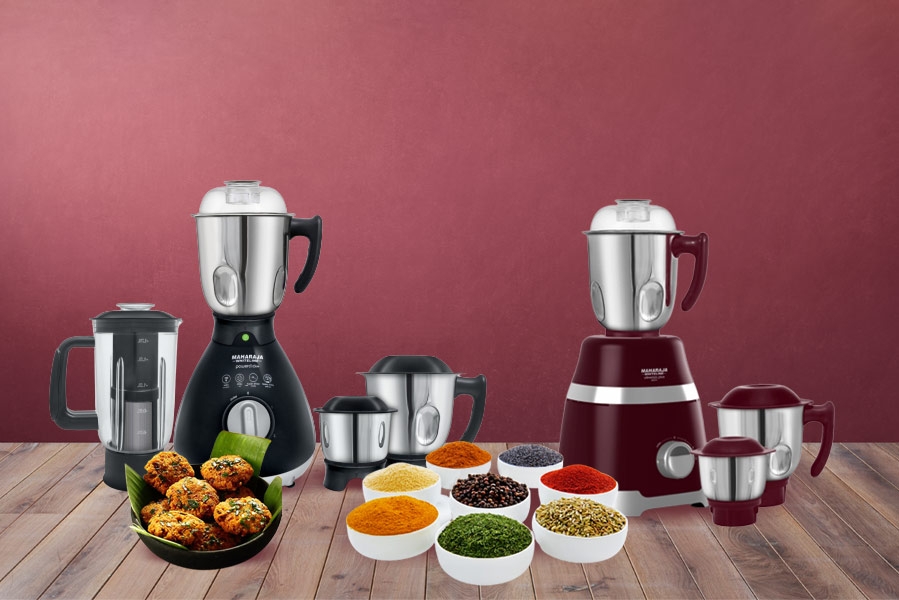 In India, the festive season tends to come around every month. And this brings us to an edge of experimenting with different food items. In such a case, it is possible that you might be running out of tasty recipes to try. Whether it be Hindu or Muslim, Christian or Parsi, or even Sikh, for the food we all stand united.
And for your festival that beholds so much religious value needs to be celebrated with the blast of flavours. And hence, we are here, with a list of food recipes selected from different regions of India. So, if you are stressed regarding the next special dish you are going to make, don't worry anymore.
Clean up your gas cooktop and get ready to try out some unique recipes.
Here we go!
Pindi Chane

Spicy potatoes and chickpeas mixed with a blast of unique flavours in a variety of masalas. The classic Pindi Chole and Bhature, or also considered as Lachcha Paratha is a must this festive season.

Preparation:

In a bowl, soak channe and baking soda for 3-4 hours.
Now, cook channe in the fresh water with tea leaves and 1 tsp of salt.
Remove the tea leaves and excess water within.
Now, add and mix garam masala, coriander, black pepper, cumin, pomegranate seeds, and 1 tsp of salt together.
Place your pan on the gas cooktop.
Heat it with some oil, and add ginger.
Stir well until slightly brown.
Add green chillies to it.
Stir some more time.
Now, add the channa mixture and the potatoes to the pan.
Stir continuously until it is fried.
Garnish it with lemon quarters.
Serve and eat hot!

Paneer Kundan Kaliyan

Cottage cheese slices cooked with the whole traditional spices makes it a convenient choice to make this Dusshera. This delicacy is the best choice if you haven't thought of anything else.

Preparation

Cut cottage cheese or paneer into thin slices. Marinate the same with chilli or turmeric powder. Shallow fry it.
Heat some oil in a pan.
Add Kashmiri red chillies, cloves, coriander seeds, and cardamoms to hot oil.
Sauté till it changes the colour.
Now, add chopped onions till they are translucent.
Add chopped tomatoes and also dried rose petals.
Sauté this mixture.
Add garam masala and yoghurt continuously on low flame.
Once done, add the shallow fried cottage cheese slices or panner.
Season it with the required salt.
Garnish it with coriander leaves.

Paneer Barfi

Have you tried paneer barfi before? This sweet dish doesn't demand much time or energy and hence can be prepared with ease.

Preparation

Take out the paneer and soak it in water for almost 30 mins.
Remove it and now pat it dry.
You can also try this out on an electric kettle to save time.
Now, cut the paneer to small pieces.
Blitz it into the best mixer grinder in India to get a crumbly consistency.
After this step, knead it into a dough by adding sugar and mawa as required.
Now, line the tray with butter paper.
Transfer this mixture into it.
Spread it out evenly on the butter paper.
Garnish it with cardamom, nuts, and saffron.
Cut the entire dish into adequate pieces.
Remove them once it is cooled.
Dig in!

Pumpkin Kheer

This delicious sweet dish made using pumpkin as the significant ingredient makes it special. Try this unique sweet delicacy in simple steps.

Preparation

Chop yellow pumpkin.
Now, cook the pumpkin in milk until it becomes soft.
Use the best mixer grinder in India to blend it into a smooth texture.
Prepare a puree out of it.
Now, transfer the puree into a pan.
Add saffron strands.
Now, let the entire mixture simmer for 15 mins until it becomes thick and fine.
Mix the cardamom powder.
Take it out of the heat.
Garnish it with roasted almond flakes and also a dollop of ghee.
Your pumpkin kheer is ready to serve!

Vazhaipoo (Banana Flower) Vadai

Vadai recipes are always the best choice that stands apart. Who doesn't love vadais? So, here we are with a quick recipe to taste and make!

Preparation

Soak thoor dal, urad daal, 1 or 1/5 cups split Bengal grams and 2 tsp of raw rice for approximately 2 hrs.
Now, use the best mixer grinder online to grind it well and good with ginger, green chillies.
It should look like a coarse paste without water.
Now, add 1 large chopped onion, 1 tsp of fennel seeds, 6 crushed garlic cloves, 2 chopped curry leaves springs, banana leaves without buttermilk.
Shape them into balls.
Flatten it out.
And let it fry until crisp golden brown.
Serve it with spicy mint chutney.
Enjoy!
Happy Festive Season!