Top 5 Special Quick Recipes for Fasting on Maha Shivratri
By Maharaja Whiteline on 10 March, 2021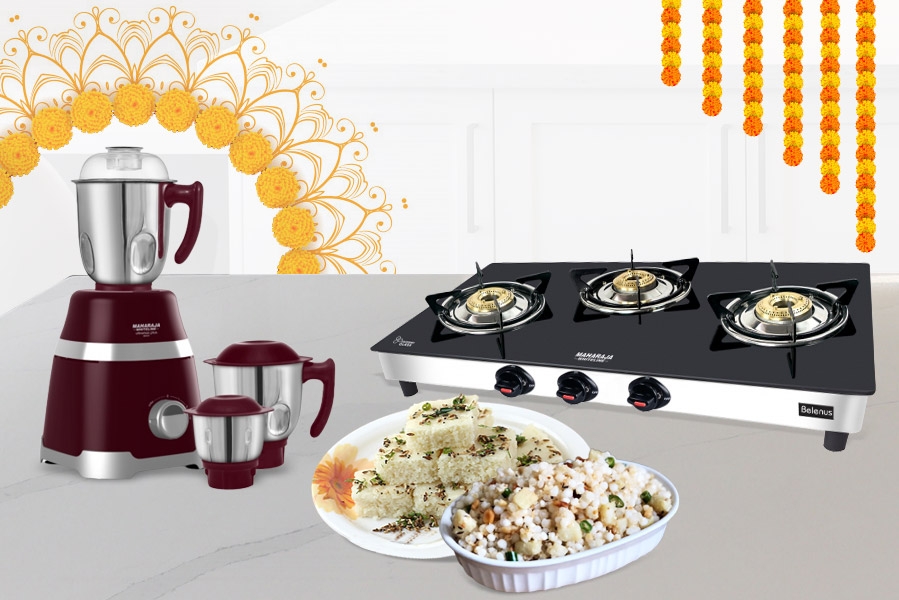 The most celebrated Hindu festival annually as an honour of the God Shiva is Maha Shivratri. As a tribute, common people observe vrat during this occasion.
"Maha Shivratri is a day when you awaken your inner consciousness to discover the purpose of your being. Feel the presence of the Supreme Power within and around you."
During Vrat we encounter several restrictions, which don't force us to go tasteless. So, here we are introducing some of the top range recipes that can go well along with your requirements.
During religious fasting, the facts to remember are as follows:
Lentils, grains, and cereals are avoided.
Garlic and onions are excluded.
Rock salt is used instead of regular salt.
Considering these points, let us examine the classic recipes.
Vrat Special Dhokla

Soft dhoklas are everyone's favourite which is either a breakfast option or a snack option. This is light for the tummy and is incredibly delicious.

Preparation:

Heat a pan and roast the Samvat rice in it. Do not let it go brown.
To prepare the batter in mixer grinder, you need to include rock salt, mixing rice, chilli paste, yoghurt, and ginger paste. This mixture should be left to ferment overnight so that it becomes spongy.
Grease a tin with ghee and batter should be transferred into it.
Tin needs to be placed on the steamer to cook for 20 mins.
Taste to check if it is done. And then let it cool.

Seasoning:

Heat some ghee in the pan. Add red pepper, curry leaves, and cumin.
Pour the mixture on the dhokla.
Cut the Vrat Special Dhokla into pieces and it's ready to serve.

Sabudana Khichdi

The light dish prepared with tapioca pearls, mild spices, and curry leaves is worth considering. This khichdi is quite wholesome to have during such religious occasions.

Preparation:

Wash tapioca pearls/sabudana until the starch is removed. Keep it soaked in water for an hour.
Drain the water and spread the pearls into a thick cloth for an hour. Sabudana is way too friendly when water is left over. In such circumstances, they stick together and it becomes difficult to cook. So, drying the water in the cloth is necessary.
We need to coat the Sabudana with rock salt, chilli powder, and peanuts. Make it an appropriate mixture.
Take a pan and heat some ghee with zeera, kaddipatta, and lalmirch. Now stir it unless the red chilli becomes darker. Now add the Sabudana mixture into it. Keep it on a low simmer for a couple of minutes.
Now, take it out off the gas stove and add some lemon juice. Mix it well.
Garnish with hara dhania and green chillies. Serve it and share it with your family.

Kuttu Cheela

Cheela is a treasure trove of nutrients. This is an amazing choice for satiating breakfast as it is rich in good crabs.

Preparation:

Make some batter with rock salt, kuttu ka atta (buckwheat flour), green chilli, and cumin seeds.
Now use a non-stick pan and grease it with desi ghee.
Make a round pancake and let it cook for some minutes.
Top it up with some grated paneer and shredded ginger.
Serve it hot with some tamarind chutney. Coconut chutney is also the best combination to look forward to.

Tamarind Chutney Preparation:

Soak the tamarind in water till it gets soft and pulpy.
Strain and add water to have a thin major consistency.
Add remaining ingredients like red chilli powder, sugar, water, ginger, black pepper, and rock salt.
Let it become thick.
Cool and serve.

Vrat Special Dahi Aloo

Dahi Aloo is a classic preparation that brings the joy of taste and religious sacredness together. Aloo is a part and parcel of Indian culture and you might have never considered having it on a religious occasion.

Preparation:

Take some ghee and add it to the non-stick pan. Heat it for a while.
Add some cumin seeds and sauté well.
Add crushed black pepper. And sauté.
Boil some potato by adding rock salt.
Now fry the potatoes thoroughly in the pan. In another pan add ghee, ginger, cumin seeds, and crushed peppercorns. Sauté them and add buckwheat flour.
Mix the ingredients well and good.
Now take a cup of dahi and pour in it. Followed by a cup of water.
Whisk it well enough.
Now add fried potatoes to the mixture. Let it cook.
Serve with green chilli on top.
Eat it with your family.

Low Fat Makhana Kheer

The light Makhana Kheer is perfect for fasting. It just takes 2 hours to complete cooking.

Preparation:

Take a deep vessel, pour a glass of milk. Break makhanas (fox nuts) into pieces. Add the pieces into milk and slow simmer it until the milk is boiled without covering. Wait till the seeds are soft.
Add sugar as per preference. Stir it.
Now add cardamom, pistachios, and almonds. Stir well and good.
When ready, serve it cold or hot as per your preference.
Make your Vrat special by trying these food items.
Happy Maha Shivratri!