Top 5 Snack Recipes to Try This Holi Festival
By Maharaja Whiteline on 25 March, 2021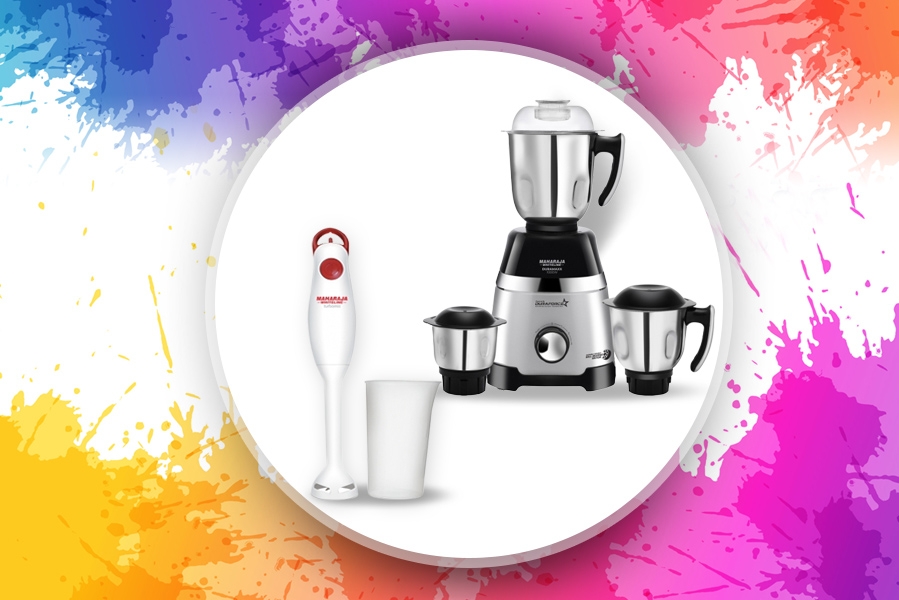 Holi welcomes the season of spring with the most celebrated occasion of victory over evil. Holi is known across the globe as the festival of colours.
Holi is celebrated in different regions of India with unique enthusiasm. The intensity of this festival can be traced through the joy, love, and togetherness people share during these hours.
But after a thrilling celebration, we tend to feel hungry. Tasty and delicious snacks are important to feed ourselves and to celebrate.
"Bright colours, water balloons, lavish gujiyas, and melodious songs are the ingredients of perfect Holi."
In this blog, let us check out the best quick recipes worth trying this season of Holi.
Gujiya

Gujiya is the most popular dish during the Holi festival in North India. The flaky and crispy pastry filled with delicious stuffing is one of the favourites of all.

Preparation:

Mix wheat flour, all-purpose flour, salt in a bowl and add some heated ghee. Make it a dough. You can use a hand blender and then shape it like a bread crumb as well.
Knead the dough with a moist cloth for 30 mins.
Now, on the other side, crumble and grate mawa.
Melt ½ ghee in a non-stick frying pan.
Cook it for some good time and then add powdered sugar, chopped dry fruits, and cardamom powder.
Mix and keep it aside.
Create small balls out of the dough and roll it like a flat circle.
Now add the filling on one side.
Make sure you keep the edges empty.
With the help of Gujiya cutter or trimmer, shape and cut the rest of the extra sides carefully.
Pleat the edges to avoid spilling.
Now, add oil to a frying pan.
Keep it ready for deep frying of the Gujiyas.
Make sure you cook each side of the same till it becomes golden.
Drain it in the kitchen paper tissues.
Serve it to your family.

Malpua

Malpua is a popular Indian dish that is served with rabdi for taste. This is a well-appreciated dish among people in general.

Preparation:

Mix 1 tsp fennel seeds, all-purpose flour, cardamom powder well.
Add 3 tsp of mawa and yoghurt.
Add ½ cup water and prepare your batter.
Blend almonds and pistachios in hot water for 20-30 mins.
Now for making the sugar syrup, heat ½ cup sugar and ¼ cup of water.
For consistency, sugar needs to be kept warm.
Now, heat oil in the frying pan.
Add 3 pinches of salt to the Malpua batter.
Mix and lower the flame.
Now pour 2 to 3 tsp of batter into the pan.
Flip for a couple of times and fry it well until it is golden and crispy.
Remove the excess oil on kitchen tissue paper.
Now immediately place them in the sugar syrup.
And once you cover all parts, immediately transfer them to the serving plate.
Pour rabri on top.
Garnish it with chopped almonds and pistachios.
You can serve it right away!

Urad Dal Kachori

These are the soft yet crispy level we all wish to have. And especially when the occasion is Holi, make sure you add it to your checklist.

Preparation:

Prepare the dough with the help of 1 cup wheat, 1 cup all-purpose flour, ½ tsp salt, and ½ tsp baking powder.
Mix and whisk well all the ingredients.
Now for the filling, soak and keep your ½ cup urad dal ready.
Now add it to the mixer grinder, grind it without adding water.
But don't make it thinner. You can add 3 tsp water if preferred.
Heat ½ tsp of ghee and add cumin seeds. Let them sizzle in the ghee.
Add 1 tsp green chilli and ginger.
Sauté till the aroma of raw ginger flies off.
Now add turmeric powder, chilli powder, crushed fennel seeds, coriander powder, and a pinch of asafoetida.
Mix well and later add urad dal paste into it.
Sauté again. Add salt as per taste.
Let it become a dry paste.
Now make small balls out of the urad dal mixture. Make it look like a dough ball. Make as many as you can.
Spread oil on the dough and roll it well.
Flatten the stuffing and place it on the flat dough circles.
Pleat the corners to avoid spilling.
Heat oil in a pan.
Fry it till it is golden.
Kachoris will start to puff. Some will not but it would still taste delicious.
Serve it on a plate with rasedar aloo.

Now, let us explore 2 Holi special beverages to try this year.

Almond Milk Thandai

The festival of Holi and Thandai drink goes hand in hand. This chilled sweet drink is a must-try if you haven't already.

Preparation:

Take ½ tsp cardamom powder or green cardamom, 2 tsp poppy seeds (khus khus), 1 tsp fennel seeds, 5-6 kaali mirch (black peppercorns), 1 tsp roasted watermelon seeds or sunflower seeds and a pinch of nutmeg if preferred in a mixer grinder
Grind them all together.
Now, boil 4 cups of almond milk with strands of saffron and sugar as per your requirement.
Add the ground powder and add water for the exact consistency.
Strain the mixture for a smooth consistency.
Now, leave it to cool for a minimum of one hour or maximum for an overnight.
Stir it to mix every ingredient again before serving.
Garnish (crushed rose petals) and serve.

Iced Jaljeera

Iced jaljeera is one of the favourite drinks of every Indian. The refreshing energy it brings is worth experiencing.

Preparation:

For jaljeera, add ingredients like 125 gm tamarind pulp, ground cumin, mint leaves, 4 tsp black salt, 50 gm jaggery, 1 tsp ginger salt, 3-4 tsp lemon juice, ½ tsp garam masala, ½ l water and a pinch of chilli powder in an electric blender.
Blend everything.
Leave it to chill overnight.
Strain and freeze it.
Garnish the iced jaljeera with boondis.
Serve and enjoy.
Celebrate your Holi with these best recipes to make it even more special.
Happy Holi!