Top 3 Mixer Grinders in India
By Maharaja Whiteline on 3 February, 2020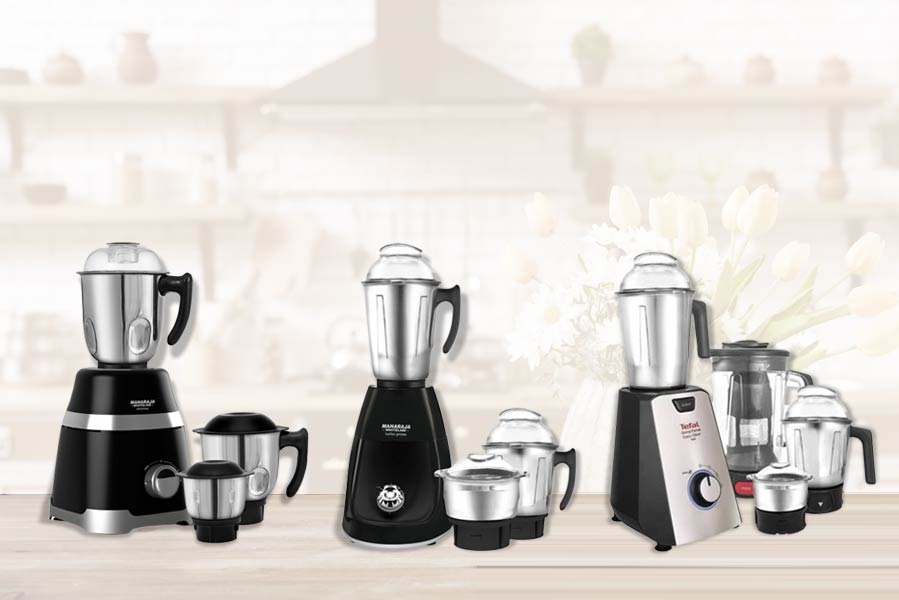 Indian food is so rich in herbs and spices, a machine that helps grind solid spices easily is sure to become any housewife's favourite. Mixer Grinders are positively found in every Indian kitchen, owing to their multiple uses across a variety of dishes. From chutneys to Idli batter, you can find the use of mixie in making countless recipes.
A machine of that value and stature in a kitchen must be chosen mindfully as it becomes a companion in your kitchen for many years. A detailed observation of what's special in a mixer grinder can help you choose the best product for you. Let us have a look at the best mixer grinders in the Indian market; these products carry the best brand names and reputation in the home-appliance industry. :
1. Maharaja Whiteline Ultramax HD Mixer Grinder
Ultramax HD mixer Grinder is the ultimate machine for high-efficiency grinding of wet and dry ingredients. Its brushed steel design with a black body can fit aesthetically in any modular kitchen. It carries the reputed brand name of Maharaja Whiteline and has been a bestselling appliance for quite some time. It has a list of notable features: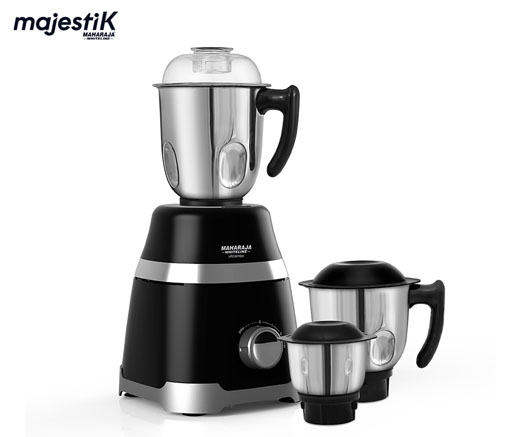 1000W Robust Motor
A motor is the heart of any Mixer Grinder. A powerful motor means faster and finer grinding action. This power-packed 1000W motor ensures you get the best results in a faster time. A strong motor can tackle all kinds of nuts and whole spices with ease and without overheating.
Superior Cooling
Unique design allows for a superior cooling effect, which keeps the ingredients from heating up during the process. This suggests the ingredients will retain their aroma and flavour even after rigorous grinding.
Non-Slip Feet
The feet have a rubber which allows a superior grip on the countertop. This helps control excess vibration and keeps the machine rock-steady during hands-free operation and doesn't let it slip or topple over.
30-Minutes Continuous Grinding
Hosting a large gathering? Don't fret, with Ultramax HD, you can grind continuously for 30 minutes**, letting you grind more ingredients than other MGs in the market. Grind large amounts of spices and pulses without worrying about overheating or breakdown.
2. Maharaja Whiteline Turbo Prime HD Mixer Grinder
Maharaja Whiteline has been a leader in kitchen appliances for a very long time. Its products are tried and tested by millions of customers. The Turbo Prime HD Mixer Grinder has all the features a modern kitchen needs. Let us have a look at some of them: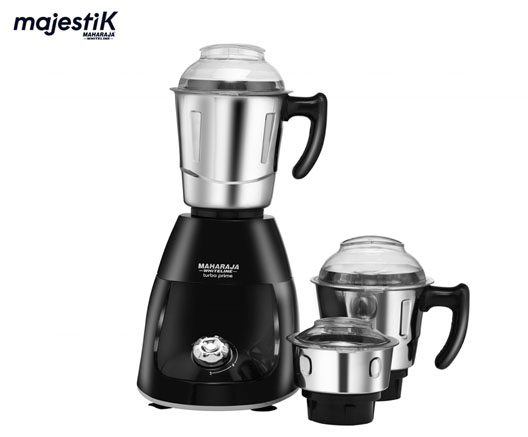 Powerful 1000W Motor
This model boasts of a powerful and durable motor that operates on 1000W. It generates a whopping 22,000 RPM to grind all kinds of tough spices with ease. It has three different speed settings you can choose to customise the process of grinding.
Easy Jar Locking System
Easy jar locking mechanism helps the mixer grinder to perform with its lid on and without holding the lid while operating the machine. The locking mechanism locks the lid of the jar and doesn't let the lid blow away due to pressure of the ingredients inside the jar while operating. Now you can cook free with no hassles and don't need to worry about the splashing of the food from the jar.
The machine also comes with an option of 3 & 4 Jar options too choose from.
Super Sharp Stainless Steel Blades
The blades are an integral factor in determining the performance of any mixer grinder. This mixie is equipped with remarkably SS 304 Grade, sharp stainless steel bladesfor smooth grinding. The high qualityblades maintain their sharp edges even after strenuous use.
5-year Motor Warranty
The Turbo Prime Mixer Grinder comes with 2-5 years motor warranty and 2-1 year product warranty. Now cook food with no worries and spread happiness, health & joy to your family. The warranty assures you the long life of the product and a complete value for money.
3. Tefal Grindforce Easyclean 4J Mixer Grinder
For generations, Tefal has been a globally acclaimed manufacturer of kitchen appliances. The products compliesall international standards with thorough testing in labs before it reaches your kitchen. Tefal is a brand that speaks for itself with its innovative products and unique and patented technology in home appliances. It has launched its range of home appliances in India and Grindforce Easyclean 4J Mixer Grinder is a flagship Mixer Grinder with attractive features: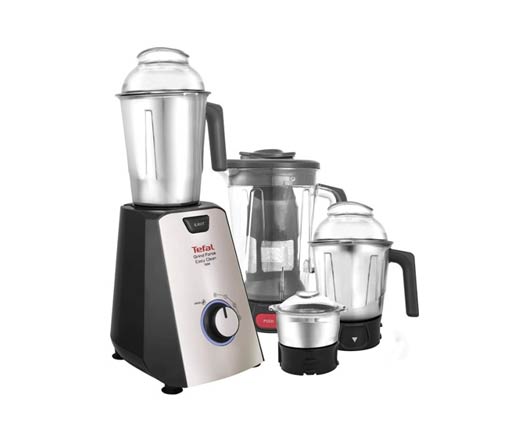 Tripl'Ax Technology
This patented technology involves a combination of six leaf blades for a cyclonic action, making sure the ingredients are in constant movement inside the jar. The blades combine 3 complementary actions to push the ingredients towards the blades to avoid any lumps.
Easy Clean System
The Easy Clean system allows for detaching the blades from the jar with a single click of a button for easier cleaning. The blades and the jar can then be cleaned separately and safely. This feature adds more safety while cleaning the product and is unique to this Mixer Grinder.
4 Jar Attachments
This appliance comes with 4 jar attachments, including a 1.5L Blender and 3 Stainless steel jars of 1.5L, 1L and 0.4L. The blender can be used to blend cold coffees and other beverages, while the smaller jars can be used for preparing delicious chutneys. These jars are ideal for all culinary preparations in any household.
Auto Cut Function
Auto cut function shuts off power to the motor when the machine overheats. This increases the durability and life of the product. This feature is an added safety benefit to control overheating. Mixer Grinders are used to perform a wide assortment of tasks in the kitchen. While choosing a product, one must be wary of one's personal requirement and usage. There are a variety of products in the market with different specialities to choose from, so keep your eyes open and only buy what's best!