Multipurpose Mixer Grinder For Easy & Added Delicacy
By Maharaja Whiteline on 5 August, 2019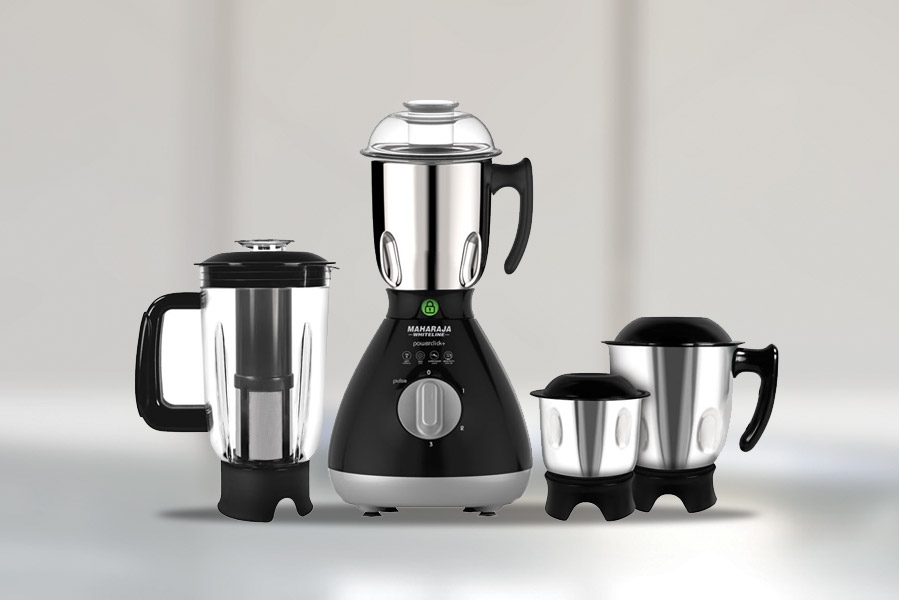 Are you waiting for the preparation of your favorite curries or chutneys? If yes, then there is no need to wait, with an assortment of Maharaja Whiteline mixer grinder. It is your one-stop stay to make your food easier and tastier. The present text exclusively throws light on this aspect of our daily needs. As you read on you will come to know about several vital features of home appliance particularly - mixer and grinder.
Quality of product
The quality is the most important criteria when we opt to have home appliances (like mixer grinder). The reason is simple, home appliances are of daily use and very much susceptible to wear and tear The first and foremost aspect about mixer and grinder is that from the start of the day to the late in the night the product is in constant use, in one form or another.
How to get the premium quality mixer grinder?
This question is very common and now and then, we fall into this dilemma that, from where do we can have premium class mixer grinder. In the present era when online marketing is at its boom, you can easily find your desired product in no time. There are several popular online shopping portals, from where you can get your mixer grinder in no time. Here, all you need to do is select your desired mixer grinder, put it in the shopping basket and make the payment - and the product will be provided at your doorstep.
In this regards, Maharaja Whiteline (one of the front runners) has honed a great reputation in providing premium class home appliances. The striking attraction of Maharaja Whiteline home accessories is that it comes with premium quality and competitive pricing structure. The major highlights of the products are as follows:
The mixer grinder comes with elegant style and it is outstanding in its performance.
You can use this small and versatile mixer for juicing, blending, chopping, grinding, and many more.
The product comes with the bright colors, that perfectly suits to your festive needs. You can have this for all your festivals like Diwali, Holi, etc.
The efficiency provided by the vast range of home appliance products offered by Maharaja Whiteline secret of any happy family.
There is a powerful motor in Maharaja Whiteline mixer grinder - that allows you to carry out all your food preparation task in an effortless manner.
The mixer grinder comes with a stainless steel jar, which is very easy to wash and this maintains cleanliness in your kitchen in a very subtle way.
There is increased efficiency in Maharaja Whiteline mixer grinder, as it comes with super sharp blades. This cuts all your vegetables and spices effectively - and add delicacy to your food in an effortless manner.
You can hold your mixer grinder comfortably, while you are transferring your prepared ingredients from one vessel to another vessel. This is because all the products from Maharaja Whiteline come with ergonomic handle. These specially designed ergonomic handles are very easy to use and you will also enjoy your food preparation while using these wonderful home appliances.
The mixer grinder comes a powerful motor and you will also find unique flour breaker. These, highly researched and tested products are all set to make your task easier.
Now, with the use of this mixer grinder, you will experience a bundle of joy, as you can easily prepare all your lip-smacking delicacy in no time.
The home appliances from Maharaja Whiteline allow you to be a multitasker. This means you can do more than one task at a particular instant of time and your cooking will be, all-time delightful. Further, the fabulous and affordable mixer grinder price - is the best product to opt for - during the festive season. In other words, appliances from Maharaja Whiteline is best suited for your festive season, as there is a lot of work needed to be done in the kitchen - and products like mixer and grinder - is all set to make your task easier and comfortable.
Eye-catching beautiful colors
The products of Maharaja Whiteline comes with eye-catching beautiful colors. The color range is simply awesome, and you can easily find the desired products with your favorite color (like orange, red, brown, white, silver, indigo, violet, neon, and black). Further to add, in the coming festive season, the product line of Maharaja Whiteline comes with lucrative coupons, assured cashback and gold coins - all set to make your festive season more festive.
The Maharaja Whiteline has honed a leadership position in producing home appliances. This is mainly because it provides quality products - which are produced at a competitive pricing structure. Further to add, the offerings made are unmatched by any other product available in the market.
Customer Support
There is round the clock customer support for home appliances. Here, if you face any difficulty, pertaining to the purchase of products or finding it difficult to operate your newly purchased product - the professional help is just a click away.