Make the Maharaja of Your Life Happy By Cooking these 5 Quick and Delicious Recipes
By Maharaja Whiteline on 13 February, 2021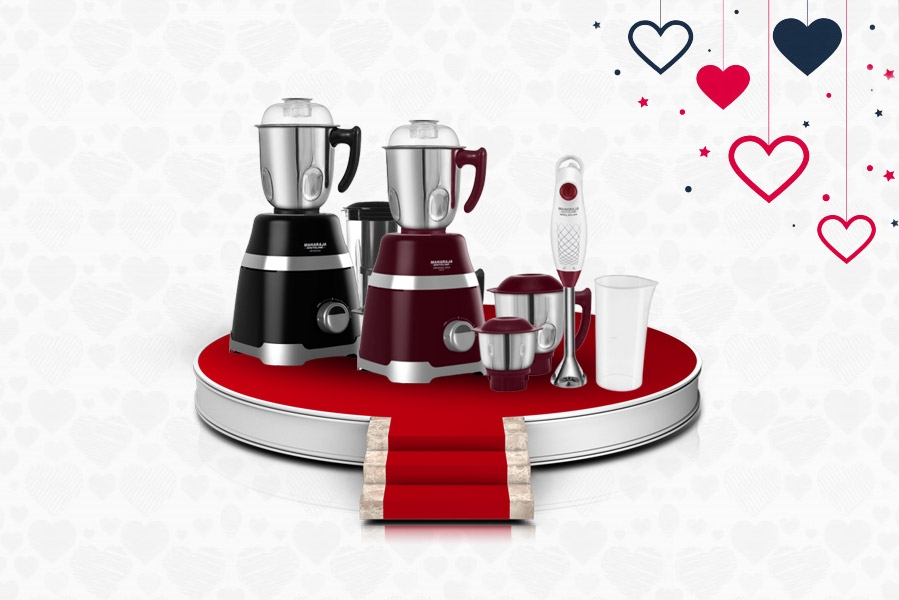 "If music be the food of love, play on. Give me excess of it." - William Shakespeare (Twelfth Night)
Even today, this opening line in the play "Twelfth Night" written by our prominent playwright William Shakespeare brings a mixture of outstanding emotions to our minds. This is because of the amazing amalgamation of food, music, and love here which we all can relate to.
The hunger for love, in better terms, the passion is associated with the most soothing aspect, that is music. Our lives are also bounded to the sources of calming music, good food, and love!
Now, that the season of love is back! Are you running out of ideas to impress your loved one? Have you almost celebrated your V-Day with the cliché ideas of gifting? Then worry not! Let us explore the best ways to acknowledge the V-Day 2021 with the help of two of the most common kitchen appliances, that is, a mixer grinder and a hand blender.
Yes, you heard it right! Love can be celebrated in numerous ways. Yet the impact delicious food leaves on one's mind and feelings are irreplaceable. This Valentine's Day, let us fill our loved one's heart with the taste of love.
With the help of the best mixer grinder in India and the blender machine that is manufactured by us, you will be able to make some unique and exclusive recipes that will overwhelm them in a way no expensive gifts can do.
Let us explore the special recipes you can make to celebrate your Valentine's Day in a new way only with the help of a mixer grinder and blender. They are as follows:
Step Back! Pudding Is Here!

Puddings are one of the best easy-to-make delicious food items. All you need to do is get some crumbled sweet biscuits, milk powder, sugar, butter, preferred fruits, favourite fruit jelly that will go well along with the fruits, and last but not the least, custard powder.

Once you assemble all the required ingredients, your first step is to grind biscuits, sugar, and butter in the mixer grinder. After which you need to spread the layer in the jar itself or in a cup to place it in the freezer.

By the time it gets to a freezing point, prepare your custard. Spread the custard on the grinded layer and apply jelly on top of it. Preferably put another layer of custard or whip cream on it. Top it with the fruits you selected.

And now it is ready to serve. Sounds tasty, right?

Banana Shakes Are Yum!

It is an old school thought that still sounds relevant, that a drink can take you to places. Even though, due to travel restrictions, you might not be able to travel to places (literally and hilariously). Your relationship might head to new levels with a heartfelt drink prepared for your loved one.

Banana is the flavour that can make anyone go wow! So, how about a banana smoothie? The ingredients for the same include powdered sugar, cocoa powder, chilled milk, ice cream, banana shavings, and ice-cubes.

Take all the ingredients and grind it in the mixer grinder. Mix and grind it till it is thick and foamy. Serve it in a glass and garnish it with banana shaving. You can add some toppers or fancy straws at the end.

Your delicious banana smoothie is ready! We said it was time-effective, didn't we?

Health Freaks, Here You Go!

If you and your partner are diet conscious. Worry not! You can make some fruit yoghurt smoothie that will help you keep up with your strict diet plan and still let you enjoy your V-Day differently.

For this, all you need to do is bring some honey, ice-cubes, yoghurt, fruits, or other berries. Grind all of them in the mixer grinder. Grind it till it's thick. Serve and enjoy!

Starbuck Flavoured Latte?

How about your favourite latte right at your home? With the help of a blender machine, you can make bring home a delicious Starbuck feel to your latte by just blending and mixing the following ingredients.

Vanilla protein powder, vanilla extract, almond milk, strong coffee, maple syrup, dried ginger, pumpkin puree, and ground nutmeg. With this, you can cook your favourite pumpkin spice latte.

Creamy Tomato Soup Is Here!

Usual tomato soups are common to us. But now you can blend a creamy texture to your tomato soup by blending the tomato puree with the help of our hand blender.

This is the easiest as well as the healthiest method to make your day special.
With the help of quick recipes, you can make your Valentine's Day taste delectable
If you are looking out for a durable mixer grinder as well as a blender machine any which way to gift it to your loved one. Let us look at some of the models that are available at the best competitor's mixer price.
S. No.
Model Name
Colour
Powerful Motor
Key Specifications
01
Ultramax Plus
Burgundy
800 Watt

Effortless 30 mins of continuous grinding.
20% superior cooling.
Food Grade Safe.

02
Stellar Plus
Violet and White
500 Watt

30 mins of continuous grinding hassle-free.
Food Grade Safe.
Heavy-duty versatile jars.

03
Ultramax Elite
Black
750 Watt hybrid motor

Ergonomically designed.
Convenient grinding.
Air ventilation system.

04
Ultramax HD
Black
1000 Watt Copper motor

Food Grade Safe.
Unique jar flow breakers
Mix & Grind SS 304 Blades
Even though all our products are designed in a lip-smacking delicacy. Our mixer price is reasonable and affordable at the same time.
Now, coming to the hand blender models. The unique features and models are as follows:
S. No.
Model Name
Colour
Powerful Motor
Key Specifications
01
Infiny Mix Pro
Red and White
175 Watt

Detachable XL size metallic foot
800 ml beaker
Fast and powerful

02
Speedmix Super
Blue and White
175 Watt

Detachable plastic foot
2 in 1 silent yet powerful
Multipurpose operations

03
Turbomix King
Happiness Red and White
130 Watt

Super sharp ice crushing blades
Ergonomic design
2 in 1 silent technology
Mixer grinders and hand blenders are a practical choice of gifting. With such advanced models, you can help reduce the everyday hustle to a great extent. The models mentioned above are usable for long hours and also avoid overheating. The process is smooth and gives the finest results as well.
These effective models are worthy to invest in. Buy these models of mixer grinder online and welcome love and prosperity to your houses.
Peculiarly serve your love this Valentine's Day by trying out all the above-mentioned recipes or by buying a hand blender or a mixer grinder online that can be utilised by both you and your loved one.
Celebrate your love sweetly and surprisingly and begin a note of love to a different level.
The presence of love demands constant nurturing to not let it sink in any way. And what is the better way to spoil your loved one than mouth smacking food items?
Happy Shopping! Happy Valentine's Day!