Holi Special Recipes using Smart Kitchen Appliances
By Maharaja Whiteline on 15 March, 2022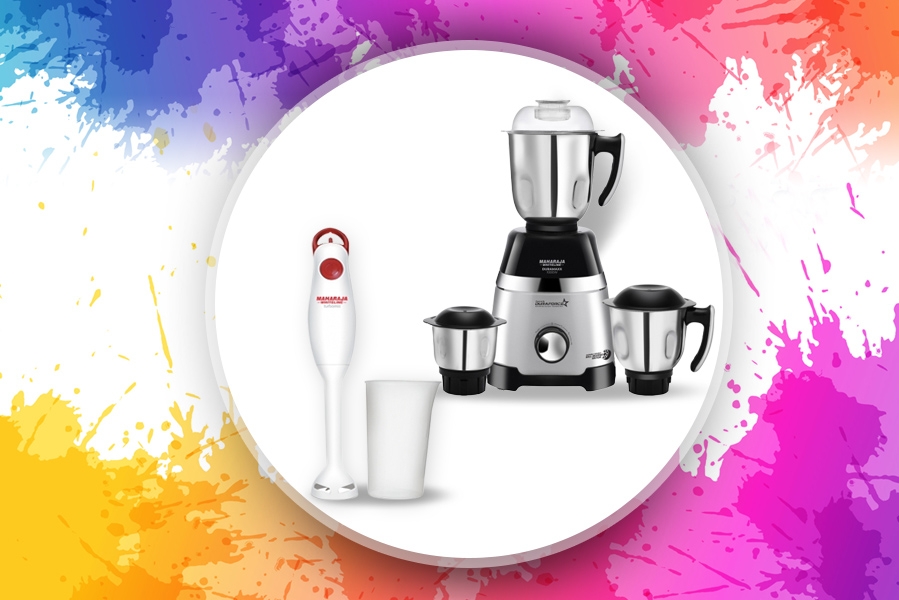 Holi is around the corner, and the festivities have already begun. From shopping to preparing relishing sweets, Holi is all about fun and frolic. To make your Holi more cheerful and enjoyable, we offer a wide range of smartly innovative kitchen appliances. Our range of high-tech smart kitchen appliances will allow you to indulge in quick and hassle-free cooking. From our highly advanced Duramaxx mixer grinders to ultra-fast hand blenders and powerful sandwich makers our appliances will allow you to cook mouth-savouring meals in no time. Come, explore this range of smart kitchen appliances with us and learn interesting Holi special recipes that you can make using them:
Powerful Hand Blenders
Our range of smartly innovated hand blenders will allow you to indulge in a hassle-free blending experience. Our range of hand blenders comprises different types of hand blender models that are designed to cater to unique kitchen needs. Equipped with new-fangled mechanisms such as an Ergonomic handle, push-button start, detachable blades these flaunt a stylish look that is perfect to suit the modern kitchen decor.
Rose Pista Thandai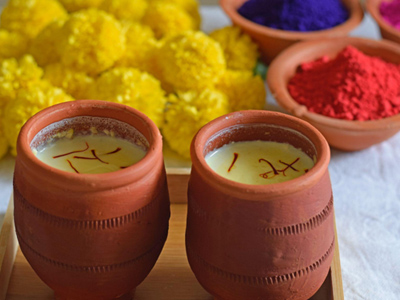 Holi is incomplete without a glass of Thandai. Thandai is a chilled milk-based drink that combines sugar, dry fruits, rose petals, thandai essence and is loved by all. The drink is specially prepared during Holi times and is served as the welcome drink in Holi Parties. So, this Holi prepares mouth-watering Thandai at your homes using our highly potent hand blenders that are designed to deliver quick blending results. Check out this super-easy Thandai recipe with us:
Ingredients
Chilled Milk (one glass)
Almonds (2 tbsp in powdered form)
Cashews (2 tbsp in powdered form)
Pista (3 tbsp in powdered form)
Melon Seeds (2 tbsp powdered form)
Fennel Seeds (1.5 tbsp)
Rose syrup (one tbsp)
Sugar(one tbsp)
Ice cubes
Saffron
Dried Rose Petals
Cardamom Seeds(half tbsp)
Poppy Seeds (half tbsp)
Recipe
In a vessel add chilled milk and all the ingredients including the seeds and dry fruits and blend it well using our ultra-fast hand blender.
Pour this chilled milk into a glass and add sugar syrup.
Garnish with rose petals and saffron.
Top it off with ice cubes and serve chilled.
Sandwich Makers
Our Sandwich Makers are as potent and as powerful as our hand blenders. Featuring modish specifications such as cooking time indicator, Non-stick grill plates, Cool Touch easy-grip handle, our Viva sandwich maker is innovatively designed to deliver high-performance results. The Sandwich maker allows you to prepare different types of recipes within no time. Check out what you can prepare for this Holi, using our Viva Sandwich maker.
Stuffed Paneer Kulcha
You must have tried out the traditional Chole-Kulche several times, but this time we are going to share an innovative stuffed-Kulcha recipe that you can prepare this Holi using our powerful Viva Sandwich grill Machine. The recipe is innovative and with a bit of a twist. You can even serve it to your friends and family this Holi. Let us check out, how you can prepare this:
Ingredients
2 tbsp cooking oil
2 Onions medium-sized (finely chopped)
1 tomato medium-sized (finely chopped)
Green chilli (one)
1 Capsicum/Bell-Pepper (medium-sized and chopped)
Mashed Cheese (one bowl)
Spices (Salt/Chilli powder/Turmeric Powder)
Pizza spice or herbs
Schezwan sauce / Chilli sauce(one tbsp)
Mayonnaise (one tbsp)
Butter (one tbsp)
Recipe
In a pan cook all the veggies (capsicum, tomatoes, onions) until they turn golden brown.
Once they turn golden brown add spices and mix well.
Now add mashed cheese to this pan and mix well.
Once the mixture is well-combined, turn off the flame and set the mixture aside to let it cool down.
Now, take one Kulcha and apply Schezwan chutney, and Mayonnaise, to it.
Now evenly spread the cheese mixture to the Kulcha and top it off with pizza herbs, and chilli flakes. Place another plain Kulcha on the top to cover the Kulcha.
Grease both sides of our highly efficient Viva Sandwich Maker and place the Kulcha within the non-stick plates.
Heat it for 10 minutes. Our Sandwich Maker will let you know with its cooking indicator when your Kulcha is cooked.
After 10 minutes, remove the Kulcha from the Sandwich maker and cut it into two semi-circle pieces.
Your stuffed Kulcha is ready to eat. Enjoy!
Duramax Mixer Grinders
Maharaja Duramaxx mixer grinders are a symphony of advanced features and cutting-edge technology. Flaunting a delightful look, these mixer grinders are equipped with advanced dura force blade technology and are capable of 30-minutes of continuous grinding operation. Their multi-functional blades allow you to chop, blend and mix in just one minute. These come with three multi-purpose storage jars to cater to all your blending and pureeing requirements. Wanna know what you can cook using these sturdy mixer grinders this Holi? Check out to know about it:
Besan Ladoo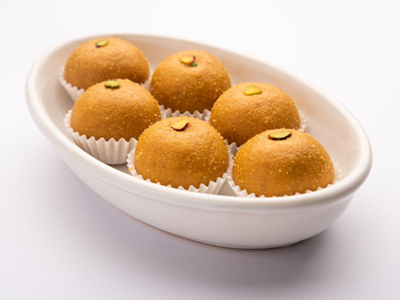 Festivals are incomplete without sweets. This Holi, prepare mouth-relishing besan ladoos easily using our heavy-duty ultra mixer grinder. Check out the recipe below:
Ingredients
Gram Flour / Besan(2 cups)
Ghee (one cup)
Dry Fruits
¾ cup powdered sugar
Cardamom powder
Raisins (optional)
Pista and Almonds (for garnishing)
Recipe
Add dry fruits into the mixie jar and make a powder using our Duramaxx mixer grinder. Our powerful mixer grinder will efficiently crush the hard nuts with its ultra-fast blades.
In a Kadhai add ghee and melt it on a low flame. Now add gram flour and stir-fry on low flame till it turns slightly golden brown.
Once it turns golden brown, turn off the flame.
Now, add powdered sugar, dry fruit mix and cardamom powder to this mixture and combine well.
Now set aside the mixture until it cools down.
Combine the mixture into tight and smooth balls by applying ghee to your palm.
Decorate it with almonds and pistachios.
Your Besan Ladoos are ready to eat.