Exclusive Model Of Electric Hand Blender Online
By Maharaja Whiteline on 27 January, 2021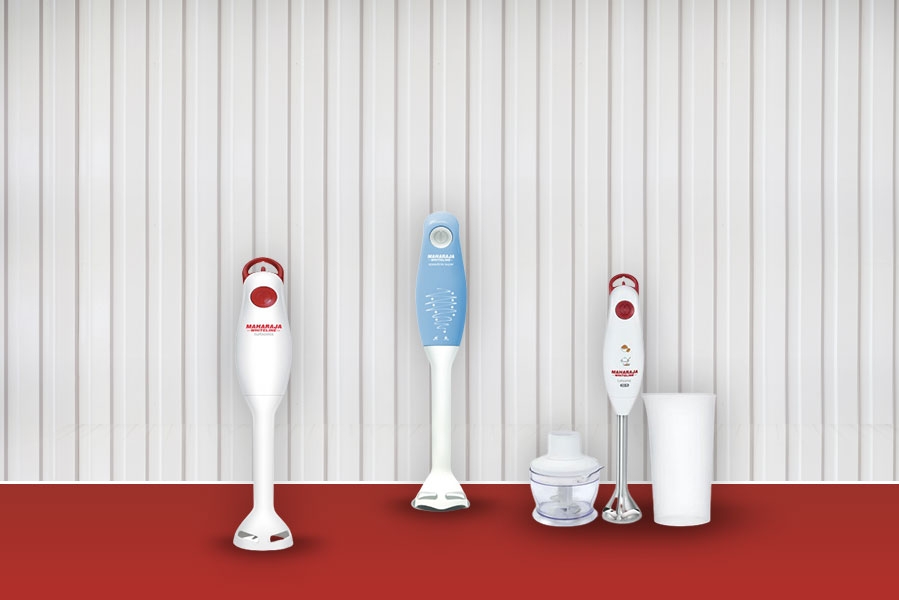 Let us witness the best flavours of the world by experimenting with various ingredients. Though it becomes difficult to mix and blend if you lack the well-equipped kitchen appliance necessary for it.
The most important part of a kitchen appliance today is to have some advanced features that can benefit you to execute the cooking with ease. Cutting down the prep time is one of the basic requirements of most of the people who cook. And believe it or not, most of the time is spent mixing and blending various spices or ingredients.
The most significant kitchen equipment that can assist you in such moments is none other than the best hand blender in India. The most delicious mixing can be acquired with such types of equipment. Hand blender has a number of names across the globe. Such as wand or stick blenders, immersion blenders, and mini blenders.
The electric hand blender will have a cutting blade at the end of it which needs to be immersed directly inside the food item that needs a blending. Cooking today is all about putting in less effort yet acquiring some of the delicious food results. With such an essential type of equipment, you will be able to attain
mixture that will melt your heart as well.
Though before planning to buy a kitchen appliance, it is important to note its capabilities. Thus, let us explore the best hand blender uses to keep a track of.
The use of a hand blender is pretty obvious though it is necessary for us to explore where it can be used and where it cannot be used.
The prominent hand blender uses are as follows:
Mixing Batter
Making Sauces and Condiments
Preparing Baby Food or Smoothies
Though the best tips for hand blender uses are as follows:
Make soft melting dips: The last year has been havoc for all of us. This made us realize that we cannot depend upon readymade dips available in the market. When we all were trapped at our houses, the need to have a mouth-smacking dip for nachos or other samosas, and vada pao we made at home. In such circumstances, an electric hand blender could have been a great help for you. Though it's never too late and grab the suitable one to make your snacks and breakfast amazing with some delicious dips as complementary.
Whip up your pancakes: Pancakes are the easiest and time-effective dish to try for breakfast or during lazy evenings. The mixture for the same can be achieved from our flawless electronic equipment. Your batter will stay lump-free for sure! And that's a promise of course! You can buy hand blenders online with ease and start working upon the easy-to-make food items that you were hesitant to cook for not having the right equipment to mix things up.
Blend the soups and smoothies: The best hand blender in India can help you blend anything. Though it is reliably usable for food items like soups and smoothies as well. If you behold such a piece of advanced equipment at home, then you would be able to explore and experiment with food recipes and flavours as per your preference when and how.
The smallest kitchen appliance can benefit in your terms of ways which you might not think of at all. We, at Maharaja Whiteline, have a wide range of kitchen hand blenders to choose from. The best models are as follows:
Turbomix King (130W Motor)
Turbomix (130W Motor)
Jazz+ (250W Motor)
Infiny Mix Pro (175W Motor)
Infiny Mix (150W Motor)
Speedmix (130W Motor)
Speedmix Super (175W Motor)
And the list goes on.
You can buy hand blenders online, any of these mentioned above, at any authentic portals like Amazon and Flipkart easily. You do not need to worry about the hand blender price as our models are available at reasonable and affordable rates.
Though the benefits of the best hand blender in India are yet not over. There are various other things which you can explore regarding the same. The efficient benefits that cannot be overlooked in our models of hand blender are as follows:
Storability: A hand blender is easy to store and thus, the need to have a heavy space for it is not mandatory. Maharaja Whiteline manufactures models of super compact hand blenders. Our models also have a hanging loop that stays useful.
Competitive Pricing: We, at Maharaja Whiteline, have the best hand blender price. Any which way, if you do extensive research, you will find that the prices of this type of equipment are affordable as compared to other electronic appliances.
Efficient And Quicker: We, at Maharaja Whiteline, manufacture products that are fast and powerful. Our powerful motors of each model make it highly-functional.
Versatility: The best factor of this appliance is that it shows versatility. There are multi-purposes of the models we manufacture. Thus, our models are effective for blending, smashing, mixing, grinding, whisking, pureeing, chopping, grating, and so on.
The features that make our models of hand blender stand out from others are as follows:
Detachable plastic/metal foot
Super sharp stainless-steel blades
Convenient push button
Ergonomic handle
2 in 1 technology
2 years of warranty
Low maintenance
Easy to clean
Taste the finest mixture of ingredients you have ever seen with the help of our hand blenders that are vastly effective for any means of purposes.
So, now that you are aware of all the required information before planning to buy hand blender online, what are you waiting for?
Grab the best one out there before it goes out of stock. And make your cooking experience far better in and out!
Happy Shopping!