6 Creative Ways to Use a Hand Blender
By Maharaja Whiteline on 10 December, 2019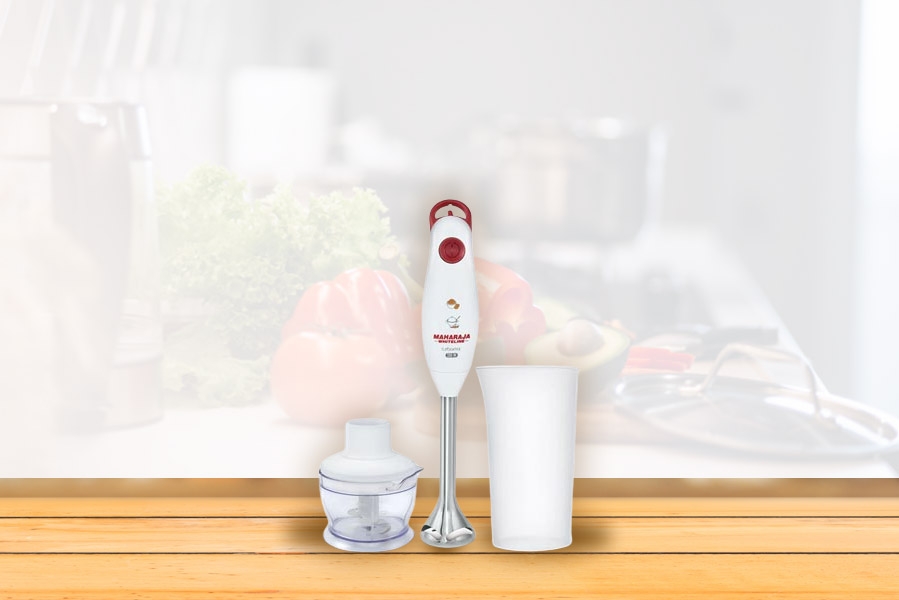 Christmas is right around the corner and it is the best time to experience the happiest holiday ever. This Christmas enjoy like you have stepped into a world of heaven by preparing some lip-smacking recipes for your kids and even guests. Make delicious dishes so that even Santa can't stop himself from having a bite and take your celebrations to a whole new level.
Don't have ample time and energy to cook? Well, in such cases, a hand mixer blender is one of the useful as well as a handy kitchen appliance that you must-have in your home. There are plenty of ways in which your hand blender can be put to use and make your everyday cooking super easy. If you love experimenting with various dishes and want to advance your culinary skills, a hand blender is the most reliable kitchen appliance that let you prepare mouth-watering recipes with minimal effort and time.
It can speed up the process of beating, pureeing, emulsifying and whipping the ingredients together. It is a compact, multi-purpose and easy to clean appliance that can streamline your kitchen work on a daily basis. You can make your favourite soups, sauces, shakes, smoothies, and tomato puree with great consistency and smooth texture every time. Instead of depending on a big appliance, a hand blender is an amazing option as it takes no space and can fit easily anywhere in your kitchen.
Let's explore what you can prepare with your hand blender to celebrate the festival with your guests and family.
1. Pancake Batter
There is no reason to hate pancakes. From kids to adults, everyone loves eating pancakes in the breakfast by adding their favourite toppings on the top to add yummy taste. This appliance is not only compact but can also be used for preparing fresh homemade batter without any inconvenience. You can amaze your family members by cooking pancake with strawberry and cream this Christmas.
2. Tomato Sauce
Most of the Indian recipes are incomplete without a tomato sauce. It is a popular choice for topping or adding extra flavour to many dishes. You can simply use a blender to break down a number of tomatoes at once into a thick sauce. When it gets prepared, toss in a handful of chopped basil and add some meatballs to serve delightful recipe on the buffet table during Christmas celebration. You can even use this home-cooked tomato sauce in your lasagna or turn your leftovers into a pleasant recipe without any complications.
3. Whipped Cream
Celebrating any festive season without any dessert is impossible. Adding a sweet touch to your celebrations makes them even more fun and exciting that will be remembered for many years to come. Bring beauty to your Christmas evening with a fresh dollop of whipped cream. The sharp blade of hand mixer grinder gives you the right amount of consistency and silkier texture with minimal fuss. If you have powdered sugar on hand, simply add its small scoop in your dessert for a little sweetness and a tiny splash of vanilla extract to expand its taste even more.
4. Soup
If you follow a healthy lifestyle, you cannot step back from it even during the festive season. But you can skip the boring everyday soup and go for something unique to make it memorable. Take a roasted squash or cauliflower and turn it into a smoothie with handy blender effortlessly while spending less time. Pour a hot stock or water to maintain the thickness of your prepared soup. Simply, roast some garlic cloves and onion slices along with your favourite vegetable and just blend everything together once to taste the super delicious soup.
5. Milkshakes and Smoothies
Healthy mornings with perfect nutrition are the best way to begin your day. Get started with power packed smoothies/shakes rich in high nutrition like Calcium, Vitamins, Carbs etc. Now prepare your favourite shakes, smoothies, or whatever you feel good with the powerful Maharaja Whiteline Hand Blender that not only reduces your efforts but also gives you the perfect texture to your food. The high speed powerful motor reduces the operating time and the extra sharp blades blends in your food perfectly.
6. Hollandaise Sauce
The serious pro of having a hand blender is that you can even make the most complicated dishes like Hollandaise sauce much quicker. This sauce amazingly complements salmon dishes or is an absolutely perfect dip for fries. Simply add two egg yolks, squeeze a lemon and a pinch of salt into a beaker, then mix it for about 10 minutes with a hand blender until you get slightly thickened texture and lightened the colour. You can also add some butter while blending until you have a soft and silky Hollandaise.
A hand blender is a very versatile and beneficial appliance that can be used in a variety of ways. Now you don't need to put so many efforts with your hand to blend hardest vegetables, nuts or anything else. With this handy appliance, you can surprise your guests and family members by serving them delicious recipes on an everyday basis or festive days.
Maharaja Whiteline has the premium collection of hand blender that comes with a practical single-button mechanism that can satisfy your everyday food preparation need quite well. You can use it to chop nuts, blend smoothies, purees and so much more. You can get a perfect everyday blender that operates with one click and adds overall convenience to your culinary goals. Since it is compact and integrated with hanging loop, you can keep this appliance anywhere in your kitchen.
Also, you don't have to take any additional utensil. It comes with a beaker that allows you to prepare various recipes without any hassle. It has an ergonomic design and a sharp blade which gives you desires results every time. You can simply detach the blade; take a soapy sponge and scrub to clean it without making so much effort. If you're looking for the best hand blender in India, we've got your back!
Enjoy Blending!