5 Quick Recipes of Smoothie to Try With Hand Blender
By Maharaja Whiteline on 28 April, 2021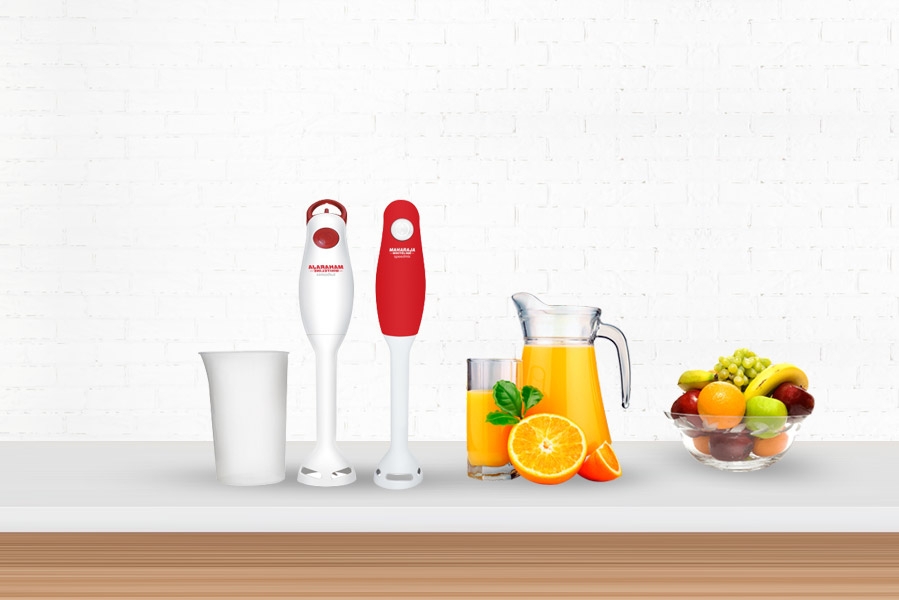 The summer season demands the intake of various drinkable items. Majorly because of dehydration. And one cannot always keep juicing fruits every day.
If you have a hand blender at home, smoothies are a healthy choice as well. You can keep your hunger pangs between the meals relaxed with a glass of smoothie. A blender allows you to make delicious smoothies effortlessly.
The pandemic is still in the alarming stage, and with another lockdown, it seems like 2020 summers. But let's make something unique out of these quarantined hours for a memorable family time.
So, today, let us hop on the top uber smoothie recipes to try this summer. And this shall be another gateway for you to explore the hand blender uses.
Are you ready? Here we go!
Strawberry Banana Oat Smoothie

Strawberry and banana are an unusual combination that will blow your mind. Try this smoothie with your breakfast and experience the heavenly taste it bestows.

Preparation:

Thoroughly wash the strawberries with water.
Chop bananas as well as strawberries and place them in a jar.
Now, with the help of an electric hand blender, blend both ingredients.
Gradually add yoghurt, orange juice and oats.
Add honey preferably.
Now, again blend the mixture until it gives you a smooth consistency.
Pour it into a mason jar.
Top it off with nuts. (If preferred)
Your resplendent drink is ready to taste.

Blueberry Peach Smoothie

Blueberry peach smoothie is an ideal choice for evening hours. It gives you a unique experience of love and joy within a glass of drink.

Preparation

Firstly, wash the fruits well.
Peel and chop the fruits into fine pieces.
Now, put the chopped pieces into a jar.
Blend them with a hand blender.
Now you can gradually add cinnamon and chilled milk.
Blend them altogether.
To enhance the sweetness, add honey.
When it is ready with a smooth consistency, add it into a tall or medium-sized glass.
Top it off with nuts or fruits.
Serve and enjoy the drink.

Mocha Protein Smoothie

Mocha Protein Smoothie is a must-try drink for beginners. This amplifies your love for smoothies in various aspects, especially after a workout session.

Preparation

Peel and chop some bananas into chunks.
Now, in a jar, add walnuts, chopped bananas, cocoa powder, black coffee, and crushed ice.
Blend every ingredient until it becomes smooth.
Once ready, pour it into a serving glass.
Garnish it with chocolate pieces or a handful of crushed ice.
Enjoy this sumptuous drink.

Pumpkin Smoothie

A healthy blend that leaves you craving for more. Pumpkin Smoothie is here to stay in your mind for a long period.

Preparation

As you know, there is plenty of hand blender uses. So, firstly, prepare a pumpkin puree.
Now, take a jar and add flaxseed, avocado, and pumpkin puree into it.
Blend all of them together.
Add water and yoghurt for a smooth consistency.
Blend it again.
You can drizzle honey over the smoothie if you wish.
Enjoy this yummy smoothie during the hours before lunch.

Tropical Papaya Smoothie

Were you looking for another smoothie recipe to try for breakfast? Then here it is! Morning hours will make you enthusiastic about this drink for sure.

Preparation

Wash, peel, and chop papaya into chunks.
Now, add yoghurt, chunks of papaya, flaxseed, coconut extract, and crushed ice into a jar.
Blend them until smooth.
Transfer the smoothie into the serving glass.
Top it off with dry fruits or crushed ice as per your choice.
Enjoy an energetic breakfast.

Choose a smoothie and make your day!

Buy hand blender online and make some unique smoothie recipes without any hesitation.

The top 3 models you can look for are as follows:
S. No.
Model Name
Colour
Powerful Motor
Key Specifications
01
Infiny Mix Pro
Red and White
175 Watt

Detachable XL size metallic foot
800 ml beaker
Fast and powerful

02
Speedmix Super
Blue and White
175 Watt

Detachable plastic foot
2 in 1 silent yet powerful
Multipurpose operations

03
Turbomix King
Happiness Red and White
130 Watt

Super sharp ice crushing blades
Ergonomic design
2 in 1 silent technology
So, what are you waiting for?
Buy hand blender online now!
Wishing you a delicious summer with homemade smoothies!