Smart Plus 1..2..3

Mixer Grinder

Build an intimate & relaxing relationship with food with this ergonomic grinding system.





No reviews |
Write a Review
3399
500 Watt Efficient Motor
Unique Jar Flow Breakers


Air Ventilation System
20,000 RPM Motor Speed
Colour:
Cherry Red & Black
Colour: Cherry Red & Black
Power: 500W
Number of Jars: 2
Easy to use Knob: Yes
Speed Setting: 3+Pulse
Optimized for grinding & mixing with controlled ease, the 500 Watt Smart Plus 1..2..3 features nylon couplers for extended durability, lending stability to the design as well as longer life. Enclosed with a set of versatile jars, the Mixer Grinder is equipped to offer you a range of choices to suit your needs in the kitchen.
*
Considering 2 minutes of resting time after every 5 minutes operation at standard condition.
Description
Specifications
Support
Reviews
Warranty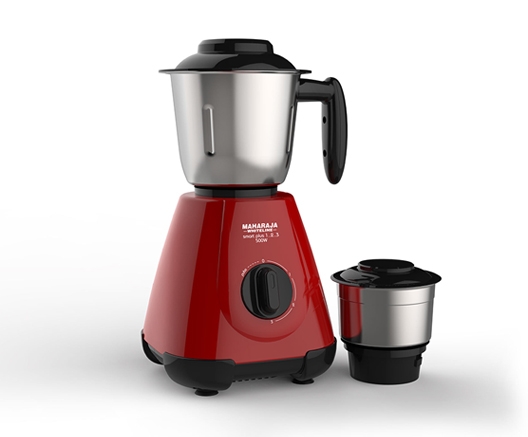 500watt Efficient Motor

The Smart Plus 1..2..3 is equipped with a 500-watt powerful motor to make you forget all worries and spew flavors into your cooking with ease and efficiency.

Unique Jar Flow Breakers

Manufactured to perform to the best of its abilities, Smart Plus 1..2..3 is installed with Jar flow breakers. This feature offers an obstructive flow to the contents of the jar while set on grinding mode, resulting in uniformly churned returns.

Air Ventilation System

Designed with care, the mixer grinder comes with a fitted Air Ventilation System to prevent the appliance from overheating on rigorous use.

20,000 RPM Motor Speed

Facilitated with a powerful motor, the mixer grinder renders a high-speed performance with its 20,000 RPM speed.

Versatile Jars

The mixer grinder is accompanied by two-set jars. The varying range of capacities is fit for multiple suited requirements.

5 in 1 Chutney Blades

Optimized with perfection, the mixer grinder caters to a wide range in performance with sensibly designed SS 304 blades. These razor-sharp blades are honed to slice to the hardest of ingredients, cranking out five types of chutneys with ease.

30 Minutes Continuous Grinding

With high-grade building components, the Smart Plus 1..2..3 mixer grinder holds the capacity to grind for 30 consecutive minutes straight, enabling you to blend a flavourful consistency into your recipe.

Durable Nylon 66 Coupler

Made from the finest grade nylon coupled with premium brass inserts, the mixer grinder has high durability & longer life.
| | |
| --- | --- |
| Power | 500W |
| Colour | Cherry Red & Black |
| Operating Time | 30 mins Countinous Grinding ** |
| Food Grade Safe | Yes |
| ISI Certified | Yes |
| Blades | Super Sharp SS 304 Blades |
| Locking System | No |
| Jars | 2 |
| Chutney Grinding Jar | 400ml SS |
| Dry Grinding Jar | No |
| Liquidizing Jar | 1L SS |
| Blending Jar | No |
| Speed Setting | 3 speed + pulse |
| Warranty - Motor | 2 year |
| Warranty - Product | 1 year |
| Motor Speed | 20,000 RPM |
| Blender with Fruit Filter | No |
| 20% Superior Cooling | Yes |
| Powerful Vaccum Hold | Yes |
| Hands Free Operation | No |
| Unbreakable PC Lid | Yes |
| Unique Jar Flow Breakers | Yes |
| Durable Nylon 66 Coupler | Yes |
Product Reviews
No reviews