Powerclick +

Mixer Grinder

Best Performance, 30 Minutes Continuous Grinding
5799.00
Powerful
Super Sharp SS 304 Blades


4 Stainless Steel Jars
Warranty
Colour:
Premium Black and Silver
Colour: Premium Black and Silver
Ergonomic Handle
4JARS(2L, 1.50L, 1L AND 0.4L)
Unique Safety click
30 minutes continuous Grinding
Powerclick + mixer grinder features 4 versatile blending jars with fruit filter, super sharp blades, safety lock, durable knob and innovative design for amazing grinding experience. Powerclick + ultra mixer grinder gives genuine performance and durability. Powerclick + mixer machine is perfect for grinding dry spices, tomato purees and preparing the batter for multiple recipes.
Description
Specifications
Support
Reviews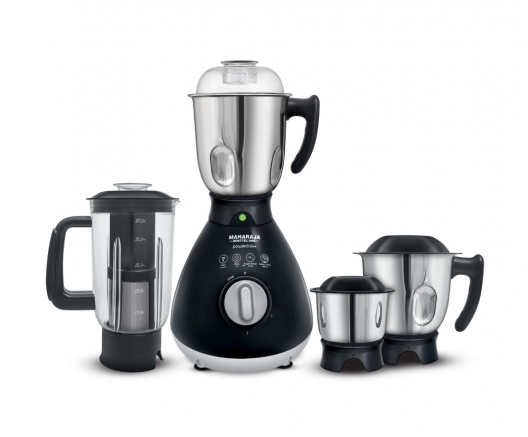 Powerful

This mixer grinder makes a powerful grinding machine with a 750W Hercules motor fitted in it. Powerclick Plus boasts of a 30 minutes, continuous grinding capacity, so it can be repeatedly put to use for grinding wet and dry spices, lentils, pureeing tomatoes and even preparing batter for various recipes. This totally eliminates stopping in between grinding a good amount of food ingredients.

Four Versatile Jars

Powerclick Plus comes with 4 versatile jars. Made from heavy duty stainless steel, the set of four comprises Fruit Filter jar, Liquidizing jar, Dry and Wet Grinding jar and Chutney Grinding jar measuring 1.75L, 1.5L, 1L and 0.4L respectively. Each jar has been thoughtfully designed to efficiently perform its own unique function.

Innovative Lock

This mixer grinder has an innovative visible and audible lock that ensures full safety while the machine is on.

Super Sharp blades

The heavy duty stainless steel jars are fitted with super sharp blades that cut through even hard food ingredients to give you fine powder or paste of desired consistency.

Easy to Use Knob

Powerclick Plus is very easy to use as it functions on a simple rotating knob. All you have to do is rotate the knob to a desired speed level to obtain perfect results every time.

Imperial Design

Crafted in premium black and silver, Powerclick Plus mixer grinder is perfect for a variety of kitchen settings. It also makes a perfect gift for a loved one because of its imperial design.

Warranty

Powerclick plus comes with four year motor warranty that speaks loud of the good quality of this mixer grinder.

Made in India

Powerclick Plus is made in our own manufacturing unit keeping in mind the requirements of an Indian kitchen. Our focus lies in delivering good quality products that last for years.
Color
Premium Black and Silver
Power
750W
Locking System
Unique Safety click
Blades
SS - Super Sharp
No. of Jars
3
Jar Capacities
2.0L Blending Jar
1.5L SS Liquidizing jar
1L SS Dry Grinding jar
0.4LSS ChutneyGrindingjar
Fruit Filter
Yes
Jar Flow Breakers
Yes - Unique
Enhanced Design
Ergonomic Handle
Yes
Speed Setting
3+ Pulse
Easy to use Knob
Yes
Non Slip Feet
Yes
Any Special Feature
Copper Hercules Motor
30 minutes continuous
Grinding*, Unique Safety Click
Warranty
Motor 3 Years
Product 2 Years
Product Reviews
Very Nice Product
Review by Saurav Tyagi on 10 September, 2018





Very Nice Product