Neo DLX

Mixer Grinder

Engineered to Perfection, Faster grinding, finest blending!





No reviews |
Write a Review
4899.00
750-watt powerful motor
30-minute continuous grinding*


Food grade safe
5 years warranty on motor
Colour:
White & Cherry Red
Colour: White & Cherry Red
3 Jars
20,000 RPM Motor Speed
Unique Jar Flow Breaker
2 Years Warranty
Delivering a power-pack performance to make authentic and fine blends, the Maharaja Whiteline Neo DLX Mixer Grinder has a beast design. It is designed with a powerful motor of 750 watts that comes with 5 years of warranty. The second-to-none mixer grinder is enabled with a 20,000 RPM motor speed that grinds any sort of dish you desire for your cooking endeavors.
Description
Specifications
Support
Reviews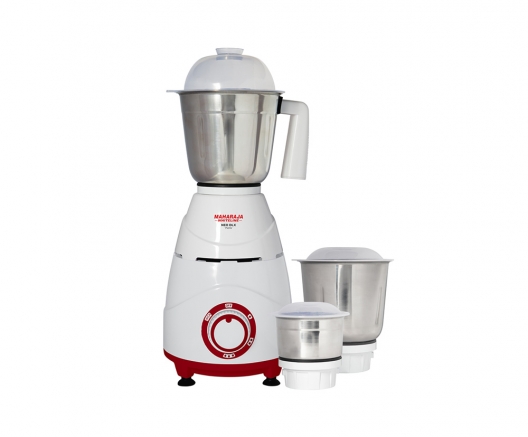 30 Minutes Continuous Grinding*:

You need to know about this exceptional function. The continuous grinding ensures that the pastes and powders are processed efficiently and that the best outcomes are achieved in a quick pass.

20,000 RPM Motor Speed:

The Maharaja Whiteline Neo DLX Mixer Grinder has a 750W motor that provides incredible performance. It has a motor speed of 20,000 RPM that effectively minces your food flavors.

Robust Design:

The sturdy construction of the Neo DLX ensures a stable and vibration-free running. It provides convenience and robustness in usage, from its body to all of its other durable components.

Ergonomic Handle With Grip:

The Maharaja Neo DLX Mixer Grinder's jars include an ergonomic handle that makes it easier to hold. This improves your comfort and convenience when grinding your blend.

Mix & Grind SS Blades:

Equipped with Stainless Steel 304 Blades, the Neo DLX proves as a default pick for your cookery collection. The blades are chromium-nickel austenitic alloy steel that's resistant to corrosion. It produces the greatest results for creating chutneys.

Unique Jar Flow Breakers:

Maharaja Neo DLX allows you to grind your components conveniently with U-shaped jars & their active flow breakers. They put the components uniformly throughout the grinding blades for improved grinding & mixing.

Powerful Vacuum Foothold:

With strong vacuum footholds, the Maharaja Whiteline Neo DLX Mixer Grinder is intended to stay firm on any surface and platform. This guarantees that your mixer grinder will remain stable no matter what surface it is put on.

A Pack Of 3 Versatile Jars:

The Neo DLX Mixer Grinder comes with three heavy-duty jars: a 1.5L Liquidizer Jar, a 1L Grinder Jar, and a 400 ml Chutney Jar, as well as a spatula, to meet your most basic culinary needs.
| | |
| --- | --- |
| Power | 750W |
| Colour | White & Red |
| Operating Time | 30 mins Continous Grinding ** |
| Food Grade Safe | Yes |
| ISI Certified | Yes |
| Blades | Super Sharp SS 304 Blades |
| Locking System | NA |
| Jars | 3 |
| Chutney Grinding Jar | 400ml SS |
| Dry Grinding Jar | 1L SS |
| Liquidizing Jar | 1.5L SS |
| Blending Jar | No |
| Speed Setting | 3 speed+ pulse |
| Warranty - Motor | 5 year |
| Warranty - Product | 2 year |
| Motor Speed | 20,000 RPM |
| Blender with Fruit Filter | No |
| 20% Superior Cooling | Yes |
| Powerful Vaccum Hold | Yes |
| Hands Free Operation | No |
| Unbreakable PC Lid | No |
| Unique Jar Flow Breakers | Yes |
| Durable Nylon 66 Coupler | Yes |
Product Reviews
No reviews