1..2..3

Mixer Grinder

Unwind flavors into scrumptious delicacies





No reviews |
Write a Review
3799.00
500-watt Motor
Durable and Strong


Air Ventilation System
20,000 RPM Motor Speed
Colour:
White & Cherry Red
Colour: Red & White
Power: 500W
Number of Jars: 3
Non Slip Feet: Yes
Easy to use Knob: Yes
Speed Setting: 3+Pulse
Adapting a simplistic design paired with an ergonomic approach, MG 123 3J is here to make your struggle in the kitchen feel like a walk in the park. Resourced with an impressive 20,000 RPM Motor Speed, the mixer grinder is equipped to take over the most arduous of grinding & mixing tasks and perform with grace & ease.
*
Considering 2 minutes of resting time after every 5 minutes operation at standard condition.
Description
Specifications
Support
Reviews
Warranty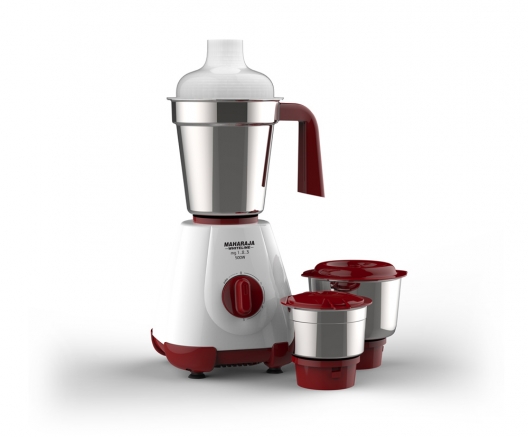 500-watt Motor With 20,000 RPM Motor Speed

The MG 1..2..3 is equipped with a 500-watt powerful motor to make you forget all worries and spew flavors into your cooking with ease and efficiency. The motor renders a high-speed performance with its 20,000 RPM speed.

Air Ventilation System

Designed with care, the mixer grinder comes with a fitted Air Ventilation System to prevent the appliance from overheating on rigorous use.

Durable & Strong

From body to jars, from blades to lids the complete system is constructed strong and durable to offer you the best of efficiency taking a long life goal.

Versatile Jars

The mixer grinder is accompanied by a three-set jar of 1.5 liters, 700ml & 400 ml respectively. The varying range of capacities is fit for multiple suited requirements.

5 in 1 Chutney Blades

Optimized with perfection, the mixer grinder caters to a wide range in performance with sensibly designed SS 304 blades. These razor-sharp blades are honed to slice to the hardest of ingredients, cranking out five types of chutneys with ease.

Powerful Vacuum Foothold

The Maharaja Whiteline MG 1..2..3 maintains stability during use with its characteristic vacuum foothold. This powerful feature enables the mixer grinder to maintain balance & remain sturdy despite long and turbulent use.

30 Minutes Continuous Grinding

With high-grade building components, the Maharaja Whiteline MG 1..2..3 mixer grinder holds the capacity to grind for 30 consecutive minutes straight, enabling you to blend a flavourful consistency into your recipe.

Durable Nylon 66 Coupler

Made from the finest grade nylon coupled with premium brass inserts, the mixer grinder is highly durable & longer life.
| | |
| --- | --- |
| Power | 500W |
| Colour | Red & White |
| Operating Time | 30 mins Continous Grinding ** |
| Food Grade Safe | Yes |
| ISI Certified | Yes |
| Blades | Super Sharp SS 304 Blades |
| Locking System | NA |
| Jars | 3 |
| Chutney Grinding Jar | 400ml SS |
| Dry Grinding Jar | 1L SS |
| Liquidizing Jar | 1.5L SS |
| Blending Jar | NA |
| Speed Setting | 3 speed + pulse |
| Warranty - Motor | 2 year |
| Warranty - Product | 1 year |
| Motor Speed | 20,000 RPM |
| Blender with Fruit Filter | No |
| 20% Superior Cooling | Yes |
| Powerful Vaccum Hold | Yes |
| Hands Free Operation | No |
| Unbreakable PC Lid | Yes |
| Unique Jar Flow Breakers | No |
| Durable Nylon 66 Coupler | Yes |
Product Reviews
No reviews