Top 5 Fresh Juice Recipes To Try This Summer
By Maharaja Whiteline on 19 March, 2021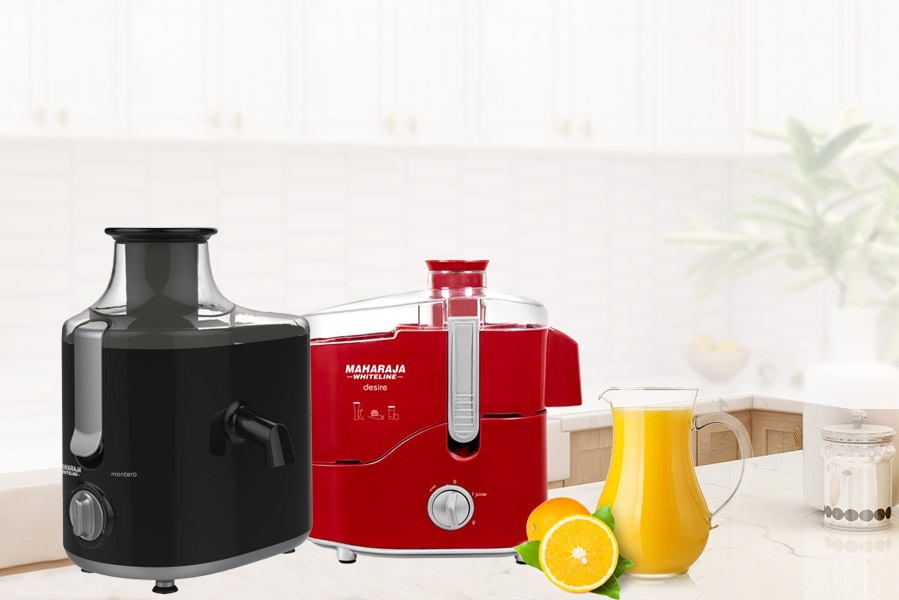 Summer season is already here. And no matter how much ever we cool our rooms with an exceptional air cooler, or try to leave some moisture inside our houses, no matter marble tiles surround our house, the thirst seems endless.
During hot summers, it is important to keep ourselves hydrated to keep the intense heat out of our body. A glass of fresh fruit juice can make our day energetic for sure.
In this blog, we are here to help you with the top 5 fresh and healthy juice recipes to make your summer cool inside and out!
But before that, we need an assistant. And that is none other than an Juicer machine. And if you and your assistant are ready, let us start exploring each of them right away.
Honey-Ginger Lemonade

During the lazy, long summer days, honey ginger lemonade is something worth trying for a refreshing mood.

Preparation Method

Start with the pure syrup made with the help of honey.
Add zing into the syrup.
Now grate ginger and leave it to infuse.
Take a jar and add all of them together.
Now add lemon juice and cold water.
Give a lighter mix at the lowest speed on a juicer machine.
Now serve it with crushed ice cubes.
This lemonade can be turned into a cocktail as well if you wish by just adding vodka for an extra kick.
You are ready to serve and enjoy!

Minted Ice Tea

You can make your summer evening energetic with a cup of minted ice tea. This effort shall be paid off once you take the first sip.

Preparation Method

Dissolve few cups of sugar by heating it.
Once done, keep it aside.
Now add tea bags and mint sprigs. Cover it.
Leave to heat for 5 mins.
Transfer it to a heatproof bowl.
Add cold water, orange juice and lime juice.
Cover everything up.
Leave it to refrigerate for 4 hours at least. (This can be kept in the refrigerator for 2 consecutive days)
And your minted ice tea is ready to serve.
Enjoy with ice cubes.

Watermelon Lychee Granita

Watermelon is our best companion during the summer season. This is the best refreshing way to beat the heat out of us.

Preparation Method

Put the lychees. Now discard the seeds.
Now in the juicer machine, add mint leaves, sugar, and ginger. Pulse it to help it release the flavours.
Add ½ cup cubed watermelon with lemon juice and lychee.
Now puree it and transfer the same to a bowl.
Combine this with the previous mixture we made.
Now take a freezer container and pour the mixture in.
Once it is frozen, start raking it from the corners to the centre.
Rack up everything and put it back in the freezer for 2 hours.
Freeze it until ready to serve.
Garnish with some mint leaves.
Enjoy!

Aam Ras

Mango is the best way to cherish our summer season. This recipe cannot be missed as it is your favourite one, isn't it?

Preparation Method

With the help of a juicer, mix mango pulp, cardamom powder, lime juice, crushed cumin.
Add chaat masala powder if preferred.
Add sugar and water as desired for melting sweetness.
Freeze and leave it to chill for a few minutes.
Garnish it with mint leaves.
Enjoy!

Very Berry Khatta

Shower your summer season with the taste of kala khatta with some tantalising fruits.

Preparation Method

Muddle two mulberries with a half piece of lime.
Wedge one orange.
Now add all of these in the juicer machine with grape juice (if acquirable) and kala khatta syrup.
Mix it well for the finest mixture.
Now transfer it in the glass.
Add black salt to taste.
Stir well.
Add crushed ice cubes.
Garnish the drink with pomegranate (if preferred), remaining lime rings and mulberries.

As you can see, you can make your summer refreshing with just the assistance of the best juicer in India effortlessly.

And if you are looking for one, Maharaja Whiteline has an immense collection to offer. Juicer models like Montero Full Apple Juicer (550 W) and Desire Red Treasure (450 W) are worth consideration.

The common yet exclusive features that make both our models stand out from others are as follows:
Anti-drip spout that prevents spillage of juice.
Anti-splash outlet.
Full apple feeder tube.
Food Grade Safe.
Maximum Juice Extraction.
Super sharp SS 304 blades.
Non-slip feet.
And the list goes on.
Grab one that suits your requirements soon!
Happy Summer!