Energetic Mornings With Maharaja Breakfast Appliances
By Maharaja Whiteline on 26 February, 2021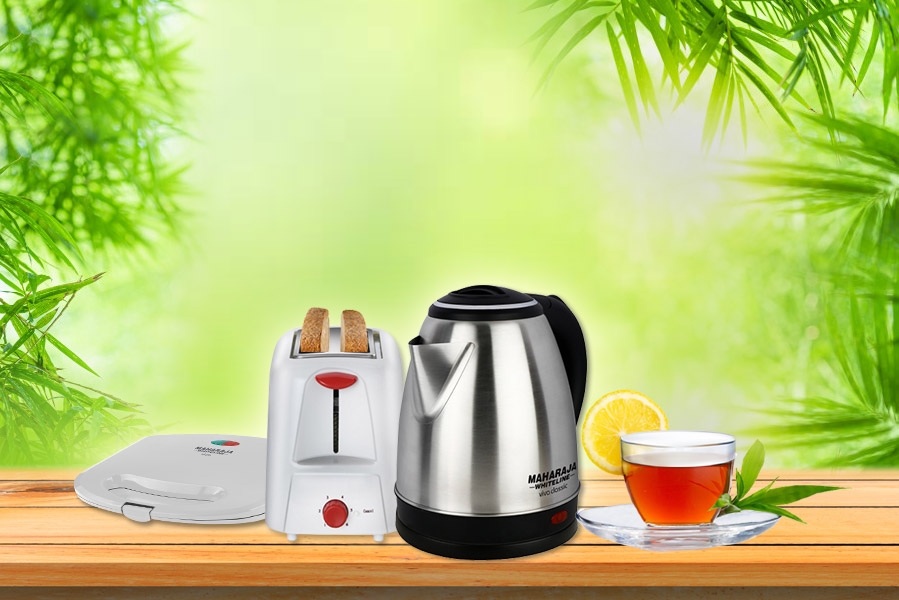 " Engage into a scrumptious breakfast effortlessly with the best breakfast appliances online."
The bewilderment that takes place on a usual count of morning diaries is known by all of us. Morning breakfast stands as the most significant food of the entire day that can either lift your mood and help you shine or the other way round.
The need to have an appealing source of knowledge when it comes to some unique hacks of breakfast is indeed important in the race of time that keeps us tangled with the end number of duties and responsibilities. This cuts down our morning hours way too much even if you are a morning person or not.
A fascinating quick food choice will help you tackle your morning hassle-free to a great extent.
The healthy notch of servings to look for are as follows:
Grilled/Toasted Sandwiches
The adored piece of bite in every country concerned is sandwiches. A bite full of green vegetables, tomatoes, onions, butter, cheese on top, with crunchy breadcrumbs are always the best choice to begin your day with.
With the help of the best sandwich maker or a pop up toaster, you can experiment with your sandwiches for long and long.
There are numerous types of sandwiches you can make right at your home to being your day. The best ones to try out are as follows:
Veg Club Sandwich

Veg sandwiches is a well-known dish known by all. But have you thought of a world-class fusion into one veg sandwich? Let us explore something new by following a new approach this time.

Preparation is as follows:

Peel a potato. Slice it into ¼ inch pieces and boil them. After it is done, drain the potato and keep it aside.
Toast your bread on a pop up toaster to make it crisp.
Add a tsp of oil and start roasting. Oh, not your family! But rather potatoes until it is crisp on both the sides. Sprinkle some spices if you prefer. Once done, keep it aside.
Add a tsp of oil again and sauté garlic in it for a min.
Add onions, cabbages, carrots, capsicum, and stir it on high flame for 3-4 mins. Do us a favour and don't burn it! You can do this on an oven as well.
Add salt, chili flakes, pepper and mix it up well.
Spread veg mayo, or cream cheese on the toasted bread.
On the first slice, place some tomato, roasted potato, and lettuce over it and sprinkle some spices if required again.
While on the other slice, place lettuce and add our mixture of veggies onto it.
Club the slices and eat it ASAP!

And your "Veg Club Sandwich" is ready.

Paneer Sandwich

Who doesn't love paneer? From kids to elderly, everyone in India is fond of paneers. And if you want to make a paneer sandwich in 20 mins, the recipe is as follows:

Pour some oil into your hot pan and add cumin. Wait until it bursts with joy.
Transfer the onions and fry it until it blushes and turns pinkish or golden.
Add ginger garlic paste to it and fry it until the raw smell fades
Next, add tomatoes, salt and turmeric and sauté it until its cooked well. Tomato will look soft and mushy once cooked appropriately.
Add garam masala and with red chili powder and amchur/kasuri methi.
Mix everything and cook well until every ingredient finds its position in the dish. You can add capsicum and peas if preferable and cook it till it gets soft.
Add crumbled paneer and cook it for next 2-3 mins without covering.
Lastly, add coriander leaves and lemon juice to taste better.
You can grill your sandwich on the sandwich maker and fill the mixture inside.
If time is running out, you can have a no cook paneer sandwich as well. Mixing the ingredients without cooking.

Now, your "Paneer Sandwich" is ready to eat!

Bombay Masala Toast Sandwich

This is one of the yummy street sandwich Mumbaikars love. Let us check out the preparation method directly without wasting a minute.

Take a cup and fill it with coriander leaves, ½ tsp of chaat masala, 1-2 green green chilis and mix it well in a grinder without adding water. You can add salt to taste but chaat already has salt so preferably.
Place the chutney mix in a bowl and taste to check the salt. If you are not using it immediately, sprinkle some lemon so that the colour remains same.
Rinse 3-4 potatoes and peel it off. Steam or cook the potatoes well and good.
Once the potato is cooked start mashing it.
Heat ½ tsp of oil and mustard seeds in a pan and let it crackle.
Add cumin seeds and asafoetida and move to the spluttering sound of cumin seeds.
Add 1-2 chillis finely chopped and then add ¼ tsp of turmeric powder. Stir well.
Add 8-10 curry leaves and mashed potatoes. And swirl it round and round. After which season with salt. Sauté on low flame.
Then add 1/3 cup of coriander leaves and mix it well to reach every portion.
As you keep your bread for toasting. Make sure you start cutting your onions and tomatoes into fine slices.
Spread the butter evenly on every slice of toasted bread. Now spread your chutney to every corner of the toasted bread.
And add the filling. After which place 2-3 slices of tomatoes and onions.
Sprinkle some chaat masala or black salt and club it.

Your "Bombay Masala Toast Sandwich" is ready!

If time is a huge problem for you, you can just simply toast or grill a loaf of toasted bread and eat it with some jam, Nutella, mayonnaise, chilli sauce, salsa, butter, and so on. This can be an ideal choice for busy mornings for sure. Kids love the taste of grilled/toasted bread and cheese on it. You can try that as well.

This is one of the best ways to make your morning fruitful effortlessly. The leading models in the market when it comes to the sandwich maker and pop-up toaster are as follows:
S. No.
Model Name
Colour
Powerful Motor
Key Specifications
01
Viva Plus
White
750 Watt

Toast plates
Cooking indicator
Easy locking
Cool touch easy grip handle

02
Viva Sandwich Maker
White
750 Watt

Fixed large grill Plates
Non-stick coating
Easy to clean
Cooking indicator

03
Viva Pop-up Toaster
White
750 Watt

Crumb tray
6 level browning
Easy electronic control
Safe to touch insulated parts
Kettle Diaries
Owning an electric kettle can be one of the prominent ways to tackle your morning chores without much hustle. Now, that you know some easy hacks for a delectable morning. The thing you are left out is with some hot beverages. Let us examine some.
Herbal Tea

Tea is an essential element for most of us. And to make it more special, an herbal tea would be an ideal choice.

Preparation method is as follows:

Heat the water in your electric kettle.
Put your tea leaves in a packet or strainer basker.
Pour the heated water over the tea.
Allow it to steep as per the desired amount of time.
After which remove the leaves.

Enjoy your morning cuppa herbal tea this way.

Hot Coffee

The other division of people are the coffee addicts. We have come a long way with a cup of coffee that without it our breakfast seems incomplete.

Preparation method for a hot coffee in the kettle is as follows:

Start by heating water in the electric kettle.
Add instant coffee, sugar, and hot water proportionately in a mixing bowl.
Whip the mixture until it goes light brown or fluffy.
Heat the milk in the kettle instantly.
Pour it in a heatproof glass and add your coffee mixture to it.

Your pleasant morning cup of coffee is ready to get sipped!

But sometimes cooking is a task you want to avoid on certain mornings. In such circumstances, the best thing to do is to choose your favourite instant sachet and cook it in the kettle. Oat meals are the best thing to go for during morning hours. Apart from that soups, noodles, and so on are well-known as well.

The small and efficient electric kettle can do the work for you.

The essence of certain kitchen appliances can only be traced if you have the right information regarding them. Morning stress can be reduced with such time-effective appliances right in your kitchen sphere.

There is a wide range of models available in the market for you to avail of. Want the best model list? Here it goes:
S. No.
Model Name
Colour
Power
Key Specifications
01
Viva Classic Kettle
Metal Silver & Black
1500 Watt

1.5 Litre capacity
Stainless steel brushed finish
Auto shut off
360o swivel base

02
Viva Excel
Metal Silver & Black
1500 Watt

1.8 Litre capacityy
Stainless steel brushed finish
Auto shut off
360o swivel base

03
Viva Supreme
Metal Silver & Black
1500 Watt

2.0 Litre capacity
Stainless steel brushed finish
Auto shut off
360o swivel base
The role of a breakfast appliance is merely to serve us with convenience. Every manufacturer is on a constant run to bring the unique taste of technology on to the table to make our lives
The modern equipment is filled with everlasting features and essentials that can work in favour of your mood and desire. Your needs and requirements will be gifted with the best results in a matter of time as well.
Now you can make your morning cravings into a reality with the help of advanced types of kitchen equipment that are readily available on authorised e-commerce sites like Flipkart and Amazon.
The morning is a promise we make to ourselves to start fresh. And if we lack the energy to do so then every aim for the day stands still.
As a result, now you know the answer to the popular question, that is,
"What is it for breakfast today?"