Fiesta Instant 3L

Water Heater

Pamper yourself with long warm baths with The Maharaja Whiteline Fiesta Instant 3L to end the day





No reviews |
Write a Review
4649
6.5 Bar Working Pressure
Dual Tone Rust & Shock Proof Plastic Body


Smart Indicator
ISI Certification
Colour: White and Blue
Element Rating: 3000W
Mounting Type: Vertical
Dual-Tone Rust & Shockproof Plastic Body
Rated Capacity: 3L
5 yrs Tank Warranty
The Maharaja Whiteline Fiesta Instant 3L promises a powerful performance driven with a 6.5 Bar working pressure functioning the water-heating to optimally serve all residence types. The body built boasts dual-tone rust & shockproof design to facilitate long-term use. Further ensuring a safe & convenient operation, the device comes geared with a smart indicator & guaranteed ISI Certification.
Description
Specifications
Support
Reviews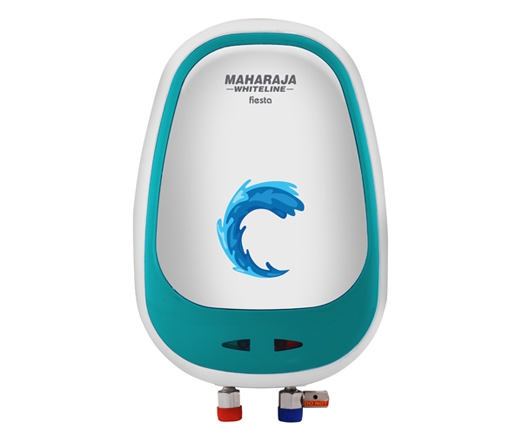 3L Tank Capacity:

The Maharaja Whiteline Fiesta Instant Water heater comes with a 3 Liter tank capacity to cater to all your general water heating requirements with seamless ease. Facilitating a convenient water volume, the water heater instigates instantaneous water heating for quick & efficient service.

Instant Heating High-Grade Heating Element:

Optimizing the design to reduce scale formation and surviving hard water conditions, the water heater sports an instant heating high-grade copper heating element. This strengthens the built of the system to deliver long-term efficiency.

6.5 Bar Working Pressure

Developed with a smart mechanism, the water heater is furnished with a 6.5 bar working pressure. The machinery accommodates the power a water pressure facilitating it throughout, suitable to all types of residence.

Dual-Tone Rust & Shockproof Plastic Body:

The Maharaja Whiteline Fiesta Instant is manufactured with dual-tone rust & shockproof design to make it durable & efficient for long-term use. The feature enables the framework to stay sturdy & stable in rough environments.

Smart Indicator:

To resolve safety issues & deliver a user-friendly experience, the water heater is geared with a smart indicator informing the thermal status of the system to warn in case of too high temperatures to be safe with.

Multi-Layer Safety:

The Maharaja Whiteline is constructed to hold a multi-layer safety structure when dealing directly with water-related operations, ensuring a secure function despite the conditions.

ISI Certified:

Fiesta instant boasts a high standard of quality in terms of operation & convenience, certified by the Indian Standards Institute to guarantee a safe & efficient performance.

Assured Warranty:

The Maharaja Whiteline Fiesta comes with an assured 5 years Tank warranty alongside an overall 2 years product warranty to make for an ultimate user-friendly experience.
| | |
| --- | --- |
| Voltage | 230 V |
| Wattage | 3000W |
| Capacity | 3L |
| Weight | 2.35 Kg |
| Contents | Main Unit,2 Fastener |
| Working Pressure | 6.5 Bar |
| Safety | Dual Tone Rust & Shock Proof Plastic Body, ISI certified |
| Water Diffuser | N/A |
| Tank Coating | Instant Heating Hi-Grade Copper Element |
| Temperature Control | N/A |
| Tank Warranty | 5 yrs |
| Heating Element Warranty | 2 Yrs |
| Product Warranty | 1 Yrs |
Product Reviews
No reviews