Cuatro 25

Water Heater

Treat yourself with perfect Warmth & Comfort





No reviews |
Write a Review
13150.00
LED Smart Indicator
Superior Glassline Tank Coating


Incoloy Glasslined Heating Element
Rust & Shock Proof Body
25L Storage Capacity
8-bar working pressure
Incoloy Glasslined Heating Element
LED Smart Indicator
Glass Lined Tank Coating
7 Years Tank Warranty
Enhance your bathroom aesthetics with Maharaja Whitelines new Square Shape Water Heater developed to perform with High Efficiency, featuring a High-End Design clubbed with a Smart LED mechanism. Glass-line tank coating for a longer life. Endowed with shock & corrosion-proof built
*
Free Installation
*
Free Accessories
Description
Specifications
Support
Reviews
Warranty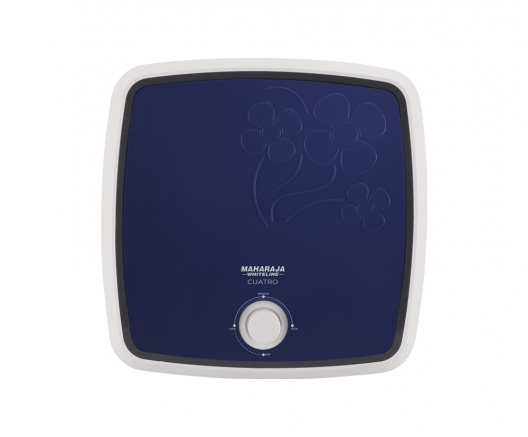 LED Smart Indicator:

CUATRO Water Heaters comes with a LED indicator that tells you when it is ready for use at the desired temperature that can be easily controlled, by a knob.

25L Tank Capacity:

Built to fulfill your water heating requirements with proficiency & ease, the Maharaja Whiteline presents Cuatro Water Heater with a 25 Liter Tank Capacity enough to fulfill your everyday water needs.

High-Grade Heating Element:

Furnished with a high-grade Incoloy glass-lined heating element, the device is optimized to reduce & prevent extensive scale formation. This lends the water heater the necessary robustness needed for long-lasting efficiency to functioning..

Rust & Shockproof Plastic Body:

Made with high-grade material, the Warmist Neo boasts a shockproof body lending the design long-term endurance abilities. Furthermore, the inner tank is developed to stand against corrosion, thereby ensuring strength & durability.

Smart Water Inlet Diffuser:

Intelligently designed, the Cuatro 15 Water Heater comes equipped with a smart water inlet diffuser. The fixture optimizes the water heating process by efficiently segregating hot water from cold water, promoting quicker heating while saving energy with efficiency.

Glass-Lined Tank Coating:

Prepared to operate in difficult environments, the tank is tailored to endure hard water conditions with the aid of internal glass-lined technology. The coating strengthens the tank against corrosion, thus adding to the life expectancy of the gadget.

Temperature Control Knob:

The Cuatro comes with a Temperature Control Knob. This feature empowers you with the liberty to control water temperatures and enjoy warm, mildly hot, or really hot as you please.

Assured Warranty:

The Maharaja Whiteline Cuatro comes with an assured 7 years Tank warranty and 3 years heating element warranty alongside an overall 2 years product warranty to make for an ultimate user-friendly experience

8 Bar Working Pressure:

The Maharaja Whiteline Cuatro is designed to facilitate an 8-bar working pressure. This enables the water heater to deliver optimum performance irrespective of the height of the residence, ensuring service in low-rise & high-rise buildings.
Product Reviews
No reviews