Aquis Neo 10

Water Heater

Relax under warming showers to pick up your day with the aquis neo 10L.





No reviews |
Write a Review
9699
8 Bar Working Pressure
Rust & Shock Proof Metal Body


Smart Water Inlet Diffuser
Glass-lined Tank Coating
Colour: White and Black
Element Rating: 2000W
Mounting Type: Vertical
Temperature Control Knob: Yes
Rated Capacity: 10L
Working Pressure: 8 Bar
The Maharaja Whiteline Aquis Neo 10L is dedicated to efficiently facilitate easy & safe water heating services. Manufactured with a tactful approach, the water heater is designed to stand hard water conditions, corrosion & shocks with a sturdy, glass-lined body. Further delivering an effective performance, the appliance is geared with high-grade technology crowning itself with a powerful mechanism.
Description
Specifications
Support
Reviews
Warranty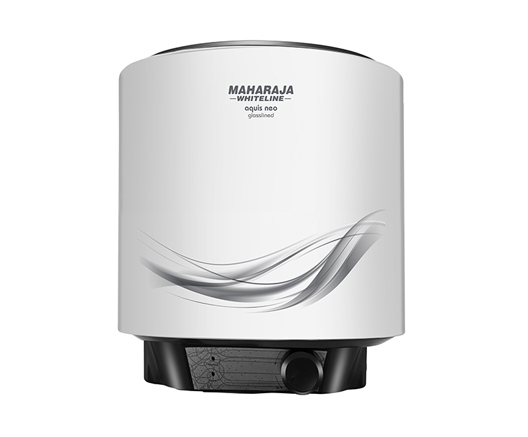 10L Tank Capacity:

Designed to satisfy your water heating requirement safely & conveniently, the Maharaja Whiteline introduces Aquis Neo Water Heater with a 10 Liter Tank Capacity enough to appease all your day-to-day needs.

High-Grade Heating Element:

To prevent scale formation, the device comes installed with a high-grade Incoloy glass-lined heating element elevating the built lending the design with the strength & robustness necessary for long-term use.

8 Bar Working Pressure

Manufactured to deliver optimum results in spite of challenging circumstances, the Aquis Neo is equipped with a powerful mechanism facilitating 8 bar working pressure. This fixture ensures the appliance enables competent water heating from low to high rise buildings.

Rust & Shockproof Metal Body:

The Maharaja Whiteline Aquis Neo Water Heater is developed with high-quality material. This characteristic element lends the apparatus a shockproof framework with the ability to stand firm against corrosive environments.

Smart Water Inlet Diffuser:

Installed with a smart water inlet diffuser, the Aquis Neo boasts the sensibility to minimize the mixing of hot & cold water, thus promoting fast & efficient water heating, upgrading the design up another notch.

Glass-Lined Tank Coating:

Optimized to operate in rough conditions, the Maharaja Whiteline Aquis Neo is prepped with a glass-lined tank coating. This feature enhances the built of the tank, strengthens the perimeter against hard water settings, & increases the durability of the device.

Temperature Control Knob:

The water heater streamlines its mechanism to deliver ease & control over the temperature conditions. This command is tackled with the help of a temperature control knob enabling you to lead the heating system as per the temperature desired.

Assured Warranty:

The Maharaja Whiteline Aquis Neo comes with an assured 5 years Tank warranty and 3 years heating element warranty alongside an overall 2 years product warranty to make for an ultimate user-friendly experience.
| | |
| --- | --- |
| Voltage | 230 V |
| Wattage | 2000W |
| Capacity | 10 L |
| Weight | 8.05 Kg |
| Contents | Main Unit, MFV,2 Fastener |
| Working Pressure | 8 Bar |
| Safety | Rust & Shock Proof Metal Body |
| Water Diffuser | Smart Water Inlet Diffuser |
| Tank Coating | Glasslined Tank Coating |
| Temperature Control | Control Knob |
| Tank Warranty | 5 yrs |
| Heating Element Warranty | 3 Yrs |
| Product Warranty | 2 Yrs |
Product Reviews
No reviews