Steam Iron v/s Dry Iron: Let's End The Debate!
By Maharaja Whiteline on 27 January, 2020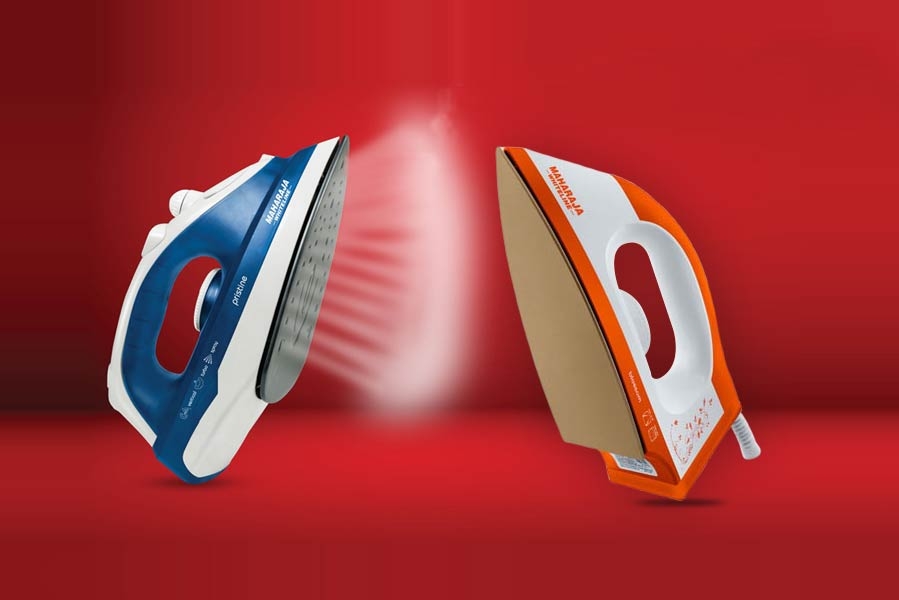 When looking for cloth irons, there's always a confusion regarding the type of iron to buy. An iron is a necessary electronic item and can be found in almost every household. Everyone be it a student, office worker or a professional, needs freshly ironed clothes to make a lasting impression. Well-ironed clothes add to the personality and charm of every person.
If you're looking to buy an iron for the first time, let us help you better understand your needs and help you choose the best. The steam iron vs dry iron debate has been going on for a long time and it's time that we look at both types of irons to compare and find the best fit for your ironing needs.
Points of Difference Between A Steam and A Dry Iron
Water Tank
The first difference that anyone can notice while comparing steam and a regular iron is the option of a water tank. A steam iron has an inbuilt water tank to store water for heating and steaming. This water tank is not available in the regular dry irons. The water tank usually has a capacity of approximately 150ml which can be used to sprinkle & throw the steam on wrinkled clothes to make them crease free.
Power Consumption
A steam iron usually has a higher rate of power consumption as compared to an iron box. Because it needs to heat up water and produce steam, it uses more power and has a higher wattage. A normal dry iron on the other hand consumes less power and generally comes in 1000W of power, which is enough to iron the clothes.
Soleplate
Another important factor is the selection of soleplate in the irons which makes the clothes crease free. Irons usually come with an iron or copper soleplate. The soleplates are solid and have refined to get a metallic finish for smoother operations and the material is carefully selected to avoid any burns on the clothes due to temperature variations and the material of cloth. Some are equipped with a ceramic-based soleplate, which is of a non-stick quality.
Dry irons come with no holes and are easy to clean. On the other hand, Steam irons have a perforated soleplate to allow steam to pass through. This allows them to spray steam on the fabric. However, this makes them difficult to clean due to all those holes on the soleplate.
Spraying Function
Steam Irons have a unique spraying function which allows you to spray steam or mist on your clothes while ironing. There are switches on its handle which make it easy to use the spraying function. Steam softens the fabric and allows easier and faster ironing.
A dry iron, as the name suggests, cannot spray steam or mist. This reduces its function but on the other hand, it reduces the complexity of operating it.
Ease of Use
Iron boxes boast of their ability to be easily used and operated. It just needs to be plugged in and it is good to go. It does not require any additional settings other than setting the temperature knob to set the temperature according to the fabric. In a steam iron, the water tank needs to be filled and the water takes time to heat so that steam can be produced. Now a days, there are irons available in the market which takes as short as a minute to heat the water to produce steam and are ready to go in a minute.
Features
A steam iron has a list of features like an LED indicator, steam and water sprayer, temperature settings etc. These features contribute to a more custom ironing experience. A dry iron has limited features, such as a temperature knob to adjust the temperature. Apart from that, the dry iron is easy touse &fairly simple.
Usage
Your choice of iron largely depends on the type of usage. If you iron clothes regularly, a steam iron may prove very useful as it provides many features and quick ironing of wrinkled clothes. If you're not a regular user, you can use a regular iron for ease of use and simplicity.
How to Choose the Best Steam Iron?
While buying an iron, you cannot take any chances as any electronic product has to be verified and trusted. Maharaja Whiteline has a unique and attractive range of portable steam irons and dry irons. They offer one of the best iron in India in their Aquao and Pristine range of products. All products are of the highest standards and are in an easily affordable price bracket. They boast of a non-stick soleplate and provide a better ironing experience.