Mouthwatering Delicacies You Must Try This Eid al-Fitr
By Maharaja Whiteline on 19 September, 2018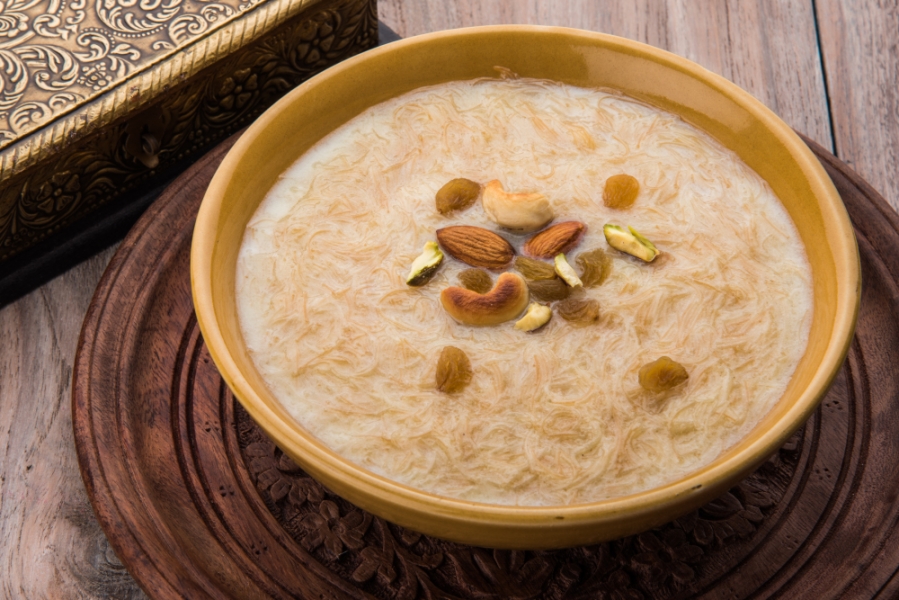 Eid Mubarak!
Eid al-Fitr, "festival of breaking of the fast" is an important religious holiday celebrated by Muslims worldwide that marks the end of Ramazan, the Islamic holy month of fasting.
The holiday celebrates the conclusion of the 29 or 30 days of dawn-to-sunset fasting during the entire month of Ramadan. After days of fasting, the festival ensures there are mouthwatering delicacies to be savored. The Eid feast is also important keeping in mind that after 40 days of fasting, the body would need to be replenished with rich and aromatic food.
There is a whole gamut of traditional dishes which are a must have on 'Eid and the most popular ones are the various types of Biryani, Seviyaan etc. But here we have for you some hidden gems from the Eid- ul Fitr feast. These absolutely lip smacking dishes in a three course menu will ensure your trip to foodie heaven
Starters: Putta Tikka- Grilled Succulent Mutton Liver Kebabs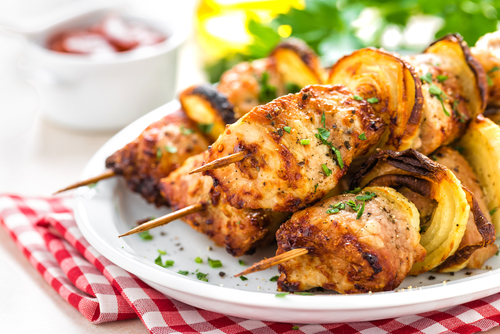 Ingredients of Putta Tikka
600 gm lamb liver
1 cup yogurt
1 tbsp red chilli powder
1 tbsp turmeric powder
1 tbsp white pepper powder
Salt to taste
1 tbsp red chilli flakes
1 tbsp coriander seeds
1 tbsp cumin seeds (jeera)
1 tbsp carom seeds (ajwain)
1 tbsp green chilli, chopped
2 tbsp ginger paste
2 tbsp garlic paste
3 lemons
10 gm yellow colour
300g mutton fat
How to Make Putta Tikka
Dice the mutton liver in kebab sized pieces and wash thoroughly .
Make a marination with yogurt, red chili powder, turmeric powder, white pepper powder, salt, red chilies, coriander seeds, cumin seeds, carom seeds, green chilies, ginger paste, garlic paste, lemon juice and little color ( if required)
Marinate the liver and keep in the chiller for about 20- 30 minutes.
Skewer the meat and cook on charcoal grill. Don't worry if you don't have arrangement for an open charcoal grill, you can use the Marvello range of OTGs and grill to perfection.
As the kebabs keep rotating, keep glazing the liver pieces with mutton fat .
Plate tikkas garnished with cucumber and lettuce, with accompaniments plum chutney and tamarind paste
Main Course : Nalli Nihari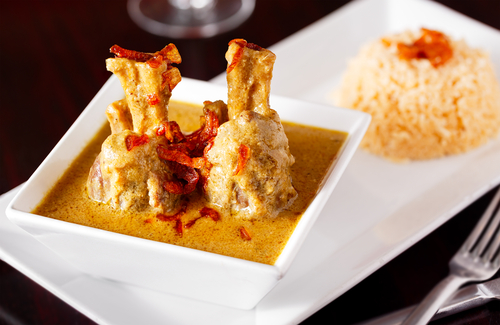 An absolutely decadent and rich, Nihari is a slow-cooked mutton curry. This is a dish fit for kings, as it was served to kings after their morning prayers. The time will depend on the amount of mutton to be cooked, but to serve four people it will take about 1 hour of cook time
Ingredients for Nalli Nihari Recipe
Lamb Leg Pieces 750 grams
Nihari Masala 2 tablespoons ( Instructions to make Nihari Masala are given below)
Onions sliced 2 medium
Fried onions 2 tablespoons
Salt to taste
Lamb stock 2 cup
Whole wheat flour (atta) 2 tablespoons
Lemon juice 1 teaspoon
Ginger cut into thin strips 1/2 inch piece
Fresh coriander leaves chopped 2 tablespoons
Nihari masala
Cumin seeds 1 1/2 tablespoons
Green cardamoms 7
Black cardamoms 2
Cloves 8-10
Mace 3 blades
Black peppercorns 12-14
Dried red chillies 6
Cinnamon 2 inch stick
Poppy seeds (khuskhus/posto) 1 1/2 teaspoons
Nutmeg grated 1 teaspoon
Dry ginger powder (soonth) 1 teaspoon
Bay leaf 1
Roasted chana dal powder 1 tablespoon
How to make Nalli Nihari
Step 1
To make the nihari masala, dry roast cumin seeds, green and black cardamom, cloves, mace, fennel seeds, black peppercorns, red chillies, cinnamon, poppy seeds, nutmeg, ginger powder and bay leaf in a non-stick pan.
Grind the roasted spices along with roasted chana dal powder with Maharja Whiteline Smart chef food processor.
Heat the ghee in a deep non-stick pan. Add the onions and sauté till well browned. Add the lamb and two tablespoons nihari masala and sauté for eight minutes. Add six cups of water, fried onions and salt. Cook for forty five minutes or till the lamb is soft and tender and is falling off the bones. Add the nalli stock and the remaining nihari masala and mix well.
Combine whole wheat flour with six tablespoons of water in a small bowl, ensuring that there are no lumps. Add this to the lamb and continue to simmer till the gravy thickens. Sprinkle the lemon juice, garnish with the ginger strips and coriander leaves and serve hot.
Dessert : Sheer Korma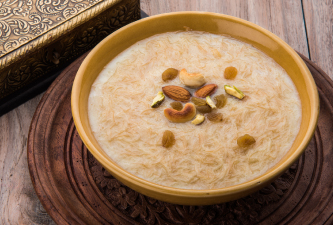 This creamy dessert is ideal for every festive occasion. The crunch of roasted nuts and raisins in each bite and cardamom-infused milk base can be achieved in a short 5-step recipe.The below recipe serves two and taken 30 mins to make
How to Make Sheer Korma
Boil milk in a pan until it shrinks to almost half in volume.
Meanwhile you can chop the dry fruits and nuts.
Soak dates in warm milk and set aside.
Heat butter in a pan and add the nuts and raisins fry till slightly browned and is crispy. Set aside.
In the same pan add vermicelli and roast till golden brown.
Then add half of milk and let the vermicelli get cooked.
Once the vermicelli turns soft add sugar, cardamom powder, give a quick stir.
Add remaining milk and let it boil in low flame.
Once it is thick add the roasted nuts, dates, rose water give a stir and cook for 2mins then switch off.The Kheer thickens with time so switch off accordingly.