Smart Chef

Food Processor

Multiple functions to serve delicious dishes!





No reviews |
Write a Review
9099.00
Powerful
Super Sharp Blades


Versatile
Motor Warranty
Colour: Red & White
3 Jars and 1 Processing Bowl -1.5L, 1L, 0.3L, and 2L
2 Years Product Warranty
Bring home the Maharaja Whiteline Smart Chef food processor for a quick and efficient grinding, chopping, grating, slicing, shredding, and kneading among other kitchen chores. This kitchen essential comes with 12 attachments, sharp blades, stainless steel jars, ergonomic handles, and a powerful motor to do a number of tasks.
Description
Specifications
Support
Reviews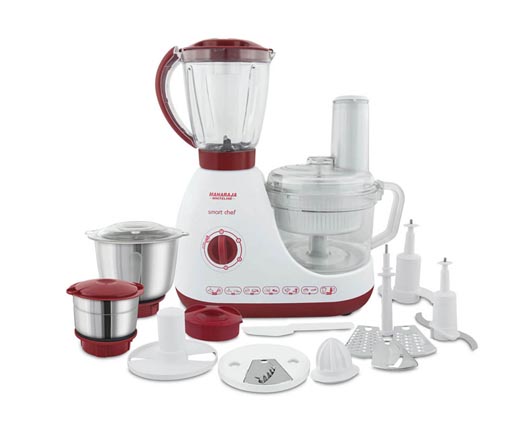 Powerful

Smart Chef Food Processor has a 600W motor that quickly and efficiently performs all your food preparatory needs.

Super Sharp Blades

The shredder, chopper, slicer and grater have super sharp blades that efficiently perform their individual functions.

Versatile

Smart Chef Food Processor comes with 12 versatile attachments including jars, chopping blades, kneading blades and disc holder. These attachments efficiently perform liquidizing, dry and wet grinding, chutney grinding, juice extraction, citrus juicing, chopping, grating, slicing, shredding, atta kneading, whipping, even slicing potatoes for perfect finger chips.

Sturdy Stainless Steel Jars

Two out of the three jars in this set are made of heavy duty stainless steel. Measuring 1L and 0.3L, these jars are perfect for dry and wet grinding and chutney grinding respectively. The good quality material of these jars renders them sturdiness and longevity.

Ergonomic Handle

The blending jar and processing bowl have been fitted with ergonomic handles that make it easy for you to mount, dismount and pour food ingredients directly.

Appealing Design

Smart Chef Food Processor has been designed in happiness red and white, a colour combination that blends in with majority of kitchen interiors, even the themed ones. The plastic body is easy to clean and durable enough to last for years.

Warranty

Smart Chef Food Processor comes with 2 year product warranty and 5 year product warranty that speaks volumes of the good quality make of this cooking machine.

Made In India

Keeping in mind the requirements of an Indian kitchen, Maharaja Whiteline has specially designed Smart Chef Food Processor in its own manufacturing unit.
Color
Red & White
Power
600W
No. of Attachments
12
Functions
Blending, Dry & Wet Grinding etc.
No. of Jars
3 Jars and 1 Processing Bowl
No. of SS Blades
5
Jar Capacities
2L Processing Bowl
1.5L SS Blending Jar
1L SS Dry Grinding Jar
0.3L SS Chutney Grinding Jar
Jar Flow Breakers
Yes
Ergonomic Handle
Yes
Easy to use Knob
Yes
Speed Setting
3+ Pulse
Non Slip Feet
Yes
Overload Protector
Yes
Any Special Feature
Dual Safety Mechanism/Overload Protection
Warranty
Motor 5 Years
Product 2 Years
Product Reviews
No reviews