THECOLORFULWORLD
By Maharaja Whiteline on 5 October, 2018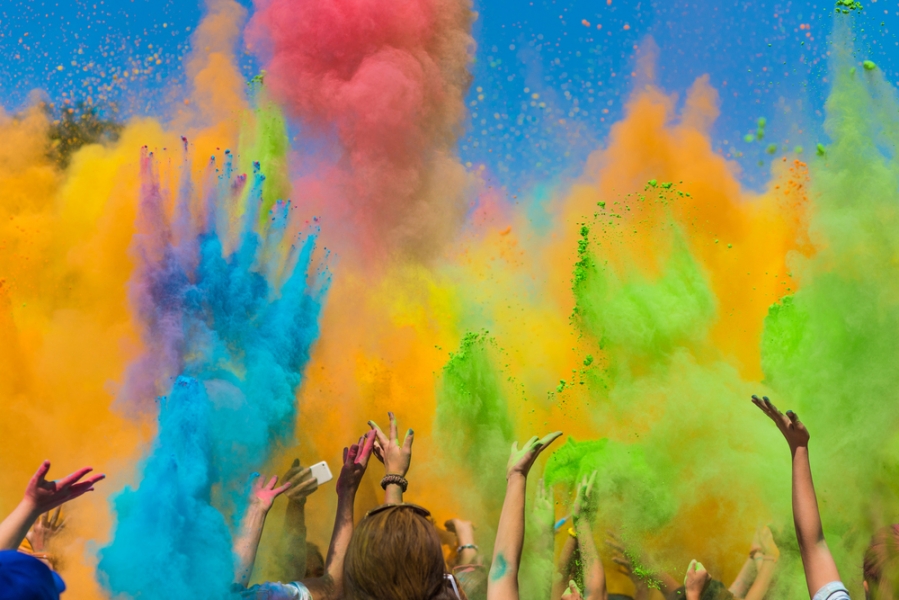 HOLI is just around the corner! You must be excited to be a part of this extravagant festival of colors. It's the colorful and fun-filled festival that is incomplete without spray colors, dance, party, delicacies, bhang and thandai. This Holi, let's create #TheColorfulWorld with the following recipes, home decorating tips, safe Holi tips and DIYs:
Holi Recipes
There are a few traditional delicacies that are relished on this festival of colors making it even more enjoyable. Here're are the two most famous Holi recipes to help you celebrate the festival to the hilt.
Gujiya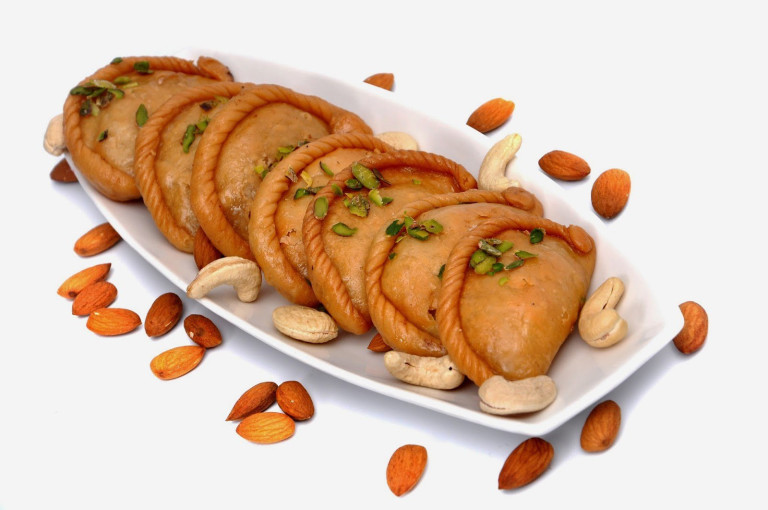 This traditional sweet dumpling with crispy, flaky outer crust and the goodness of dried fruits with no added sugar, makes for the best traditional sweet dish of Holi.
Recipe:
Sift the flour into a bowl and rub in the ghee with your fingertips till the mixture gets a breadcrumb like texture
Now add water to it and knead into a stiff dough. Cover with a piece of muslin and keep it aside for fifteen minutes
For the filling, heat ghee in a pan, add khoya and sauté. Once done, keep it aside to cool
Now, add figs, dates, cashew nuts, almonds, walnuts to it and mix well. Divide this khoya mixture into 10-12 equal portions
Divide the dough into equal portions and shape into balls. Roll out each ball into a puri
Place one portion of the khoya mixture on one half of the puri, fold the other half over the stuffing and press the edges to seal. Repeat the same with the other balls.
In a pan, heat oil; gently slide in a few gujiyas at a time and deep fry till golden brown
Drain the gujiyas on absorbent paper and store in an airtight container when completely cool
Prepare these delicious Gujiyas on our Glamour (3 Burner Glass Top) Gas Cooktop. Find it here https://www.maharajawhiteline.com/.
DahiBhalle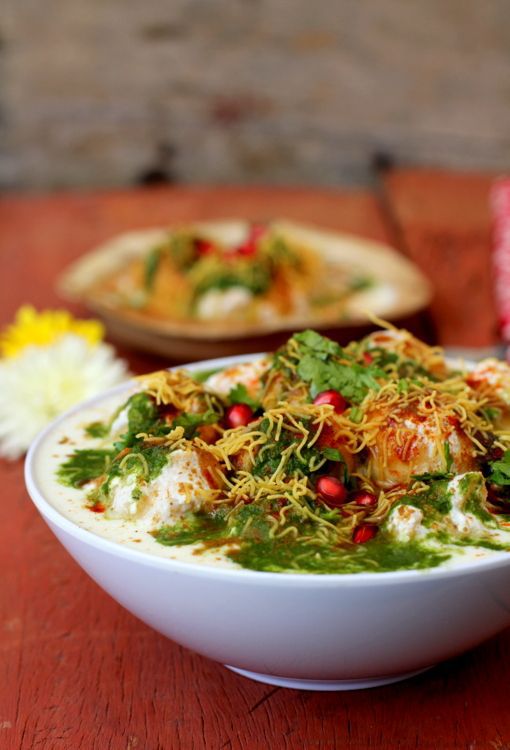 DahiBhalle is an extremely scrumptious recipe, especially made on Holi. It's a must-Holi-snack that is made of fried lentil balls, with yoghurt and delicious chutneys.
Recipe:
Soak the UradDuli Dal for 2 hours and keep aside
Then take out extra water and add pinch of hing, salt, chopped green chilly and chopped ginger to it; grind it into a mixture
In a bowl, take 1 tsp chopped cashew nuts, 1 tsp raisins, 1 small tsp grated coconut and salt and mix well
Now, in a pan, heat oil for frying. Take a dal mixture on your palm, flatten it out and place filling in the center
With the help of water, close the sides of the mixture on the hand
Place the half-moon shaped balls into oil and fry them till golden crisp
Now add them in water for ½ hour
In a bowl, beat the yoghurt, add milk and sugar to it
Squeeze water from the bhalle and place them in the beaten yoghurt mixture
Now in a plate lay out the dahi and bhalla; pour some beaten dahi over them
Sprinkle some jeera powder, black salt, tamarind chutney and coriander chutney
Garnish dahibhalle with pomegranate seeds, sev and serve immediately
Our Joy Turbo Mixer Grinder is the one to opt for, to prepare these DahiBhalle. .
Home Decorating Tips
Holi brings a splash of colors and liveliness to our homes and lives.This Holi, let's decorate our homes to welcome this festival of colors with all eagerness and happiness. Here're the two best home decorating ideas to make your Holi more happening.
Flower decoration: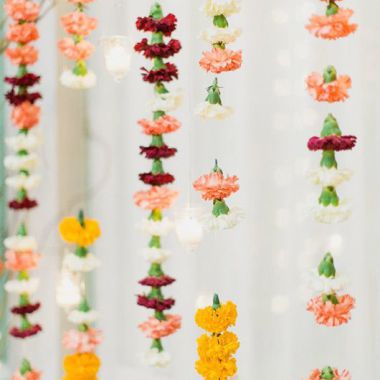 One of the best ways to make your home look amazing for Holi is to embellish it with colorful flowers. Get garlands of marigold flower and hang them at different places like interior walls, railings of staircases, balconies and exterior walls. You can even decorate your living room with colorful bouquets. Flower petals can also be used to make Rangoli on the patio.
Wall hangings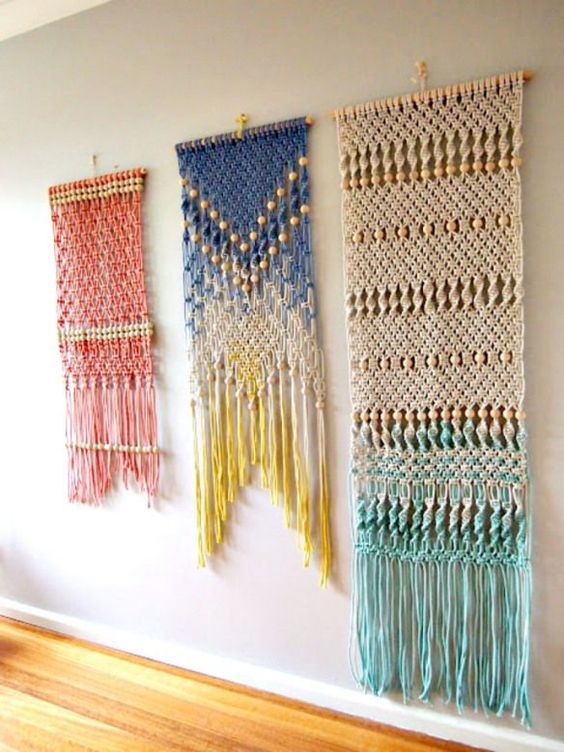 On this Holi, festoon the interior of your home with colorful, vibrant wall hangings. Select stunning hangings that are made out of colorful motifs, mirror work, fabric patchwork and crafted paper patterns to beautify your walls.
Holi Safety Tips
Apart from all the happiness and fun it brings, Holi is also unsafe at times, especially for children. No worries, here're a few tips that would help keep you and your children safe while playing Holi:
Home-made colors are safe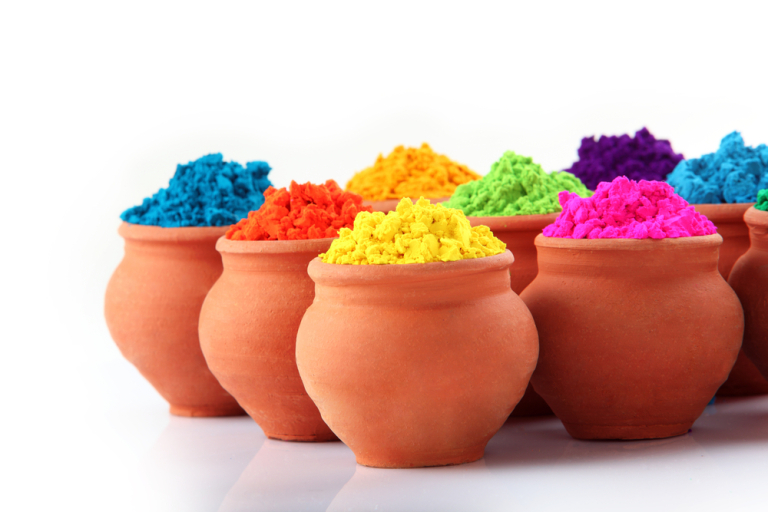 This Holi, play safe with natural home-made colors. If natural colors are not possible to be made, try using better quality colors. Use more of red or pink colors that not only look good, but can also easily be taken off. Gaudy green, purple, orange and dark colors have more harmful chemicals and should be avoided. In addition, make sure that your face is well-creamed before and after the play.
Eyes are particularly vulnerable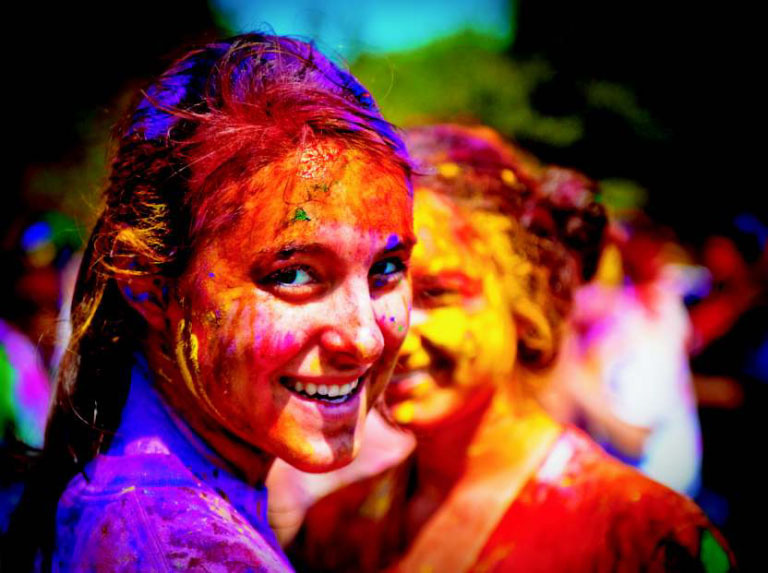 Make sure that the colors do not get inside your eyes. Eyes are extremely vulnerable on Holi due to their strategic place in body and also due to the use of harmful chemicals in the colors. And, if any of the colors enter your child's or your eyes, wash the eyes immediately with plenty of water. Use a sunglass to protect your eyes from a misfire of color filled darts or water jets.
Holi DIYs
We've got a few Holi DIY craft ideas to help keep your kids busy during this festival of colors. Below are the two amazing Holi DIYs that are worth a try:
DIY Tissue Paper Flowers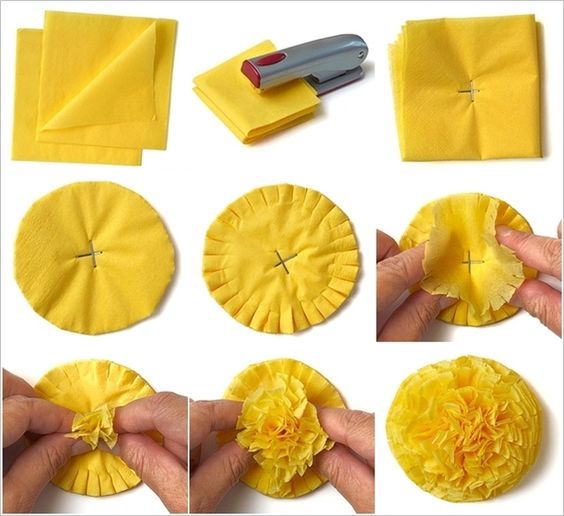 This DIY makes for one of the great Holi craft ideas to decorate your room with. Here's how you can make it:
To make these flowers, first you take two square tissue papers or paper napkins
After this, fold them into square and layer the 2 squares over one another. Staple within the center
Cut these stapled tissue papers in a round shape and cut their edges in the shape of flower petals
Now take each layer upward one by one so that they look like flower petals
DIY Painted Feathers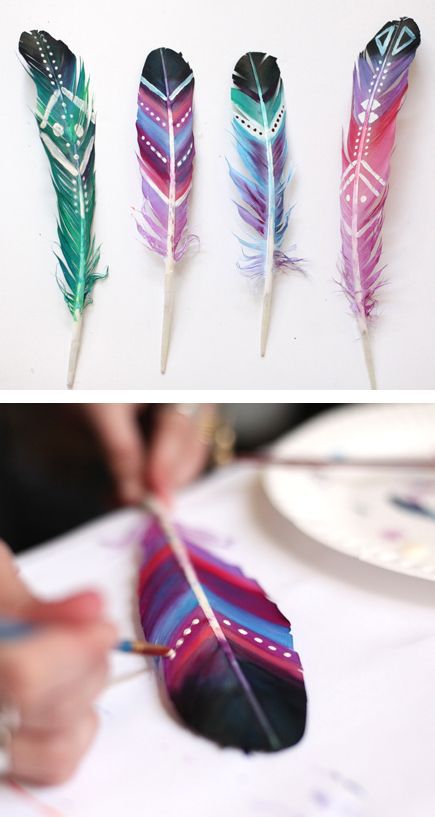 The idea of painting fake feathers is always loved by everyone, and with festival season underway, it seems like the perfect time to do it. This DIY painted feather idea calls for fake feathers, painting colors and brush. So, take feathers and paint them as the way you want to.
Let us know in the comments section below that how you find these Holi recipes, safety tips, decoration ideas and Holi DIYs.
For more info, you can reach us on www.facebook.com/maharajawhitelineindia or tweet at @MWhiteline .