QUICK SWEETENED CONDENSED MILK RECIPES
By Maharaja Whiteline on 24 September, 2018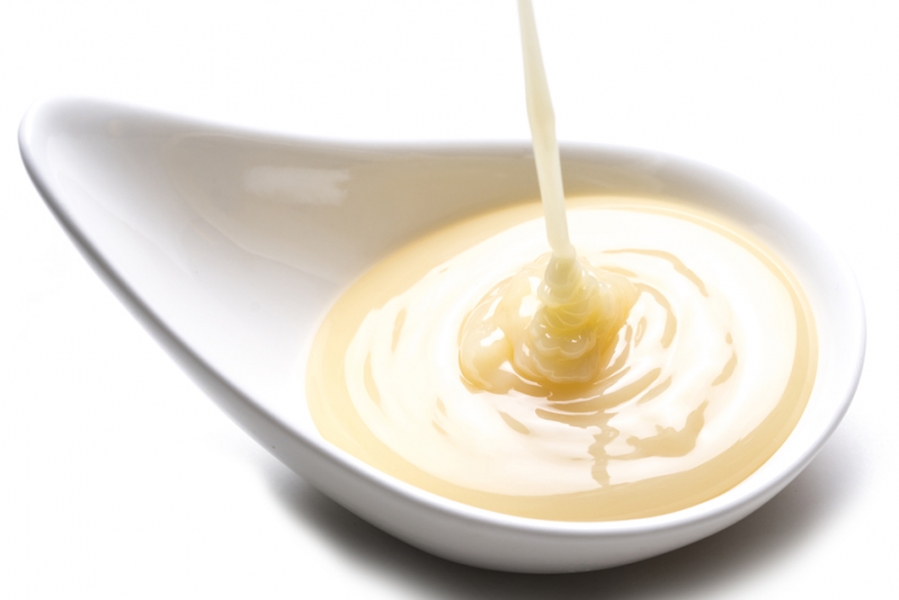 The festive season has arrived and it's the best time to enjoy sweets without any guilt. After all no celebration or festival is complete without desserts. What is Diwali without Ladoos? Nothing! Indian desserts give us the perfect reason to be a part of any festivity. Just because you're busy working or travelling, it doesn't mean that you can't make sweets at home or would buy them from outside. We bring to you a few 'easy to make'condensed milk sweet recipes to add a twist of milky sweetness to this festive season. Here you go exploring the quick recipes of sweet delights that can make any celebration and festival even more special.
Kalakand / Milk Cake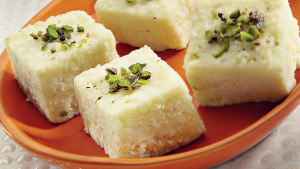 Kalakand, the Indian authentic dessert,is an ultimate mouth melting sweet prepared with paneer and condensed milk as its main ingredients. Here's how you can start with it.
Recipe
Take soft paneer and crumble it.
In a pan, add ghee, paneer and sauté till it gets cooked.
Now add condensed milk and keep stirring for a while.
Once the mixture begins to thicken, add sugar, cardamom powder and mix well.
Keep stirring till the entire mixture gets into a dough.
Now put the dough in a greased plate and pat it with a spatula or palms, and let it cool completely.
Cut it into desired shapes, garnish it with your favorite dry fruits and enjoy this delicious dessert.
DoodhPedha/Milk Fudge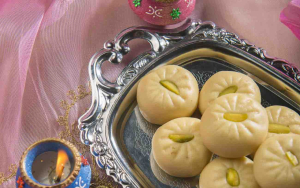 Want to try something different other than sugar cookies for this festive season? How about a classic, delicious Indian sweet recipe, DoodhPedhathat perfectly makes for an ideal festive treat for family and friends. This delicacy is sweet, rich and easy-to-make with hardly any preparation time. Below is a quick recipe to prepare these Pedhas.
Recipe
Heat ghee in a pan.
Once it melts, add condensed milk, milk powder and mix well so that there are no lumps.
Keep stirring continuously to avoid the chances of burning at bottom and till it gets in the form of dough.
Now keep the dough in another plate and let it cool completely.
Once, it gets cooled, add sugar, cardamom powder and knead well into the dough.
Apply some ghee on palms and pinch out small, round balls from the dough and mildly press them.
Use a knife to make shallow or superficial marks on one side of the Pedha or fudge.
Garnish them with dry fruits of your choice and share them with your family, friends and relatives.
Rasmalai using Rasogullas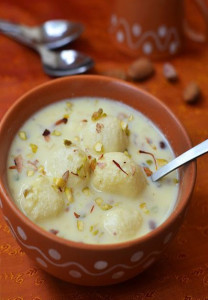 Lip-smacking' is the perfect word to describe this royal and delightful Indian dessert, Rasmalai. And, now with a quick recipe in hand, it makes for the perfect sweet for festival days when you're busy in making a variety of other dishes for your family. The below recipe can let you prepare this tasty Rasmalai in few minutes.
Recipe
Take the canned Rasogullas and squeeze them to remove any extra syrup inside.
In a pan, mix milk, condensed milk and bring to boil.
Now add cardamom powder, saffron and simmer for a while.
Then add the squeezedRasogullas and chopped nuts. Mix well and simmer together for a minute.
Transfer the Rasmalai into a bowl, let it cool down and refrigerate for a few hours.
Serve chilled with more crushed dry fruits on top.
Rava Ladoos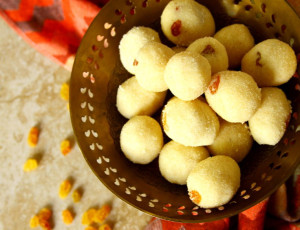 Blended in with a twist of taste, Rava Ladoo is one of the healthiest sweets for any festival that can be prepared within no time. Festive celebrations come alive when delectable RavaLadoo prepared with saffron and dry fruits are served. Here's a quick recipe for you.
Recipe
Heat ghee in a pan and fry cashews in it. Once cashews are fried, keep them aside in a plate.
In the same pan, fry raisins until they puff up.
Now roast the rava/soojiin a pan and sauté till it gets light brown in color.
Add cardamom powder, cashews, raisins, milk and condensed milk to the roasted rava, and mix well.
Once the mixture gets completely mixed, remove it from the flame.
Now make small round balls in even shapes from the mixture and keep them on a greased plate to cool down. Your RavaLadoos are ready!
Basundi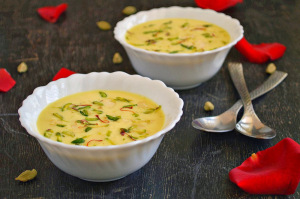 If you're bored of eating kheer, try something different this time. Basundi can let you move over those usual typical Indian sweets. This rich and creamy thickened milk Basundiis like a Rabdi and tastes equally delicious when combined with Rasogullas, Malpua and Jalebi. Do give this recipe a try at your kitchen this festive season. We bet you'll love it for its rich creamy flavor and heavenly aroma.
Recipe
Take a non-stick deep pan, and pour milk & condensed milk into it. Bring it to boil over medium flame.
When milk starts to boil, let it simmer until reduced to half of its original quality. Keep stirring at regular intervals to avoid the chances of burning.
Once it gets thickened, add sugar and cardamom powder to it.
Cook for a couple of minutes over low flame while stirring continuously.
Turn off the flame. Serve your Basundi in a bowl and garnish it with crushed almonds, pistachio and saffron strands.
Let us know in the comments section below, how you find these quick sweetened condensed milk recipes. To prepare these sweets, you can find the amazing range of here Maharaja Whiteline Induction cooktop. . For more info, you can find us on www.facebook.com/maharajawhitelineindia or tweet at @MWhiteline.