QUICK & EASY SALAD RECIPES
By Maharaja Whiteline on 24 September, 2018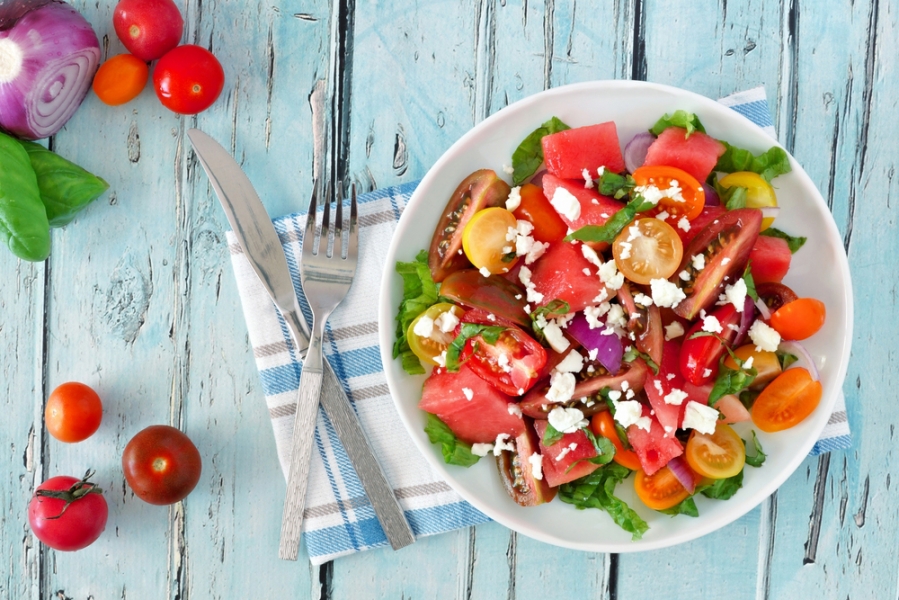 From leafy to creamy, we've tossed together a variety of cold salads for every taste. Spun into a sandwich or simply eaten alone, these recipes are fast, filling and deliciously stress-free. You can quickly chop, slice, shred and grind veggies for your salad recipe with our versatile Food Processor
Watermelon, Tomato and Cheese Salad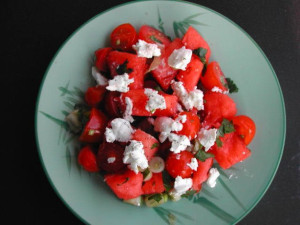 What you'll need:
2 1/2 cups seedless watermelon, cut in 1 inch cubes or balls (reserve juice)
1 1/2 cups cherry tomatoes, halved
1/2 cup cheese, crumbled
salt
1 tablespoon extra virgin olive oil
2 tablespoons sherry wine vinegar
1 pinch chilli powder
1/2 cup parsley, roughly chopped
Directions:
Combine watermelon, tomato, cheese and salt in a bowl.
Whisk together 2 tablespoons of watermelon juice, oil, vinegar and chilli powder and gently toss with salad.
Garnish with parsley.
Apple Chicken Salad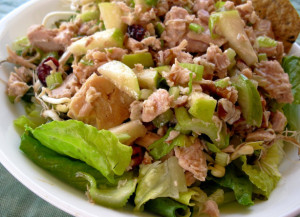 What you'll need:
5 -6 ounces cooked chicken, cubed
1/4 cup chopped apple
1/2 cup thinly sliced celery
2 tablespoons raisins
1/3 cup Italian dressing (or your favourite)
2 teaspoons brown sugar
nuts (to sprinkle)
Directions:
In a medium bowl, gently stir together, chicken, apple, celery and raisins.
In a small bowl, whisk together, dressing and brown sugar, pour over chicken mixture.
Toss gently to coat.
Serve on lettuce leaves, sprinkle nuts of your choice over.
Mexican Egg Salad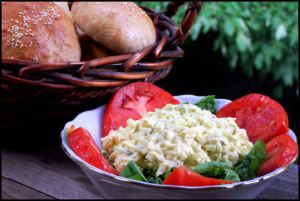 What you'll need:
6 hard-boiled eggs, coarsely chopped
1/3 cup minced celery
o 1 teaspoon seasoning salt
1/4 teaspoon dry mustard
1/4 teaspoon crushed cumin seeds
1/8 teaspoon white pepper
1 teaspoon vinegar
mayonnaise
salad greens
Directions:
Mix all ingredients except last 2.
Add mayonnaise to moisten.
Serve on greens.
Makes 4 servings.
Enjoy!
Creamy Corn Salad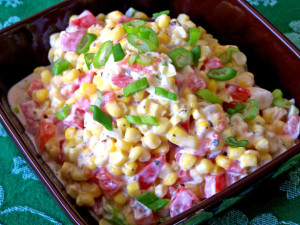 What you'll need:
1 (15 ounce) can whole kernel corn, drained
1 medium tomato, seeded and diced
2 tablespoons green onions, chopped
1/3 cup mayonnaise
1/2 teaspoon dried basil (optional)
salt and pepper
Directions:
Mix all ingredients in a small bowl. Season with the basil or try other herbs. I like cumin, or you might try dill weed. Add salt and pepper to taste.
Cover and refrigerate until ready to serve. Enjoy!
Stir-fried Chicken Salad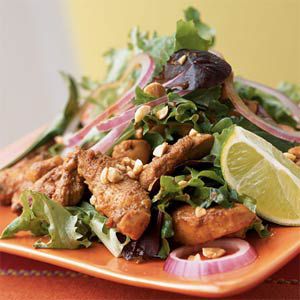 What you'll need:
1/4 cup chicken broth
2 tbsp rice wine vinegar
1 tbsp Thai fish sauce
1 tbsp low-sodium soy sauce
1 tbsp bottled chopped garlic
2 teaspoons sugar
1 pound boneless chicken breast
1 tbsp peanut oil
4 cups mixed salad greens
1/4 cup chopped fresh basil
1/2 cup thinly sliced red onion
2 tbsp finely chopped unsalted, dry-roasted peanuts
Lime wedges (optional)
Directions:
Combine first 6 ingredients in a medium bowl. Add chicken to broth mixture, stirring to coat. Let stand 3 minutes.
Heat oil in a large nonstick skillet over medium-high heat. Drain chicken, reserving marinade. Add chicken to the pan; cook 4 minutes or until done, stirring frequently.
Stir in the reserved marinade. Reduce heat; cook 1 minute or until slightly thickened. Remove pan from heat.
Combine greens and basil in a large bowl. Add chicken mixture, tossing to coat. Place 1 1/4 cups salad mixture on each of 4 plates.
Top each serving with 2 tablespoons onion and 1 1/2 teaspoons peanuts. Serve immediately. Serve with lime wedges, if desired.
The pan sauce in this dish doubles as a piquant vinaigrette for the salad. Serve with crunchy breadsticks, if you wish.