PEACH &GINGERBREAD CHEESECAKE PARFAIT
By Maharaja Whiteline on 21 September, 2018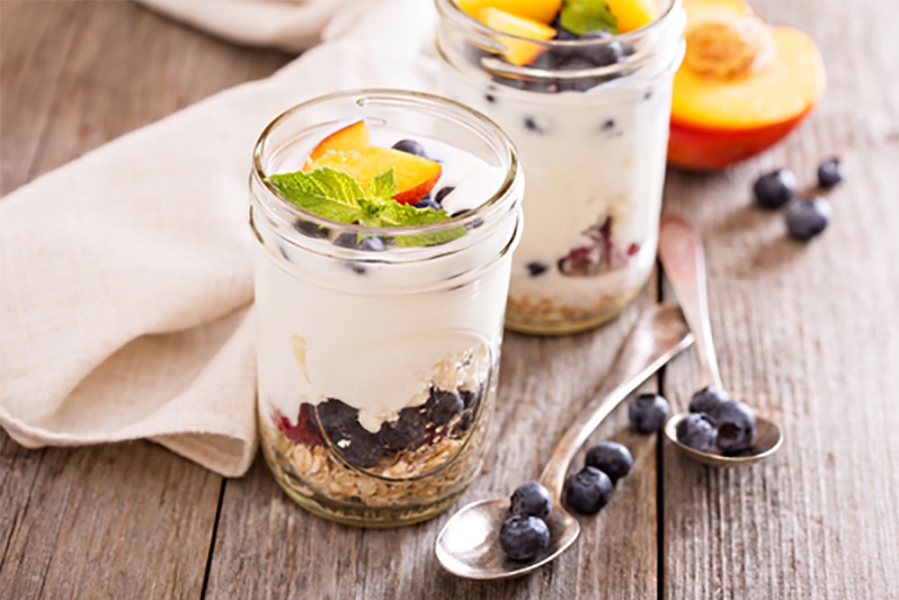 The nip in the air, the mesmerizing fragrance of budding gladiolas around and the impending festivities are the time of the year that one and all look forward to. October marks the musky beginning to autumn, leading way to celebrations ahead. Needless to say, festivity and fervor are never complete without mouth watering delicacies. Whether it's the traditional fare of sweets, dry fruits or other goodies, or the contemporary indulgences like baked confectioneries and chocolates, good food adds to the fun element.
With a choc-a-bloc schedule amid the festivities, it's hard to take out time for cooking and baking cumbersome dishes, but here are some alternatives with a touch of modern flavors that will fetch you compliments in no time and double up the joy.
PEACH & GINGERBREAD CHEESECAKE PARFAIT
Ingredients:
1 chopped peach
1/4 cup sugar
Juice of ½ lemon
200gms Cream cheese
3-4 tsp sugar
½ cup whipped topping
¼ tsp vanilla essence
1 pack gingerbread cookies (or digestives)
Hershey's chocolate syrup to top
Peach slices to garnish
Recipe
In a pan heat the peaches along with sugar and lemon juice until they soften.
Cool and blend it. (Use our super efficient hand blender.
Whip the topping and add cream, sugar and vanilla essence to it.
Whisk until soft peaks are formed. Add this to the blended peach syrup.
Crumble the cookies using your hand to a coarse powder.
To serve, use your favorite cocktail glasses or ice cream bowls. Add a layer of crumbled cookies. Layer the cream topping on it and repeat the pattern once again. Add a dash of chocolate syrup to garnish and some peach slices for fun (optional).
KHOYA PUFFS
Ingredients:
½ kg khoya (dried milk)
2 packets puff pastry sheets
Mixed dry fruits (cashews, almonds, pistachios)
1tsp rose water
2-3 pods cardamom
Silver leaf
3 tbsp Ghee
Recipe
Heat ghee in a wok and add khoya to it.
Let it roast on low heat until it starts leaving sides.
Add rose water, cardamom powder and mixed nuts to it. Keep it aside.
Cut the puff pastry sheets into 3 inch squares or rounds (as per your preference) and brush them with little butter.
Line 3 -4 squares one on each other.
Stuff with the khoya filling and cover from sides to form a dumpling shaped puff. (Feel free to give any shape).
Pre-heat the oven to 120 degrees Celsius. In a greased baking tray, place the puffs and bake for 15-20 minutes or until golden brown.
CHOCOLATE NUT LADOO
Ingredients:
1 cup grated dark chocolate
½ cup desiccated coconut
½ cup chopped peanuts
½ cup chopped almonds
1/4th cup raisins
1/4th cup roasted sesame seeds
½ cup chopped dates
1/4th cup honey /date syrup
½ tsp vanilla essence
½ cup semolina
3tsp ghee
Recipe
In a wok heat the ghee and add semolina.
Roast until golden brown and keep aside.
Put all the ingredients in a mixer and churn together (Our Turbo mixer grinder is a great way to blend and churn food easily).
To this mixture add the roasted semolina and give a blitz.
Take the mixture out and roll it into balls.
Garnish with chopped almonds or silver leaf.