CREATIVE WAYS TO MAKE VALENTINE'S DAY – THEMED FOOD
By Maharaja Whiteline on 24 September, 2018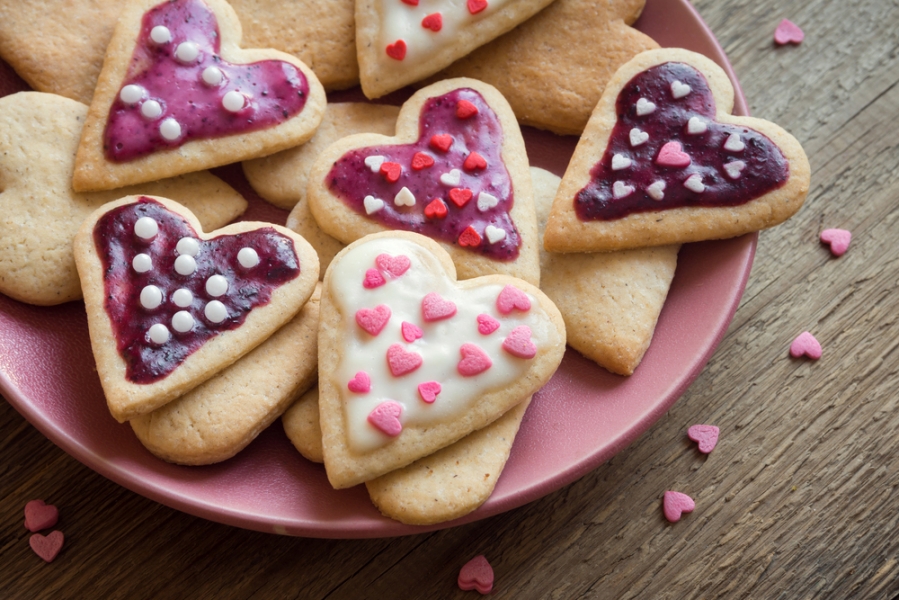 Valentine's Day celebrates our feelings for the loved ones in our lives. Whether you are looking cook an impressive dinner for your date or to create treats for a class party, we are ready to help make your Valentine's Day memorable.
Valentine's Day Heart-shaped Sugar Cookies: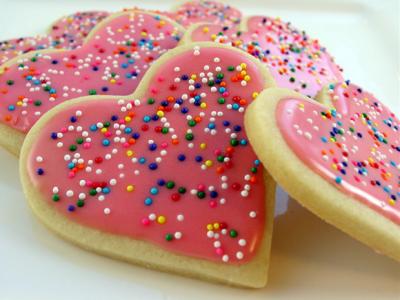 Looking for a simple yet delicious Valentine's cookie recipe? Look no further. These delectable cookies are festive and fun and they taste absolutely fantastic.
What you'll need:
For the cookies –
1 1/2 cups sifted Powdered Sugar
1 cup unsalted Butter at room temperature
1 large Egg at room temperature
1 1/2 tsp. pure Vanilla extract
2 1/2 cups all sifted Flour
1 tsp. Baking Soda
1 tsp. Cream of Tarter
For potato filling:
1 lb. bag Powdered Sugar
3/4 cube Butter at room temperature
Tbs. of Milk
1 tsp. pure Vanilla extract
Directions:
Mix all your dry ingredients for the cookies in large bowl. In a mixer cream together your sugar, almond, vanilla, and butter until smooth and pale. Mix in egg.
Once the dough is formed, wrap in plastic wrap and place in refrigerator for overnight or at least 6 hours. Preheat your oven to 375 degrees.
Use your cookie cutters and cut out the shapes you want. Place your cut cookies on the parchment paper cookie sheet and place in the oven for 7-8 minutes or until the edges are just turning very slightly golden.
In a mixing bowl, mix together butter, cream cheese, and vanilla. Slowly add your powdered sugar until it is all in there. You can add Tbs. of milk in with each addition of more powdered sugar.
Mix with a hand blender until all the clumps are out and it tastes like how you want it. Then frost your cooled cookies, add sprinkles if you want and enjoy!
Valentine's Day Sprinkled Chocolate Doughnuts: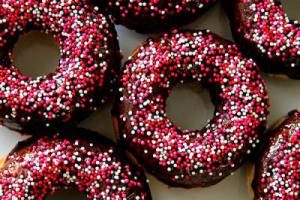 These festive Valentine's red, pink and white sprinkled donuts aren't exactly a healthy treat but they're definitely delicious. Consider making smaller sized donuts to cut back on the calories. And, hey, it's Valentine's Day, right? Everyone's allowed indulge a little!
What you'll need:
For the doughnuts:
2 cups cake flour, sifted
3/4 cup granulated sugar
2 teaspoon baking powder
1 teaspoon salt
3/4 cup buttermilk
1 teaspoon vanilla extract
2 eggs, lightly beaten
2 tablespoon butter, melted
For the Chocolate Glaze:
1/4 cup semisweet chocolate chips
1 tablespoon butter
1 tablespoon corn syrup
1 teaspoon hot water
Directions:
Spray a regular-sized donut pan with nonstick cooking spray. Sift together cake flour, sugar, baking powder and salt in a large mixing bowl.
Whisk in buttermilk, eggs, vanilla and butter and beat until just combined. Fill each donut cup until about 2/3 full.
Cook for 7-9 minutes in the Maharaja Whiteline Cool Touch Multicooker for 7-9 minutes, or until the top of the donuts spring back when touched. Cool in pan for about 4-5 minutes before removing from pan.
Meanwhile, make the glaze. In medium metal bowl over simmering water bath over medium heat on a Maharaja Whiteline Induction Cooktop, melt chocolate chips, butter and corn syrup, stirring frequently until completely melted.
Stir in one teaspoon hot water, until the glaze is thick and smooth. Add another teaspoon hot water if the glaze is too thick. Use immediately to glaze doughnuts.
Valentine's Day Sweetheart Cupcakes: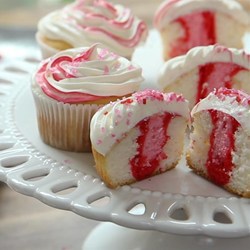 Instead of just making plain white cupcakes, take it a step further and make them extra special. You can change the colors to suit the likes of your special someone.
What you'll need:
1 (18.25 ounce) package white cake mix
1 1/4 cups water
1/3 cup vegetable oil
3 egg whites
8 drops red food coloring
2 drops raspberry candy oil
Directions:
Preheat an oven to 350 degrees F (175 degrees C). Line a standard muffin tin with paper cupcake liners.
Beat the cake mix, water, vegetable oil, and egg whites together on low speed for 30 seconds, then on medium for 2 minutes, until smooth. Fill cupcake liners 1/3 full with white batter; set aside.
Stir 4 drops of red food coloring into the remaining bowl of batter to make the batter pink, stir in the raspberry oil.
Pour 1/3 of pink batter into a reseal-able plastic bag and set aside. Mix more food coloring into the remaining bowl of pink batter until it is an orange/red color and pour the batter into a reseal-able plastic bag.
Cut a corner off the bag, stick the open tip into the center of each cup of white batter and squeeze in about two tablespoons of red batter.
Cut the corner off the bag with the pink batter, stick the open tip into the center of the red batter and squeeze about 1 tablespoon pink batter into each cup.
Bake the layered cupcakes in the preheated oven until a toothpick inserted into the center comes out clean, 15 to 20 minutes. Cool completely before frosting.
30 second Chocolate Cake:
Unbelievable, but it's possible. Rich, decadent, and enrobed in a thick chocolate sauce, it'll make you feel like you cheated some law of nature because it's done so fast. It's literally a hot mess and while they may not all come out looking great, what they lack in esthetics, they make up for in taste.
What you'll need:
1 egg – beaten
1/2 tsp vanilla extract (optional)
1 tbsp heavy cream
2 tbsp cocoa powder
2 tablespoons sugar
1/4 tsp baking powder
1 tsp oil
Directions:
Split the oil between two tall mugs with vertical walls, and then use your finger to spread it evenly up the sides, drain any excess oil.
The mugs must be very well oiled or the cake will stick when you try and unmold it. Add the sugar to a small bowl, and then sift in the coco powder (a tea strainer works great for this).
Add the heavy cream, egg and optional vanilla and whisk until there are no lumps. Sprinkle the baking powder on top and quickly mix together. Microwave one cake at a time.
Since you don't want to start and stop the microwave a bunch of times, set it for about 30 seconds, and closely watch the cake.
It's done when the cake rises about half-way up to sides of the mug (about 18 seconds in a 1000 watt microwave).
Because the mug retains heat, it will continue cooking until you unmold it, so have a plate ready and unmold the cake as soon as it comes out of the microwave.