CELEBRATING MANGO MANIA WITH SPECIAL RECIPES
By Maharaja Whiteline on 25 September, 2018
As the mercury steadily escalates across the country, the curtain goes up and the king of fruits – mango makes its grand appearance. Its lip-smacking flavor and the pulpy velvety consistency makes you drool over this golden fruit every time this year. Anything preceded by the word 'mango' and you'll say 'yes' to the menus prepared from the royal fruit.
Here's a low-down on the best that can be done with the fruit.
Mango Panipuri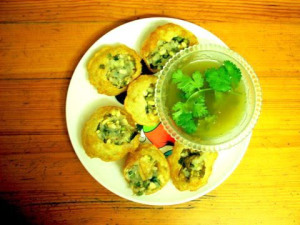 Boil raw mangoes till it tenders. Peel them and extract mango pulp. Add mint-coriander-chili, salt, black salt, roasted cumin powder and lemon juice. Blend it in Maharaja Whiteline Mixer Grinderwith five cups of water and add tamarind paste and sugar for sweetness. Chill in the refrigerator until use. For fillings in the puris you can add blanch moong sprouts, boondi and mashed potatoes with a pinch of turmeric powder, chat masala and salt. Fill each puri with a little sprouted moong, boondi-potato mixture, then fill it up with the flavoured water and relish the pani puri.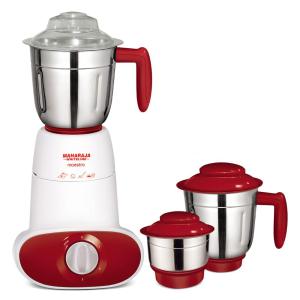 Mango Sandwich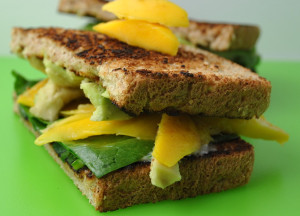 Slice ripe mango into flat rounds, discard the seed. If you want, chill the slices till required. Make crisp toasts of the bread slices and apply butter on one side of the bread, while it's still hot. Put the butter on the sides as well till it becomes a bit crunchy. Arrange the mango slices on two of four toasts. Top with the remaining toast, keeping butter side down. Press gently, cut into half with a very sharp knife. Serve immediately the perfect morning or evening snack.
Mango Cheese Cake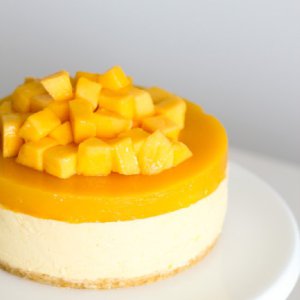 Finely crush biscuits and add butter. Chill for 15 minutes or until firm. Meanwhile, use a Maharaja Whiteline Turbomix King Hand Blender to beat the cream cheese and sugar in a bowl until smooth and creamy. Whisk the gelatine and hot water in a small bowl until the gelatine dissolves. Stir 1/4 cup of the cream cheese mixture into the gelatine mixture, then add to the remaining mixture and mix well. Pour half the cream cheese mixture over the biscuit base. Top with half the mango slices, then remaining cream cheese mixture. Refrigerate overnight.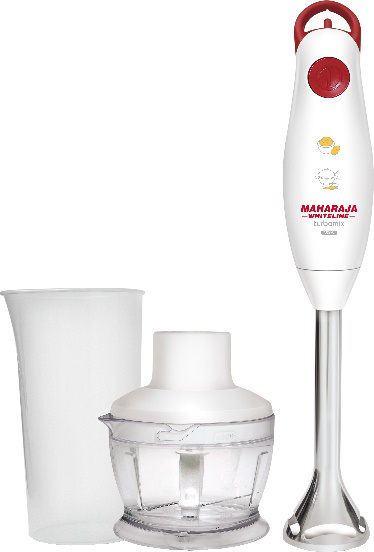 Mango Almond Honey Shake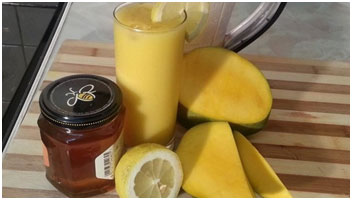 The succulent mango speaks of an Indian summer, we bring you a healthy mango drink which is perfect and sumptuous breakfast with dash of honey and healthful almonds. For this, peel and chop two mangoes and blend it with 500 ml of skimmed milk Also add a half cup of low-fat natural yoghurt, a handful of almond, a teaspoon of honey and a few ice cubes. Mix all the ingredients well and blend it till it smoothens.
Raw Mango Paratha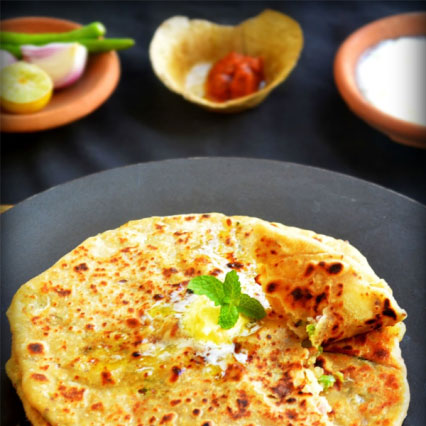 This recipe is one of its kind, sour and very juicy. For this, peel the raw mango and mash it well. In a bowl add wheat flour, red chilli, salt and cumin seeds and raw mango and then mix it well. Add water little and make dough and apply little oil and keep aside. Take small ball and roll flat roti. Put the tawa on Maharaja Whiteline Induction Cooktop and cook both sides and keep aside. Now it's ready to serve with raita or pickle.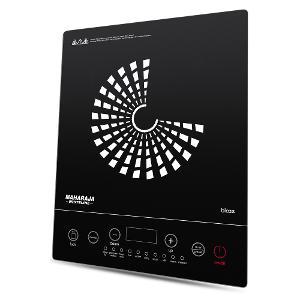 Go ahead, pick up the flavor of the season and treat yourself and your family to nice delicacies. Let us know how it went in the comments below or on www.facebook.com/maharajawhitelineindia. You can also tweet us @Mwhiteline and share with us your favourite recipe of the fruit.
Enjoy the Mango Mania!