Trendy Plus

Gas Cooktop

The finest innovation in cooktop technology





No reviews |
Write a Review
2900.00
Power Coated Pan Support
Premium Knobs


Stainless Steel Body
2 Years Warranty
Colour: Silver
No. of Burners: 3
Easy to Clean: Yes
Burner Material: Brass
Thermal Efficiency: High
Warranty: 2 Years
Introducing style and convenience to your kitchen, the Maharaja Whiteline Trendy+ Gas Cooktop brings you close to efficient functionality in the cooking world. The Cooktop is devised smartly with two brass burners of different sizes and a toughened stainless steel body to offer you excellent service.
Description
Specifications
Support
Reviews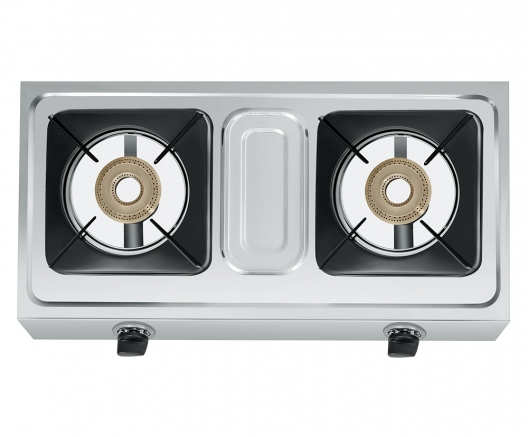 Stainless steel body:

Keeping you convinced with endurance through a tough performance, Maharaja Whiteline brings you Trendy+ Gas Cooktop that has a complete stainless steel body. Rest assured of easy-breezy cleaning as well.

Brass burners:

Offering ultimate high thermal efficiency for all your cooking needs, the Trendy+ Gas Cooktop is powered by two brass burners. They are resistant to stains and high temperatures with their high melting point.

Anti-skid legs:

Offering you a firm grip, the Trendy+ is equipped with anti-skid legs. The four-legged gas cooktop provides optimum support and stays firm even on slippery platforms.

Powder coated pan support:

Giving your vessel a perfect balance while delivering reliable performance, the cooktop is engineered with powder-coated pan support. This also allows the vessel to work with a symmetric heat flow.

Premium knobs:

The Trendy+ Gas Cooktop comes equipped with premium knobs that give you a functional culinary preparation experience with a firm grip.

Differently sized burners:

Extending its versatility, the cooktop comes with two differently-sized brass burners that let you cook your dishes with the amount of heat required for each one of them.

2 years warranty:

Maharaja Whiteline Trendy+ Gas Cooktop comes with a 2 year warranty, so rest assured about its durability & lifespan.
| | |
| --- | --- |
| Colour | Silver |
| Top Material | NA |
| Body Material | Stainless Steel |
| Burner Material | Brass |
| Thermal Efficiency | High |
| No. of Burners | 2 |
| Small | 1 |
| Medium | 1 |
| Jumbo | 0 |
| Pan Support | Strong MS Powder Coated |
| Drip Tray | No |
| Knob | Superior Quality for Firm Grip |
| Easy to Clean | Yes |
| Mixing Tube Description | Aluminium |
| Body Dimension (Length*Width*Height)cm | 65.5*33.5*10 |
| Glass Top Thickness (mm) | 6 |
| Warranty | 2 year |
Product Reviews
No reviews