Aventus 3B

Gas Cooktop

Cooking made effortless, efficient, and effective with Aventus 3B Gas Cooktop





No reviews |
Write a Review
4995.00
Power Coated Pan Support
Premium Knobs


Heavy Guage Stainless Steel Body
2 Years Warranty
Colour: Silver
No. of Burners: 3
Easy to Clean: Yes
Burner Material: Brass
Thermal Efficiency: High
Warranty: 2 Years
Transforming your kitchen into a completely functional site, Maharaja Whiteline brings forward none other than Aventus 3B Gas Cooktop that is engineered with all features effing good. Designed with a heavy guage stainless steel material, the three-burner gas cooktop delivers a top-notch performance.
Description
Specifications
Support
Reviews
Warranty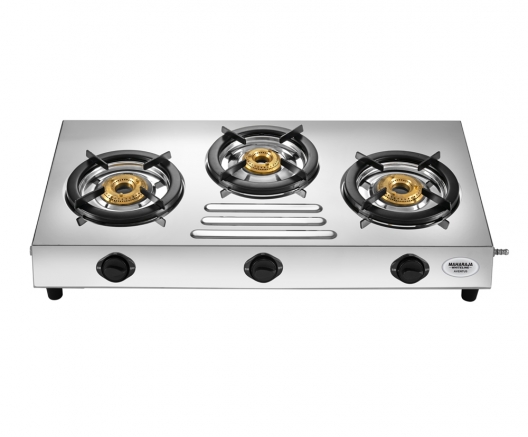 Stainless steel body:

Experience reliable durability with Maharaja Whiteline Aventus 3B Gas Cooktop. It is crafted with heavy gauge stainless steel material providing a tough performance and letting you clean it without any hitch.

Tri-pin brass burners:

The Aventus 3B Gas Cooktop offers an ultimate high thermal efficiency for all your cooking needs with three tri-pin brass burners engineered in it. They are resistant to stains and high temperatures with their high melting point.

Removable drip trays:

So here is what a fully functional and smart cooktop looks like. The Aventus 3B burners are complemented with drip trays that can be removed for convenient cleaning of both the cooktop as well the trays.

Powder coated pan support:

Giving your vessel a perfect balance while delivering reliable performance, the cooktop is engineered with powder-coated pan support. This also allows the vessel to work with a symmetric heat flow.

Premium knobs:

The Aventus 3B Gas Cooktop comes equipped with premium knobs that give you a functional culinary preparation experience with a firm grip.

Anti-skid legs:

Maharaja Whiteline Aventus 3B Gas Cooktop is a go-to choice for functional cooking performance. It has four anti-skid legs that provide a firm grip on the platform.

Differently sized burners:

Extending its versatility, the cooktop comes with three differently-sized brass burners that let you cook your dishes with the amount of heat required for each one of them.

2 years warranty:

Maharaja Whiteline Aventus 3B Gas Cooktop comes with a 2-year warranty, so rest assured about its durability & lifespan.
| | |
| --- | --- |
| Colour | Silver |
| Top Material | NA |
| Body Material | Stainless Steel |
| Burner Material | Brass |
| Thermal Efficiency | High |
| No. of Burners | 3 |
| Small | 1 |
| Medium | 1 |
| Jumbo | 1 |
| Pan Support | Strong MS Powder Coated |
| Drip Tray | Yes |
| Knob | Superior Quality for Firm Grip |
| Easy to Clean | Yes |
| Mixing Tube Description | Aluminium |
| Body Dimension (Length*Width*Height)cm | 82*45*117 |
| Glass Top Thickness (mm) | 6 |
| Warranty | 2 year |
Product Reviews
No reviews